12 Panel Drug Test Cup with TCA – Fentanyl
This urine drug test cup screens up to 12 different drugs of abuse in a system in a single procedure + Fentanyl,
Provides 99% accurate results in a short amount of time.
After the sample is taken, the results are revealed in as little as 5 minutes.
The test findings are shown on the panels through the container in an easy-to-read format.
To help eliminate fraudulent submissions, a fully integrated, self-contained drug screening instrument with a built-in temperature strip is included.
For pain management and drug addiction screening, this urine analysis test is ideal.
Screw-top is leak-proof and non-drip.
Special Wholesale Pricing – As low As $4.09 per drug test cup.
12 Panel TCA Cup + FYL
| | | | |
| --- | --- | --- | --- |
| Drug Name | Abbreviation | Detection time | Cut-Off Level |
| Amphetamines | AMP | 1-2 Days | 1000 ng/mL |
| Barbiturates | BAR | 1-4 Days | 300 ng/mL |
| Benzodiazepines | BZO | 1-2 Days | 300 ng/mL |
| Buprenorphine | BUP | 2-6 Days | 10 ng/mL |
| Cocaine | COC | 2-4 Days | 300 ng/mL |
| Ecstasy | MDMA | 2-4 Days | 500 ng/mL |
| Fentanyl | FYL | 2-3 Days | 200 ng/mL |
| Marijuana | THC | 15-30 Days | 50 ng/mL |
| Methadone | MTD | 1-3 Days | 300 ng/mL |
| Methamphetamine | mAMP (or MET) | 2-4 Days | 1000 ng/mL |
| Morphine | OPI | 2-3 Days | 300 ng/mL |
| Oxycodone | OXY | 1-3 Days | 100 ng/mL |
| Nortriptyline | TCA | 2-7 Days | 1000 ng/mL |
How to Use a 12 Panel Drug Test?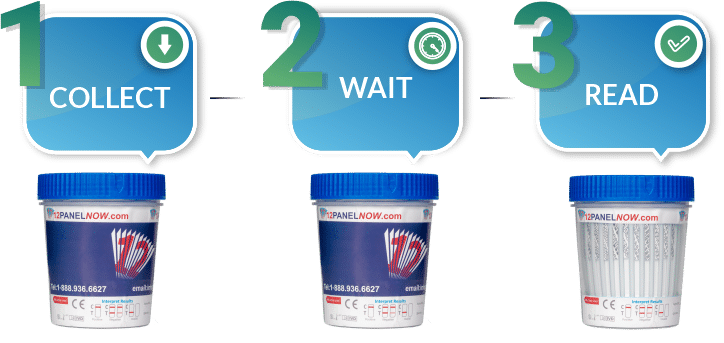 COLLECT
Remove the urine drug test cup from the sealed pouch and use it as soon as possible.
WAIT
At 2-4 minutes, verify the temperature of the specimen by observing where the green dot appears. A green dot will appear on the corresponding temperature line.
READ
Peel off the label when you're ready to interpret the results. Test results should be read within 5 minutes. Do not interpret the result after 8 minutes.
How to Read 12 Panel Drug Test?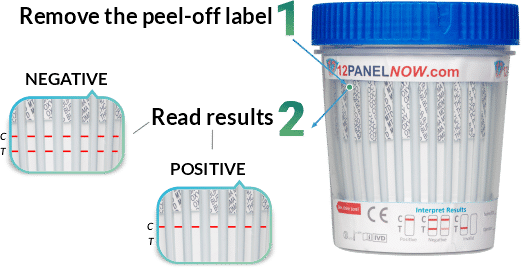 What does urine testing mean in practice?
The most prevalent type of drug and alcohol testing is a urine test. Employers may undertake it as part of pre-employment screening, at random, or after an accident, particularly for employees in specific vocations.
Currently, urinalysis is the only nationally mandatory testing procedure that has been approved. It's also the least intrusive and legally permitted method of drug testing at work.
The presence or absence of drug metabolites in a person's urine is determined via a urine test. A positive urine test does not always establish that a person was under the influence of drugs at the time of the test since metabolites are drug remnants that linger in the body for a long time after the effects of a drug have worn off.
When should I get a urine drug test?
Urine drug testing is a common practice in the business, the military, and organized sports. Testing may also be done to give evidence in a criminal case, to check for indicators of relapse in a drug abuse treatment program, or to keep track of a patient's medication compliance.
When it comes to urine drug testing, there are a lot of legal and ethical considerations to consider. Drug testing is governed by federal, state, and municipal regulations. Professional organizations advocate that, where feasible, patients be given the option to consent to drug testing because of the potential consequences of the results.
As part of a drug-free workplace program, federal employees may be subjected to random or periodic drug testing.