Forensic use only – This device is intended solely for use in employment and insurance testing and does not include test systems intended for Federal drug testing programs (e.g., programs run by the Substance Abuse and Mental Health Services Administration (SAMHSA), the Department of Transportation (DOT), and the U.S. military.
14 PANEL DRUG TEST CUP INFORMATION
12 Panel Now's 14 panel drug test cups are quick, safe, and easy to use. Each kit has a leak-proof screw top lid and a built-in temperature strip for validating the urine specimen.
They all follow the strict cut-off levels of each drug according to SAMHSA guidelines. These 14 panel cups are best for drug addiction screening, pain management, and even home use.
All-in-one urine drug testing
Our 14 panel drug screen cups has everything you need to perform drug testing effectively. The results are clear to read, with little room for confusion. 
And because it tests for fourteen types of drugs including alcohol, fentanyl, and HCG, there's no need to add other strips.
Why do drug tests test for alcohol?
Alcohol is also a drug. Anyone who abuses it does not only harm themself but everyone they're in contact with.
In workplaces, a drunk person can be unproductive or be a nuisance to his coworkers. In clinics and rehabs, he might endanger the lives of patients and staff members. And we all know that a drunk driver can wreak havoc with lives and property.
These are some of the reasons why employers, rehab and clinic owners, and government officials implement regular and random alcohol tests.
Read more here: Alcohol/EtG Drug Tests – Everything You Need to Know
14 Panel Drugs Tested
(ALC) Alcohol
(AMP) Amphetamine
(BAR) Barbiturates
(BZO) Benzodiazepines
(BUP) Buprenorphine
(COC) Cocaine
(MDMA) Ecstasy
(THC) Marijuana
(MAMP, MET) Methadone
(OPI300, MOP) Opiates/Morphine
(OXY) Oxycodone
(MTD) Methamphetamine
(FTY) Fentanyl
(HcG) Human chorionic gonadotropin
What is Fentanyl?
Fentanyl, a potent and fast-acting opioid analgesic, is the anesthetic of choice in 70% of all surgeries in the U.S. It is more potent than morphine by 50-100 times. It connects the opioid receptors in the brain that control pain and emotions.
Many doctors also prescribe it for all ages. However, it has a few harmful side effects, which include addiction. Thus, the use of this drug requires strict medical supervision.
See also: Fentanyl – What You Need to Know – Answers from 12 Panel Now.
Reading Test Results
hCG Strip
ALC Strip
Approximate blood alcohol level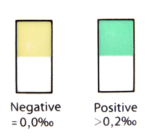 12 Panel Now's 14 panel drug test cup screens for the following substances:
Amphetamine (AMP)
Barbiturates (BAR)
Benzodiazepine (BZO)
Buprenorphine (BUP)
Cocaine (COC)
Ecstasy (MDMA)
Fentanyl (FYL)
Marijuana (THC)
Methadone (MTD)
Methamphetamine (MET)
Opiates (OPI/MOR)
Oxycodone (OXY)
Pregnancy (hCG)
Tricyclic Antidepressants (TCA)
Before the advent of drug testing cups, reading drug test results took days and even years. But with the immunoassay technology, reading a 14 panel drug test cup takes a little time and effort. Here's guide to help you out: https://12panelnow.com/how-to-read-a-drug-testing-kit/
Yes, it does. This 14 panel drug test cup includes EtG, a metabolite of ethanol and is produced in the human body after consuming alcohol. EtG can be detected in urine up to 80 hours (3.3 days) after alcohol consumption.