What is an EtG Alcohol Test Cartridge?
An EtG/Alcohol test cartridge provides you with a fuss-free way of doing alcohol urine testing.
This serves as an at home EtG test or a suitable EtG test for clinical environments as well.
The EtG urine test cartridge provides an easy and clean way to perform drug screening procedures that are 99% accurate
Cut-Off levels 500 ng/ml
Forensic use only
This EtG/alcohol test cartridge includes internal procedural controls.
If there's a sufficient amount of specimen and the procedure is followed properly, a positive result will show as a colored band in the control region.
However, there are no external controls in this kit. That's why we highly recommend further testing to verify positive results if a donor tests positive for etg
Rest assured that you'll get superior products at rock-bottom prices when you buy your medical disposables from us.
How to Use a Drug Test Strip?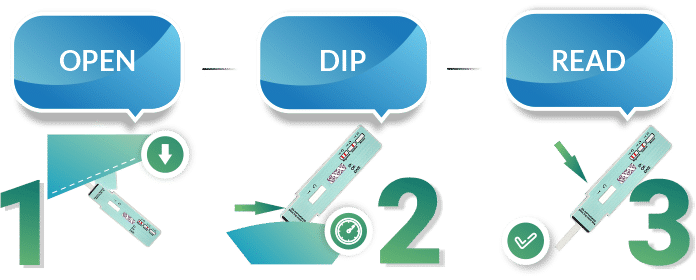 EtG/Alcohol Test Cartridges Procedure:
Remove the ETG urine Test from its sealed pouch and use it as soon as possible. For the best results, the drug test should be performed within an hour after opening the pouch.
Use the dropper to extract the urine, then release three droplets in the hole indicated on the cartridge.
Results will be displayed within minutes.  It's important to wait the full 5 minutes before evaluating test results. Do not interpret the results after 10 minutes.
How to Read Drug Test Strip?
Why use Alcohol drug test?
If you're in charge of administering many EtG urine alcohol tests, there's a huge chance that other people's pee might get into your hands. This can be very unhygienic and risky.
The EtG test cartridge provides an easy and clean way to perform drug screening procedures that are 99% accurate!
Aside from drug testing strips we offer:
Drug testing cups
Dip cards
COVID-19 rapid test
Oral swabs
Rest assured that all 12 Panel Now products are accurate and have passed the rigorous standards of CLIA and FDA.
An EtG test strip cartridge is the device to use if you want to perform hygienic and efficient alcohol drug testing
A positive result shows a colored band in the control region.
A negative result will display two colored bands on the strip.
No visible marks mean the test is invalid. When and if this happens, you'll need to repeat the test to rule out false results.
According to drugs.com one can consume alcohol even if they're on amoxicillin. Alcohol won't stop the antibiotic from working,
However, drinking alcohol with other types of antibiotics might lead to side effects.
The effects of alcohol consumption for the average person can last anywhere from 1-3 hours.
Meanwhile, with an average pint of beer, the effects can last for around one hour, for instance.
However, the effects of consuming a glass of wine can possibly last around three hours.