What is an EtG Alcohol Test Cartridge?
An EtG/Alcohol test cartridge provides you with a fuss-free way of doing alcohol urine testing.
This serves as an at home EtG test or a suitable EtG test for clinical environments as well.
The EtG urine test cartridge provides an easy and clean way to perform drug screening procedures that are 99% accurate.
Cut-Off levels 500 ng/ml.
Forensic use only.
This EtG/alcohol test cartridge includes internal procedural controls.
If there's a sufficient amount of specimen and the procedure is followed properly, a positive result will show as a colored band in the control region.
However, there are no external controls in this kit. That's why we highly recommend further testing to verify positive results if a donor tests positive for etg
Rest assured that you'll get superior products at rock-bottom prices when you buy your medical disposables from us.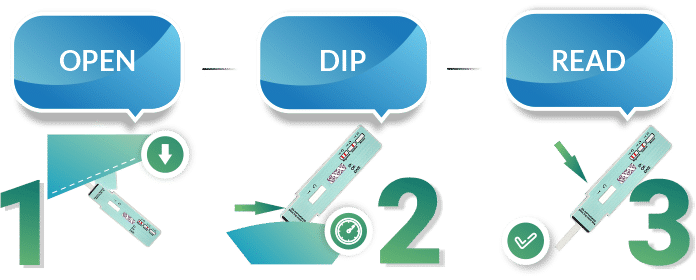 How to use EtG/Alcohol Test Cartridges:
Remove the ETG urine Test from its sealed pouch and use it as soon as possible. For the best results, the drug test should be performed within an hour after opening the pouch.
Use the dropper to extract the urine, then release three droplets in the hole indicated on the cartridge.
Results will be displayed within minutes.  It's important to wait the full 5 minutes before evaluating test results. Do not interpret the results after 10 minutes.
How to Read EtG Alcohol Test Cartridge?
Why use an Alcohol Drug Test?
The EtG Cartridge Drug Test Kit is one of the most cost-effective and accurate ways to detect alcohol abuse or verify sobriety.  The Cartridge tests are becoming the preferred drug testing kits due to the fact that they can prove to be more hygienically sound.
As opposed to the EtG test strip, which involves dipping a test strip into an open urine specimen, the cartridge test requires only a droplet of urine to be extracted and applied to the test area on the cartridge.
Because EtG can be detected within urine up to 80 hours after it has been last consumed, this is one of the alcohol tests that remain in demand for sobriety verification.
For those who are curious as to how they will fair with their levels of Etg after they consumed alcohol, single EtG tests can be purchased from 12 Panel Now for at-home use.
How Long Will Alcohol Show up on a Drug Test?
An EtG test is designed to detect the presence of Ethyl Glucuronide (EtG) in the body. EtG is a metabolite produced when alcohol is consumed.  the EtG test can detect alcohol in urine even in relatively small amounts.
Because of the sensitivity of this test, it is considered to be one of the most accurate and preferred methods to detect alcohol consumption.
As a general guide, alcohol can stay in your system anywhere from 12 to 36 hours after ingestion.
EtG, on the other hand, remains in the urine and is detectable within 2 hours after use and remains detectable up to 3 days after last consumption – sometimes even longer.
A Reliable Drug Test Solution
12 Panel Now's EtG strips are specifically designed to detect alcohol in the body.  Additionally, it avoids detecting substances that can lead to false positives like some mouthwashes, personal hygiene items, syrups, or even home cleaning products.
EtG or Ethyl glucuronide is produced in the body after alcohol is consumed.  This can be detected in urine up to 3 days after last consumption.  For this reason, the EtG test from 12 Panel Now are some of the most sought-after alcohol tests in sober living facilities throughout the united states.
As many today are struggling with the effects of addiction and heavy drinking, the EtG urine alcohol test is a cost-effective solution to verify sobriety.
Are EtG Tests Accurate?
Here at 12 Panel Now, all our EtG drug tests are 99% accurate, CLIA-waived, and FDA-approved.
Rest assured that you'll get superior products at rock-bottom prices when you buy your medical disposables from us.
Can You Drink Alcohol on Amoxicillin?
According to  one can consume alcohol even if they're on amoxicillin. Alcohol won't stop the antibiotic from working,
However, drinking alcohol with other types of antibiotics might lead to side effects.
Does Alcohol Show up on a Drug Test?
Does Probation Use EtG Test?
EtG is normally detected on the drug tests used by probation office administers.
Read more here: DUI Case Law and Updates
How Long Does Alcohol Stay in Your System?
The effects of alcohol consumption for the average person can last anywhere from 1-3 hours.
Meanwhile, with an average pint of beer, the effects can last for around one hour, for instance.
However, the effects of consuming a glass of wine can possibly last around three hours.
How Far Back Can Alcohol Be Tested in Urine?
It depends on the test. If someone tests you with an ALC testing strip, alcohol will show up 12-24 hours after intake.  However if someone uses an EtG test strip, alcohol will show up even four to five days after consumption.
Read more here: Alcohol/EtG Drug Tests – Everything You Need to Know
What Can Make an EtG Test Postive?
There are several things that can make you test positive for alcohol.
First is heavy drinking within the last one to three days.
The second is light drinking within the last 12 to 36 hours.
Finally, recent exposure to environmental products containing alcohol.
Read more here:
What Does EtG Stand For?
EtG stands for Ethyl glucuronide. This substance is a byproduct of ethanol naturally formed in the body after consuming alcoholic beverages.
Read more here: Alcohol Test Strips
What is an EtG Cartridge Test?
An EtG test strip cartridge is the device to use if you want to perform hygienic and efficient alcohol drug testing
A positive result shows a colored band in the control region.
A negative result will display two colored bands on the strip.
No visible marks mean the test is invalid. When and if this happens, you'll need to repeat the test to rule out false results.
What is EtG on a Drug Test?
EtG stands for Ethyl glucuronide, a byproduct of ethanol that is formed in the body after consuming alcohol.
For more information on EtG, read What To Expect from an Alcohol ETG Test (ETG Test Strips)