GHB Drug Test Strips
GHB Drug test Strips are one-step urine drug tests
These tests are easy and convenient to use
GHB test strips enable users to perform GHB or Gamma-Hydroxybutyrate testing with complete ease and without seeking assistance
These Urine Tests provide quick results within five minutes.
Our GHB testing strips possess a cutoff level of 10-50 µg/mL.
A highly accurate and sensitive test strip
Forensic use only
Special bulk pricing is available
What is GHB?
GHB, or gamma-hydroxybutyrate, is a medically prescribed drug for treating narcolepsy. However, an increasing number of young people are using it as a substitute for alcohol at parties.
Unfortunately, GHB is also known as a date rape drug. Some unscrupulous individuals mix it in the beverage of unsuspecting women to sedate them, render them helpless, and even forget what they've gone through upon waking up.  Sadly, many have reported cases of sexual assault due to the misuse of this drug.
Contrary to popular belief, GHB (gamma-hydroxybutyrate) is not a newly-discovered designer drug.   GHB is actually a naturally occurring product of human metabolism. It is a carbohydrate found in abundance in our diet as it exists in animal meat as well as wine and small citrus fruits. It is also biologically synthesized from GABA (gamma-aminobutyric acid), an amino acid that is structurally similar to GHB.
When artificially synthesized, GHB takes the form of a clear liquid or a white, crystalline powder much like table salt. In the U.S., GHB is only available through a prescription from compounding pharmacies.
How to Use a Drug Test Strip?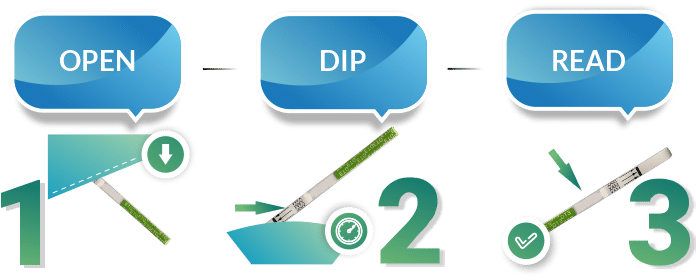 GHB Test Strips Procedure:
Remove the GHB test strip from its sealed pouch. Use immediately.
Hold the test strip where you can see the label. To avoid contamination, do not touch the strip membrane.
Then, dip the test strip in the urine specimen for at least 10-15 seconds. Do not immerse past the maximum line (MAX) on the test strip.
After the test has finished running, remove the strip from the specimen. Next, place it on a non-absorbent flat surface.
Start the timer and wait for the colored band(s) to appear.
Finally, read the result at five minutes. Do not interpret the result after 10 minutes.
How to Read Drug Test Strip?
Reading Test Results

 Common Side Effects of GHB

Sweating
Loss of consciousness
Nausea
Auditory and visual hallucinations
Headaches
Vomiting
Exhaustion
Sluggishness
Amnesia
Confusion
Clumsiness
For more information, read here: GHB or Gamma-Hydroxybutyrate