Get gamma-hydroxybutyric acid test strips, convenient to use, our GHB test strips enable users to perform Methamphetamine testing with complete ease and without seeking assistance.
The GHB test strips provide quick results within five minutes.
Our GHB testing strips possess a cutoff level of 10-50 µg/mL.
What is GHB?
GHB, or gamma-hydroxybutyrate, is a medically prescribed drug for treating narcolepsy. However, an increasing number of young people are using it as a substitute for alcohol at parties.
What's scary about GHB
Unfortunately, GHB is also known as a date rape drug. Some unscrupulous individuals mix it in the beverage of unsuspecting women to sedate them, render them helpless, and even forget what they've gone through upon waking up.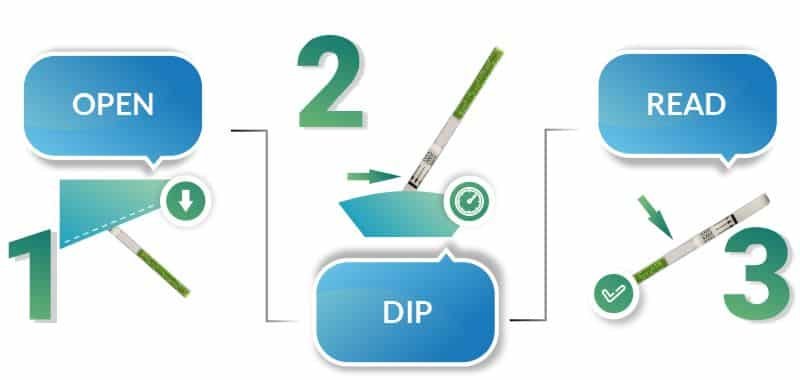 GHB Test Strips Procedure:
Remove the GHB test strip from its sealed pouch. Use immediately.
Hold the test strip where you can see the label. To avoid contamination, do not touch the strip membrane.
Then, dip the test strip in the urine specimen for at least 10-15 seconds. Do not immerse past the maximum line (MAX) on the test strip.
After the test has finished running, remove the strip from the specimen. Next, place it on a non-absorbent flat surface.
Start the timer and wait for the colored band(s) to appear.
Finally, read the result at five minutes. Do not interpret the result after 10 minutes.
 Common side effects of GHB

sweating
loss of consciousness
nausea
auditory and visual hallucinations
headaches
vomiting
exhaustion
sluggishness
amnesia
confusion
clumsiness
For more information, read here: GHB or Gamma-Hydroxybutyrate
Reading Test Results

Quality control
This GHB urine test includes internal procedural controls.
If there's a sufficient amount of specimen and the procedure is followed properly, a positive result will show as a colored band in the control region.
However, there are no external controls in this kit. That's why we highly recommend further testing to verify positive results.
Aside from drug testing strips we offer:
Rest assured that all 12 Panel Now products are accurate and have passed the rigorous standards of CLIA and FDA.
12 Panel Now's drug test strips uses the lateral flow assay (LFA) technology. It's a paper-based platform for detecting substances in complex mixtures like urine.
The paper-like surface of the strip is actually made up of membranes. These membranes are infused with specific chemicals that help pinpoint the presence of specific drugs in pee.
All you need to do is to dip the drug test strip into the urine, then wait for a few minutes. This gives the strip enough time to absorb the urine. Then, read the results.
Easy drug testing at a price you can afford!
We provide drug testing kits that detect a range of drugs including the ones listed below:
Alcohol
Fentanyl
Kratom
Buprenorphine
Cocaine
Marijuana
PCP
Methadone
Oxycodone
Methamphetamine
Morphine
and more!
What makes our product unique?
12 Panel Now's Rapid Spice Urine Test provide you with fast and accurate results. No need to wait for lab results!

Just open the pack, dip in the urine sample, and wait for the result.
Our family-owned and operated business provides you with high quality but lowest-priced drug test strips and cups.  Above all, we value integrity and compassionate service.
We strive to serve you better
This is why we pay careful attention to all your needs and preferences, from purchasing to shipping. We want to make sure that every transaction you make with us goes smoothly and at the lowest price, every time, all the time.
And more!
We also ship same-day on all transactions made before 5pm EST to make sure you receive your order as quickly as possible.
Our company takes pride in providing the best drug testing supplies on the market and we make sure our customers feel appreciated and respected.
Yes, GHB can cause seizures if you take it in high doses. The risk for seizures gets higher if you mix it in alcoholic beverages.
12 Panel Now carries over 20 types of drug test strips you can use for detecting a specific substance in human urine.
12 Panel Now's List of Drug Test Strips
Other strips
12 Panel Now is a family-owned business that cares about you and your organization.
We understand your drug testing needs. That's why we do our best to provide you with top quality, but low-cost, 99% accurate, CLIA-waived, and FDA-approved drug testing supplies. Our products have a 24-month shelf life from the date of manufacture.
If there is something wrong with your product, call us at 888-936-6627 or 561- 409-5151, or email us at [email protected] We will replace it for you.