What is 6 MAM?
6 MAM or 6 acetylmorphine is a metabolite of heroin. By itself, heroin is difficult to detect. It's because it has a short half life of 30 minutes. On the other hand, 6 MAM has a half life of 6-25 minutes. It can stay in the body for up to 2 to 24 hours.
The presence of 6 MAM in the body is a definite sign that the person has used heroin.
Why Use a 6 MAM Drug Test?
Heroin is a highly addictive drug with no known medical use. It is a Schedule 1 Controlled Substance and is illegal in the US. It produces euphoria, a feeling of relaxation and drowsiness, causing many to crave it. Since heroin by itself is hard to detect in the body, medical professionals instead look for its longer staying metabolite, the 6-MAM or 6 monoacetylmorphine. The 6-MAM test, thus, is useful for detecting heroin abuse
6 MAM Drug Test Strip?
6 MAM drug test strip (6-Aoetylmorphine (MAM)) provides you with a 99% accurate preliminary test for determining the this substance at the cut off of 10 ng/ml.
Detects heroin in urine for one to three days after last use
All our 6 MAM urine test strips are easy to use, CLIA-waived and FDA-approved.
Highly accurate and sensitive test strip

Forensic use only

Special bulk pricing available
How to Use a Drug Test Strip?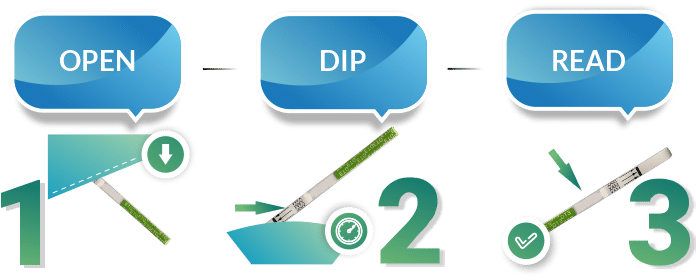 Remove the drug test from its sealed pouch and use it as soon as possible. For best results, perform the assay within an hour.

Next, hold the strip by the end, where you can see the product name. To avoid contamination, do not touch the strip membrane.

Then, holding the strip vertically, dip the test strip in the urine specimen for at least 10-15 seconds. Do not immerse above the maximum line (MAX) on the test strip. That's about 1/5th of the way up the strip.

After the drug test has finished, remove the strip from the specimen and place it on a non-absorbent flat surface. Start the timer and wait for the colored band(s) to appear. Read the result at 5 minutes. Do not interpret it after 10 minutes.
How to Read Drug Test Strip?
You can buy a 6 acetylmorphine drug test strip on any store that sells drug testing supplies. However, make sure they're safe and accurate. They should also be CLIA-waived and FDA-approved.
12 Panel Now offers cotinine drug test strips at the lowest prices. Only $0.79 per strip.
6 MAM remains in the urine for no more than 24 hours.