MDMA (Ecstasy/ Molly) Test Strips
Mdma Drug Test Strip Uses the Lateral Flow Test for Detecting the Presence of Mdma at the Cut-off Level of 500 Ng/Ml.
Simple and Easy to Use
Easy to Read Results
Fast and Accurate Results
Results Are Displayed Within 5 Minutes
25 Testing Strips Included in Each Container
This Test Provides Only a Preliminary Analytical Test Result.
For Confirmation of Results, Gas Chromatography/Mass Spectrometry (Gc/Ms) Is Preferred.
Forensic Use Only
What is MDMA?
MDMA is a synthetic drug that's more popularly known as Ecstasy or Molly. Today, it's one of the world's most popular entactogens, the psychoactive drug that affects a user's emotions.  This illegal drug provides a sense of positive personal and interpersonal changes. As drug abuse continues to grow today, MDMA is one of the drugs that are of concern
Why test for MDMA?
Neurologically speaking, Ecstasy tickles all the right spots of your brain.
MDMA, the drugs' active chemical ingredient, enters brain cells and causes a serotonin release overdrive.
However, the Drug Enforcement Administration (DEA) classifies MDMA as a Schedule I drug. This means it has a high potential for abuse but currently has no known medical use.
Read more about history and side-effects of MDMA.
How to Use a Drug Test Strip?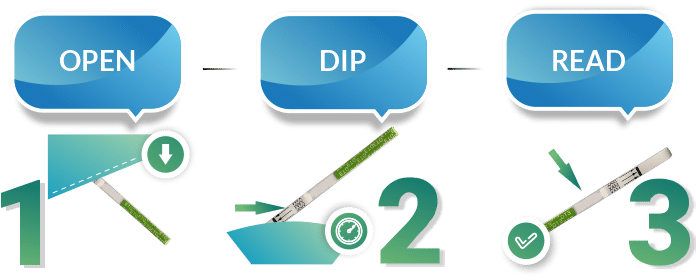 MDMA Drug Test Strips Procedure:
First, remove the Ecstasy drug test strip from the sealed pouch and use it within one hour
Second, immerse the strip into the urine with the arrow pointing towards the urine
Third, take the strip out after 15 seconds and lay the strip flat on a clean, dry, non-absorbent surface.
Finally, read the result in 5 minutes.
How to Read Drug Test Strip?
Side Effects of MDMA
Ecstasy abuse can lead to the following side effects:
impulsiveness and anxiety

irritability and aggression

depression and sleep problems

memory and attention problems

decreased appetite

decreased interest in and pleasure from sex

temperature spikes
Alarmingly, temperature spikes can cause the heart, lungs, liver and kidneys to fail. This can lead to fatal consequences.
Thus, the need for an MDMA drug test.
What Does Mdma Stand for on a Drug Test?
Does Mdma Show up on a Drug Test?
What Does Mdma Do to Your Brain?
More studies needed
However, more studies are needed to determine whether the observed changes in brain activity in people who use MDMA are caused by it, other drug use, or other common risk factors that predispose people to use MDMA.
Read more here: What are MDMA's effects on the brain?
How Long Does Mdma Stay in Your System?
Can You Overdose on Mdma?
Does Mdma Show up on a 5 Panel Drug Test?