What is Propoxyphene?
Propoxyphene is an Opioid Pain Reliever (OPR) prescribed to people suffering from chronic pain. Additionally, it's a cough suppresant. However, it was recalled in 2010 due to its potentially fatal side effects.
Regardless of its benefits, the Food and Drug Administration (FDA) deemed it too risky as it can cause fatal heart disorders.
Nowadays, however, the drug is still tested as a part of nonregulated panel testing.
The half-life of propoxyphene is anywhere from 8 hours to a whole day. It reaches its peak in 1 to 2 hours after oral administration.
Why Test for Propoxyphene?
Although propoxyphene is now banned in the US, it is still sold on the streets and in black markets.
Unfortunately, overdosing on propoxyphene or combining it with other drugs can lead to fatalities.
Thus, the need to test individuals who are presumed to be taking it is important as it might save his life.
Get PPX drug test strips that's convenient to use. Our PPX test strips enable users to perform Propoxyphene testing with complete ease and without seeking assistance.
The PPX test strips provide quick results within five minutes.
Our PPX testing strips possess a cutoff level of 300 µg/mL.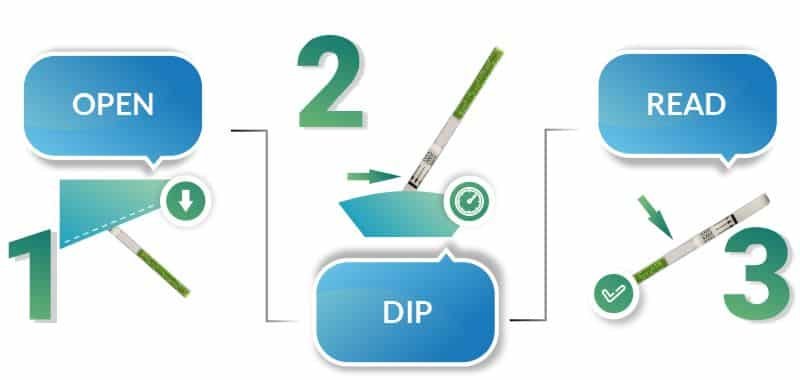 PPX Test Strips
PPX Test Strips Procedure:
First, remove the test strip  from the sealed pouch and use it within one hour
Second, immerse the strip into the urine with the arrow pointing towards the urine
Third, take the strip out after 15 seconds and lay the strip flat on a clean, dry, non-absorbent surface.
Finally, read the result in 5 minutes  
Quality control
This PPX drug test strip includes internal procedural controls.
If there's a sufficient amount of specimen and the procedure is followed properly, a positive result will show as a colored band in the control region.
However, there are no external controls in this kit. That's why we highly recommend further testing to verify positive results.
12 Panel Now carries over 20 types of drug test strips you can use for detecting a specific substance in human urine.
12 Panel Now's List of Drug Test Strips
Other strips
12 Panel Now is a family-owned business that cares about you and your organization.
And we understand your drug testing needs. That's why we do our best to provide you with top quality, but low-cost, 99% accurate, CLIA-waived, and FDA-approved drug testing supplies.
Additionally, our products have a 24-month shelf life from the date of manufacture.
Something wrong with your products?
If there is something wrong with your product, call us at 888-936-6627 or 561- 409-5151, or email us at [email protected] We will replace it for you.