PPX Drug Test Strips
PPX Urine drug test stripsare convenient to use.
Our PPX test strips enable users to perform propoxyphenetesting with complete ease and without seeking assistance.
The PPX test strips provide quick results within five minutes.
Up to 99% accurate
Our PPX testing strips possess a cutoff level of 300 µg/mL.
Detection time of propoxyphene in urine is up to 2 days after consumption
Forensic use only
What is Propoxyphene?
Propoxyphene is an Opioid Pain Reliever (OPR) prescribed to people suffering from chronic pain. Additionally, it's a cough suppresant. However, it was recalled in 2010 due to its potentially fatal side effects.
Regardless of its benefits, the Food and Drug Administration (FDA) deemed it too risky as it can cause fatal heart disorders. Nowadays, however, the drug is still tested as a part of nonregulated panel testing.
The half-life of propoxyphene is anywhere from 8 hours to a whole day. It reaches its peak in 1 to 2 hours after oral administration.
How to Use a Drug Test Strip?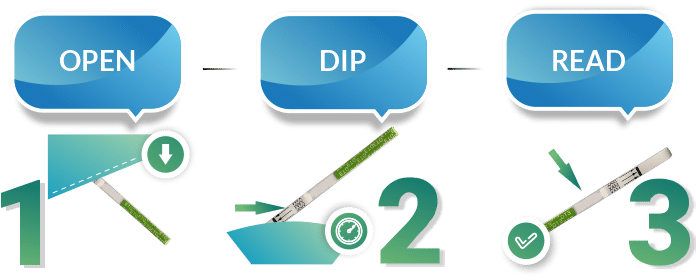 Remove the drug test from its sealed pouch and use it as soon as possible. For best results, perform the assay within an hour.

Next, hold the strip by the end, where you can see the product name. To avoid contamination, do not touch the strip membrane.

Then, holding the strip vertically, dip the test strip in the urine specimen for at least 10-15 seconds. Do not immerse above the maximum line (MAX) on the test strip. That's about 1/5th of the way up the strip.

After the drug test has finished, remove the strip from the specimen and place it on a non-absorbent flat surface. Start the timer and wait for the colored band(s) to appear. Read the result at 5 minutes. Do not interpret it after 10 minutes.
How to Read Drug Test Strip?
Why Test for Propoxyphene?
Although propoxyphene is now banned in the US, it is still sold on the streets and in black markets. Unfortunately, overdosing on propoxyphene or combining it with other drugs can lead to fatalities. Thus, the need to test individuals who are presumed to be taking it is important as it might save his life.
Learn more about Propoxyphene and its side effect
Here's a list of drugs that contain propoxyphene:
Algafan
Antalvic
Deprancol
Depromic
Dolocap
Doloxen
Doloxene
Darvon
Darvon-N
Dolene
Darvocet
Erantin
Femadol
Harmar
Kesso-Gesic
Propacet
Prophene 65
Propxychel
Read more here: Facts on Propoxyphene
No, propoxyphene is not an opiate. It is an opioid.
Opiates like opium, codeine, and morphine are naturally derived from poppy plants. On the other hand, opioids are synthetic or partly synthetic substances.
Propoxyphene detection period of 6 hours to 2 days. The accepted confirmatory cut-off level for propoxyphene is 200ng/ml.
Read more here: Facts on Propoxyphene
On a drug test, PPX stands for propoxyphene, an opioid pain reliever and cough suppressant.
Read more here: Facts on Propoxyphene
List of Drug Test Strips
Test strips