Ritalin Drug Test Strip – MPD
Ritalin / MPD urine test strips areconvenient to use
Our MPD test strips enable users to perform Methamphetamine testing without seeking assistanc
Easy-to-read test results and convenient to use
The MPD test strips provide quick results within five minutes.
Possesses a 99% accuracy rateand is a comprehensive test to use at home
Our MPD testing strips possess a cutoff level of 150 µg/mL.
Ritalin screening time is 24 to 36 hours after the last dose.
This ritalin drug test strip includes internal procedural controls.
If there's a sufficient amount of specimen and the procedure is followed properly, a positive result will show as a colored band in the control region.
However, there are no external controls in this kit. That's why we highly recommend further testing to verify positive results.
Forensic use only
What is Ritalin?
Ritalin (MP or MPH) is the brand name of a Central Nervous System (CNS) stimulant called Methylphenidate. Its active ingredient is the Methylphenidate Hydrochloride compound.
Ritalin treats symptoms of Attention Deficit Hyperactivity Disorder (ADHD) and narcolepsy, a chronic sleep disorder. When taken,  the dopamine levels in the brain increases, consequently producing euphoria.
It can be taken orally as capsules or tablets as an antidepressant to increase focus, improve listening ability, and have a calming and stabilizing effect.
How to Use a Drug Test Strip?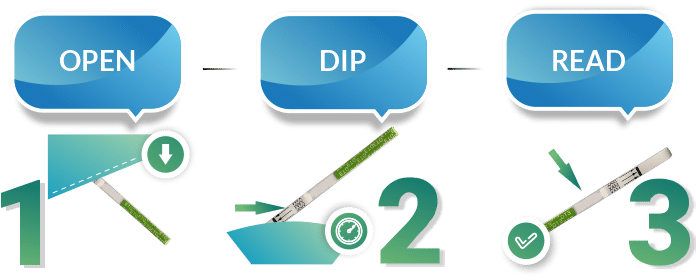 Remove the drug test from its sealed pouch and use it as soon as possible. For best results, perform the assay within an hour.

Next, hold the strip by the end, where you can see the product name. To avoid contamination, do not touch the strip membrane.

Then, holding the strip vertically, dip the test strip in the urine specimen for at least 10-15 seconds. Do not immerse above the maximum line (MAX) on the test strip. That's about 1/5th of the way up the strip.

After the drug test has finished, remove the strip from the specimen and place it on a non-absorbent flat surface. Start the timer and wait for the colored band(s) to appear. Read the result at 5 minutes. Do not interpret it after 10 minutes.
How to Read Drug Test Strip?
Why test for Ritalin?
The drug's excitant properties attract people to use it for recreational purposes to the extent of drug abuse. Long term use of the drug may lead to Ritalin addiction. Hence, side effects attack may lead to dangerous medical conditions.
Common side effects of Ritalin
Anxiety,
Nervousness
Insomnia,
Weight Loss,
Dizziness,
Palpitations,
Increased Blood Pressure,
Loss of Appetite,
Headache, and
Chest Pain.
Therefore, drug screening is necessary.
MPD Roadside drug testing is an easier way to do it. Saliva is collected, and testing will only take 3 minutes.
The following terms are street names for Ritalin:
Diet Coke
Vitamin R
R-ball
R Pop
Poor man's cocaine
Pineapple
Kiddie Coke
Kiddie Cocaine
Smarties
Skittles
During the course of taking ritalin, no it cannot cause depression. It is, however, when you stop taking ritalin that depressive moods occur.
Read more here: https://www.withdrawal.net/ritalin/
Concerta is another brand name of Ritalin.
Ritalin and Concerta can both increase dopamine levels in the brain but work in different ways. However, concerta is a long-acting drug while ritalin is short-acting.
Read more here: Concerta vs. Ritalin.
Researchers have tested the combination of Ritalin and Modafinil drugs. However, there is no known issue with the outcome.
Additionally, they are both cerebral stimulants. Many are already combining the two and getting the best of both worlds.
Read more here: What makes these 2 drugs different, and what makes them the same?
Stimulants like Ritalin are known as controlled substances because. It's because they have a likelihood of being abused.
However, since this drug continues to be of medical use, it can still be available but controlled. Therefore, a prescription from a health professional is required.
Ritalin and adderall are both stimulants for the treatment of ADHD and narcolepsy. However, they have different components.
Ritalin contains Methylphenidate Hydrochloride. On the other hand, Adderall has amphetamine salts(amphetamine and dextroamphetamine).
Read more here: Adderall vs.Ritalin.
Drug Test below
Test strips