New Information Has Surfaced
As the world continues to struggle with the effects of the COVID-19 spread, we can all agree that this is certainly a first for us all.  In fact, not only is this the first pandemic we have all experienced, but it's the first worldwide pandemic of this scale since the 1918 influenza pandemic.  New information is being released every day and with it, the awareness that this unforeseen event continues to affects us all, while countless continue to be at risk.
By now, we are all familiar with the CDC's reports on those who are at high risk. The statement from their official site says:
COVID-19 is a new disease and there is limited information regarding risk factors for severe illness. Based on currently available information and clinical expertise, older adults and people of any age who have serious underlying medical conditions might be at higher risk for severe illness from COVID-19.
However new information has surfaced with indications of a new demographic that may be considered high risk for COVID-19.  What group of individuals could this be?
Are Those Recovering Substance Abusers Considered High Risk?
Is there a particular part of the population that is a potentially high risk for COVID-19?  Many today are arriving at that conclusion.  If that is true, this would be a considerable concern for many.  According to the National Survey on Drug Use and Health (NSDUH), 19.7 million American adults (aged 12 and older) battled a substance use disorder in 2017.  In 2020, we can likely expect that number to have grown.  If that is true, where does that leave those who are suffering from Substance Abuse, or perhaps those who are currently in recovery?
People who suffer from the disease of addiction are particularly vulnerable to both catching the coronavirus and having a more severe disease when they do catch it.
The Effects of Isolation
What about the effects of isolation, resulting in part from the
stay at home
and
shelter in place
orders?  Grinspoon comments again stating: "
(They) had been using drugs with a friend and are now using them alone, and there is no one nearby who could administer naloxone or call 911 in the event of an overdose."
  This is particularly worrisome, as Grinspoon comments on the 
reports surfacing
of police departments across the country that are refusing to offer
naloxone
to patients who have overdosed, on the pretext that it is too dangerous because the "addict" might wake up coughing and sneezing coronavirus droplets.  
READ THE FULL ARTICLE HERE
Substance Abusers Succeptiple to COVID-19
"Risk for severe COVID-19 and death escalates with older age but is also concentrated among those who are immunocompromised or have underlying health conditions" states Nora D. Volkow, MD contributor for Annals of Internal Medicine.  Some of these underlying health conditions may include, cancer, heart, and respiratory diseases.
Many of these conditions are consistent with a history of substance abuse.  A history of smoking or vaping may result in long term lung damage which would cause someone to become susceptible to the complications brought on by the Coronavirus.  This is particularly noteworthy because of a high number of the American population, in particular, adolescents engage in recreational smoking and vaping.
Is Vaping Harmful to Respiratory Health?
Vaping, as well as Smoking, are certainly risky when it comes to respiratory health.  Is there any truth to Vape use or e-cigs being primary components in long term lung damage? Robert H. Shmerling, MD contributor for Harvard Health comments:
Experts aren't sure if vaping actually caused these lung problems, but believe the most likely culprit is a contaminant, not an infectious agent. Possibilities include chemical irritation or allergic or immune reactions to various chemicals or other substances in the inhaled vapors.
There's no denying the surge of popularity with Vaping – especially within the past decade or so.  These battery-powered devices are almost everywhere to be seen and smelled – as many of today's popular e-liquids have grown beyond the traditional smoky tobacco and have progressed to less obtrusive flavoring like Strawberry Watermelon POP or even Pink Lemonade Risky.
With these seemingly harmless and admittedly delightful flavors, it's no wonder why e-cigarettes are the most commonly used forms of tobacco among America's Youth today.  Are these devices as harmless as they appear? Some speculate that vaping does not seem as hazardous as traditional cigarette smoking. If that is true, how harmful can these vapors really be?
Firstly, it's important to understand the Mechanism behind how e-cigarettes, e-vaporizers, and other electronic nicotine system works… READ MORE HERE: "Will Vaping Cause Me to Fail a Drug Test?" 
Using a Drug Test Cup is Easy!
Whether you are looking to screen yourself or test someone else, you'll first want to identify what exactly you are screening for.  Though there are many varieties of Drug Test Cups and Test Strips available, some are configured for certain types of screening.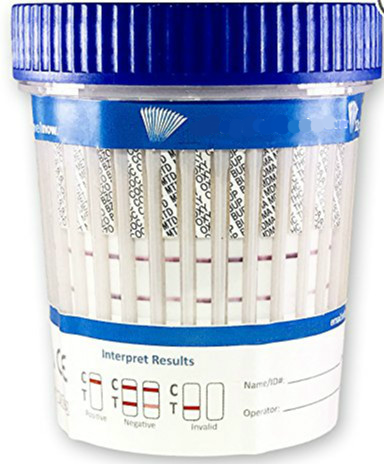 For instance, if you are looking to verify sobriety with regards to alcohol, ETG Alcohol Test Strips would be the most appropriate.  However, if you are looking to screen for additional
substances including alcohol, there are buying options that provide both such as 12 Panel Urine Drug Test Cup + ETG
One of the most popular Drug Testing Kits is the 12 Panel Drug Testing Cup.  This drug test cup detects up to 12 different substances.
These include:
Amphetamine
Barbiturates
Benzodiazepines
Buprenorphine

Cocaine
Ecstasy
Marijuana
Methadone

Opiates/Morphine
 Oxycodone
 Methamphetamine
Tricyclic Antidepressants
How Long Does it Take to Detect Results?
Results of the 12 Panel Drug Test Cup can be viewed in as little as two minutes or less, although it is recommended that you assess the urine specimen five minutes after the drug test has been taken. Do not wait longer than eight minutes to interpret the result.
The 12 Panel Drug Test cup should be stored in a temperature-regulated room between 36 degrees and 78 degrees Fahrenheit. Do not remove the drug test cups from their seals until they're ready for use.
Is Kratom Medically Approved?
Kratom has had a long history of being used as a pain management remedy.  Even today, there are many who are self-medicating;  using the substance to alleviate chronic pain.
Because of this, researchers have started to study the Mitragyna tree in order to make any medical applications.  Some studies have examined specifically the medical benefits of Kratom use as a withdrawal treatment.
Sadly, there have been some reports to the contrary as some who have used Kratom to manage opiate withdrawal have become addicted to Kratom.
Considering Kratom's historical significance in Southeast Asia, has Kratom been approved for any medical use today?  READ MORE – "What is Kratom? Is Kratom Legal?" – Answers from 12 Panel Now 
We're  Here to Help!
Here at 12 Panel Now, we are happy to provide information and spread awareness regarding these topics and more!  Every Tuesday, we publish a Blog with information on current events, as well as insights regarding our products!  We also provide the nation's most affordable Drug Testing Supplies, including Drug Testing Cups and Strips both for personal, and medical use.  Our selection of Urine Drug Testing cups is one of the nations most affordable and reliable.  Urine Drug Tests only take minutes to perform and evaluate.
If you are concerned about your levels or would like to test someone you know, we have Single Use Drug Tests available as well.  If you have any questions or comments, please feel free to contact us or send us an email!