EtG Alcohol Strips
ETG test strips are convenient to use and a cost-effective way to screen for alcohol abuse.
Provides a simple and cost-effective way to accomplish urine testing with complete ease 
Unlike blood or breathalizers, the EtG strips can display positive EtG results even from the lowest alcohol exposure.
Detecting Ethyl glucuronide in urine up to 80 hours or 3.3 days after initial consumption.
The ETG Alcohol test is one of the most highly sensitive drug testing kits and a very effective way to verify sobriety.
12 Panel Now's EtG alcohol test kit gives you speedy and accurate results within five minutes.
12 Panel Now's alcohol ETG Test Strips are some of the most accurate strips available in the United States. How accurate are urine drug test strips? These test strips contain a 99% accuracy rating.
Additionally, it avoids detecting substances that can lead to false positives like some mouthwashes, personal hygiene items, syrups, or even home cleaning products.
ETG drug test strips are available in 25 Packs or as a single strip
Cutoff Level of 500 ng ml
Forensic use only
What Is an EtG Alcohol Test?
Alcohol etg test strips are urine drug tests used to detect Ethyl glucuronide ETG levels in the body. This substance is a byproduct of ethanol naturally formed in the body after consuming alcoholic beverages


The ETG Alcohol test

 is a highly sensitive and very effective way to verify sobriety.
Who Would Benefit from Using This Test?
Public safety offices

Transportation corporations

healthcare organizations

academic institutions
homes
Are ETG Tests Accurate?
The test results from 12 Panel Now's ETG Test Strips are some of the most accurate strips available in the United States.  These test strips contain a 99% accuracy rating.
Alcohol Test Procedure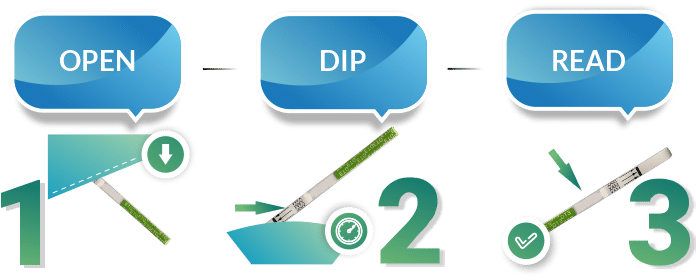 Remove the drug test from its sealed pouch and use it as soon as possible. For best results, perform the assay within an hour.

Next, hold the strip by the end, where you can see the product name. To avoid contamination, do not touch the strip membrane.

Then, holding the strip vertically, dip the test strip in the urine sample for at least 10-15 seconds. Do not immerse above the maximum line (MAX) on the test strip. 

After the drug test has finished, remove the strip from the specimen and place it on a non-absorbent flat surface. This would be the appropriate time to start the timer and wait for the colored band(s) to appear. The results can be read at 5 minutes. Do not interpret it after 10 minutes.
How to Read Alcohol Test Results
What Distinguishes It from Other Drug Tests?
Unlike blood or breath testing, EtG strips can read positive results even from the lowest alcohol exposure. They can detect

Ethyl glucuronide

 in urine up to 80 hours or 3.3 days after initial consumption. 

ETG strips are available in

25 Packs

and can be purchased with

Drug Testing Cups

as well.
12 Panel Now's EtG test kit gives you speedy and accurate results within five minutes.
In addition, our alcohol urine test strips traces EtG in the body even three days after consuming alcohol. So, it is the best device to use if you want to check on someone's sobriety.
A reliable tool
12 Panel Now's alcohol

EtG strips are specifically designed to detect

 alcohol in the body.

Additionally, it avoids detecting substances that can lead to false positives like some mouthwashes, personal hygiene items, syrups, or even home cleaning products.
How Long Can an Etg Test Detect Alcohol?
An EtG urine test is designed to detect the presence of Ethyl Glucuronide (EtG) in the body. EtG is a metabolite produced when alcohol is consumed.  the EtG test can detect alcohol in urine even in relatively small amounts. 
Because of the sensitivity of this test, it is considered to be one of the most accurate and preferred methods to detect alcohol consumption.
As a general guide, alcohol can stay in your system anywhere from 12 to 36 hours after ingestion.
EtG, on the other hand, remains in the urine and is detectable within 2 hours after use and remains detectable up to 3 days after last consumption – sometimes even longer.
Alcohol Urine Drug Test (Etg)
After drinking alcohol, the body breaks it down into different metabolites, including ETG. As a result of alcohol consumption, ETG stays in the body for some time. Therefore, using ETG testing for alcohol can determine whether a person has consumed alcohol before the test.  In order to identify heavy drinking or verify sobriety, the alcohol urine test strip can prove to be a useful drug screening tool. 
It is for this reason that the ETG test kit is not recommended for use in workplace testing programs. Instead, an ETG test serves to validate alcohol abstinence in situations such as school, military, court cases, DUI programs, among others. Additionally, the ETG urine test is sensitive and can detect low-level alcohol consumption. If someone has been exposed to alcohol-containing products, this can lead to false positives.