What Is an EtG Alcohol Test?
Alcohol etg test strips are urine drug tests used to detect Ethyl glucuronide ETG levels in the body. This substance is a byproduct of ethanol naturally formed in the body after consuming alcoholic beverages


The ETG Alcohol test

 is a highly sensitive and very effective way to verify sobriety.
Who uses these strips?
Public safety offices

Transportation corporations

healthcare organizations

academic institutions
homes
How Accurate are ETG test strips?
The test results from 12 Panel Now's ETG Test Strips are some of the most accurate strips available in the United States.  These test strips contain a 99% accuracy rating.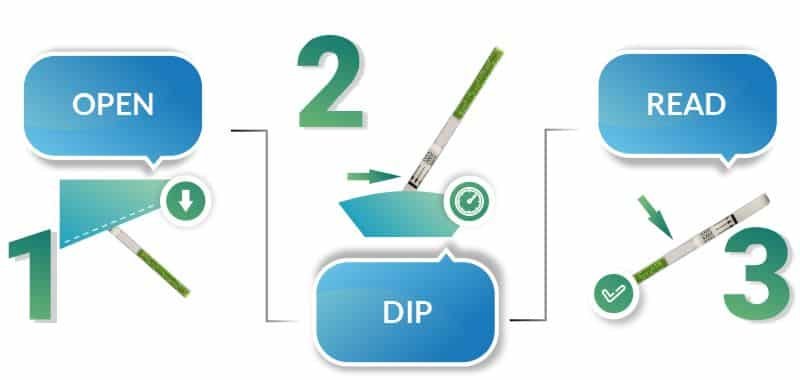 EtG Alcohol Test Strips Procedure:
First, remove EtG drug test from its sealed pouch and use it as soon as possible.

Second, hold the strip by the end, where you see the label. Do not touch the strip membrane to avoid contamination.

Next, dip the test strip in the specimen for at least 10-15 seconds. Do not immerse above the MAX line.


Then, remove the strip from the specimen and place it on a non-absorbent flat surface.

Next, start the timer and wait for the colored band(s) to appear.

Finally, read the result at 5 minutes. Do not interpret it after 10 minutes.
What distinguishes it from other drug tests?
Unlike blood or breath testing, EtG strips can read positive results even from the lowest alcohol exposure. They can detect

Ethyl glucuronide

 in urine up to 80 hours or 3.3 days after initial consumption. 

ETG strips are available in

25 Packs

and can be purchased with

Drug Testing Cups

as well.
Get ETG Alcohol strips that are convenient to use and light on the pocket.  They help users perform alcohol testing with complete ease on their own.
12 Panel Now's EtG alcohol test kit gives you speedy and accurate results within five minutes.
In addition, our urine alcohol test traces EtG in the body even three days after consuming alcohol. So, it is the best device to use if you want to check on someone's sobriety.
A reliable tool
12 Panel Now's alcohol

EtG strips are specifically designed to detect

 alcohol in the body.

Additionally, it avoids detecting substances that can lead to false positives like some mouthwashes, personal hygiene items, syrups, or even home cleaning products.
We supply drug testing kits that detect a range of drugs such as the ones listed below.

Alcohol
Fentanyl
Kratom
Buprenorphine
Cocaine
Marijuana
PCP
Other drugs we test
Methadone
Oxycodone
Methamphetamine
 Morphine
Aside from drug testing cups we offer:
Drug test strips, including ETG Alcohol test strips
Dip cards for marijuana, and 10 Panel, 12 Panel and 13 Panel dip cards
COVID-19 rapid test
Oral swabs
All of our products are easy to use, 99% accurate, CLIA-Waived and FDA-approved.
12 Panel Now's drug test uses the lateral flow assay (LFA) technology. It's a paper-based platform for detecting substances in complex mixtures like urine.
In addition, the paper-like surface of the strip is actually made up of membranes. These membranes are infused with specific chemicals that help pinpoint the presence of specific drugs in pee.
All you need to do is to dip the drug test strip into the urine, then wait for a few minutes. This gives the strip enough time to absorb the urine. Then, read the results.
Easy drug testing at a price you can afford!
An EtG test strip detects the presence of alcohol in human urine. EtG stands for Ethyl Glucuronide, a byproduct of ethanol, which makes alcoholic beverages intoxicating.
Think of it as a biological marker for alcohol consumption. It tells you whether a person is staying away from alcohol or not.
However, unlike complicated lab procedures, which can take days to get results, these Etg test strips only take as little as five minutes.
A positive result shows a colored band in the control region.
On the other hand, you'll see two colored bands on the strip when the test is negative.
No visible marks mean the test is invalid. When and if this happens, you'll need to repeat the test to rule out false results.
Here's a step-by-step guide on how to use an alcohol test strip
Remove the EtG strip from the sealed pouch or canister. For best results, only open the packet if you intend to use it within an hour.
Then, hold the strip in the area where the label is. Do not touch the membrane to avoid contamination.
Next, hold the strip vertically and dip it in the urine specimen for at least 10-15 seconds. Do not soak past the maximum line of the test strip.
Once done, remove the alcohol strip from the specimen. Then, place it on a non-absorbent flat surface.
Start the timer and wait for the colored band to appear.
Finally, Read the result within 5 minutes. Do not interpret after 10 minutes as this might lead to a false result.
You can buy EtG test strips in bulk here at 12 Panel Now. We offer the lowest prices – as low as $1.29 per strip when you purchase 25 packs.
However, if you intend to buy more than 2,000 units, call us at 888-936-66275 or 61- 409-5151 for bigger discounts.
Yes, you can. You can use drug test cups with EtG or EtG test strips.
Here at 12 Panel Now, you can test for alcohol in urine with EtG test strips, alcohol test strips, 12 Panel cup with EtG, and 14 panel cup with EtG.
We can't answer for everyone in the industry, but here at 12 Panel Now, our alcohol urine tests (cups, dip cards, and test strips) are 99% accurate
Yes, drug courts test for alcohol in urine. They typically do that twice per week until the participant is nearing graduation.
For more details, read more here: Standard VII. Drug and Alcohol Testing
It depends on the test. If someone tests you with an ALC testing strip, alcohol will show up 12-24 hours after intake.
On the other hand, if someone uses an EtG test strip, alcohol will show up even four to five days after consumption. It's because EtG stays longer in the body.
Read more here: Alcohol/EtG Drug Tests – Everything You Need to Know
You can buy it anywhere – pharmacies, convenience stores, or online shops.
But before you buy, check out their reputation and customer testimonials. This is to make sure you are getting top quality alcohol tests from reputable vendors.
EtG stands for Ethyl glucuronide,  a byproduct of ethanol that is formed in the body after consuming alcohol.
For more information on EtG, read What To Expect from an Alcohol ETG Test (ETG Test Strips)
12 Panel Now carries over 20 types of drug tests you can use for detecting a specific substance in human urine.
12 Panel Now's List of Drug Test Strips
Other strips
Yes, alcohol shows up on a drug test. It can be detected by alcohol test strips,  EtG test strips, 12 Panel cup with EtG strips, or a 14 Panel drug screen cup with EtG.