We provide 12 Panel Urine Tests, Drug Test Strips, Drug Test Cups, Drug Test Cartridges, Dip Cards, Oral Swabs Tests, and more. We sell drug tests in bulk or one at a time.
Single home tests for at-home testing are available too! Same-day- FREE shipping is available for all orders on weekdays placed before 4 pm EST. We keep over 2 million drug tests in stock at all times so supply is never an issue. You can buy 1 instant urine cup or 100,000, and we will have your order at your door within 1 to 4 days business days in most US locations.
Our drug test kits are CLIA waived and FDA approved unless marked forensic use only. These tests are instant-read, leak-proof point-of-care cups.
We beat every price by far.
As low as
$0.69 per drug test strip
    average review rating
FREE SHIPPING over $90, same day shipping

FLAT FEE

shipping $6.99 under $90 spent
Cutoff level
Ethyl -glucuronide
500 ng/ml
Forensic use only
$

2.99
$

29.75
30 more drug test strips and cartridges to choose from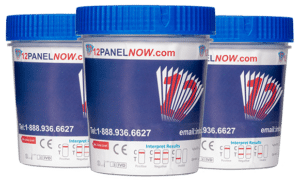 Interested in Even LOWER Prices?
Purchase Custom Cups with Custom Drug Panels Specific to Your Company's Needs at industry-low wholesale prices!
Click Here for More Information on Our 2,000+ Cup Bulk Orders!
For info on Drug Tests in Bulk Supplies, CALL: 5612570135
Check Out the Latest from Our Blog!
To keep a drug-free workplace, employers in the USA abide by strict regulations concerning drug testing policies. However, this require...
12 PANEL NOW – The Nations Most Affordable Supplier of Drug Testing Supplies!
12 Panel Now – The Nations Most Affordable Supplier of Drug Testing Supplies
We have a varied marketplace offering drug test kits, urine testings strips, and other medical supplies that will assist you in providing a necessary drug screening solution. 
Still, our key focus is on providing our customers with exceptional customer service and quality products.
What Makes Our Product Stand Out
Our 12 Panel Urine Drug tests, as well as our other drug test kits, are 99% accurate, and easy to use.  Our 6 Panel, 8 Panel, 10 Panel, and 12 Panel Test's are CLIA waived, and FDA approved.
Each drug test cup has a no-drip seal and a built-in temperature strip to ensure safe handling and precise reading.  Accurate results are provided within just a few short minutes.
For bulk pricing, purchase drug tests in bulk and receive pricing for as low as $.199 per cup.
And because we keep over 500,000 drug test cups in stock at any given time, we can ship your orders immediately!