LSD Drug Test – Urine Dip Test
LSD drug test kit can quickly detect the presence of Lysergic acid diethylamide in human urine 1-5 days after intake.
99% accurate– results in a few minutes.
Our Single Dip Tests Easy and safe to use.
These dip tests are ideal for at-home testing.
Cost-efficient, safe, and reliable.
12 Panel Now's LSD urine test can detect LSD or acid in urine within 5 minutes
One of the most cost-effective ways to perform drug screenings.
This LSD drug test includes internal procedural controls. If there's a sufficient amount of specimen and the procedure is followed properly, a positive result will show as a colored band in the control region.
There are no external controls in this kit. That's why we highly recommend further testing to verify positive results.
Forensic use only
What is LSD?
LSD (lysergic acid diethylamide), popularly known as acid, is a mind-bending substance. It's a Schedule I drug. As such, it has a high potential for abuse but doesn't have any accepted medical use at this time.
LSD is a hallucinogen. Also known as psychedelics, this drug alters one's mood, thought, and perception when it is taken in small doses.
If consumed in large doses, hallucinations and distortion of time and space could happen. The hallucinations, images, or sensations seem real to the user. Hallucinogens may also be found in some plants and mushrooms, or synthetically manufactured.
How to Use a Single Urine Dip Test?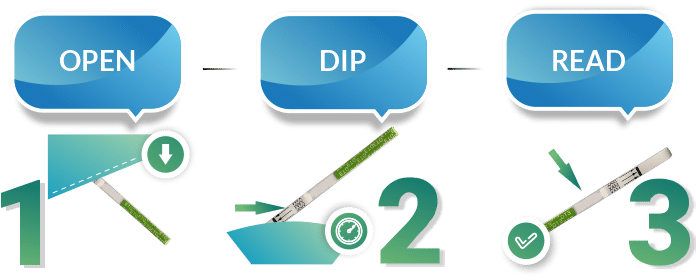 Remove the LSD drug test from its sealed pouch and use it as soon as possible. For best results, perform the assay within an hour.

Next, hold the test by the end, where you can see the product name. To avoid contamination, do not touch the test membrane.

Then, holding the test vertically, dip the test in the urine specimen for at least 10-15 seconds. Do not immerse above the maximum line (MAX) on the test. That's about 1/5th of the way up the test.

After the drug test has finished, remove the test from the specimen and place it on a non-absorbent flat surface. Start the timer and wait for the colored band(s) to appear. Read the result at 5 minutes. Do not interpret it after 10 minutes.
Effects of LSD
When consumed at high doses, LSD can produce delusions and hallucinations. It can also alter a person's sense of time and identity.
The effects of LSD vary from person to person. Some users experience "good trips". They feel euphoric and see their surroundings in bright, vivid colors. In addition, they are devoid of the feelings of pain and fear. That's why LSD was used for terminally ill people.
When a person experiences a "bad trip", on the other hand, he feels more anxious, depressed, disappointed and panicky.
Does LSD Show up on a Drug Test for Probation?
Courts now implement drug testing programs to ensure their clients are staying away from drugs. They test for different types of drugs, including LSD.
So yes, LSD will show up on a drug test for probation.
Does LSD Show up on a 5 Panel Drug Test
No, a 5-panel drug test cannot detect LSD. It only tests for commonly abused substances, such as Amphetamines, Opiates, THC, PCP, and Cocaine.
To clarify, LSD doesn't fall under any of the above-mentioned categories because it's a hallucinogen.
Does LSD Show up on a Drug Test?
Is LSD a Halucinogen?
Yes, it is. LSD is one of the most powerful mind-altering substances. It comes from fungi that grow in the rye and other grains.
Additionally, many who use LSD have reported experiences any of the two "trips" – the good and the bad.
LSD Trips
When a person experiences a "trip", they often report seeinging bright, beautiful colors, and may even see inanimate objects come to life.
A bad trip, on the other hand, makes a person feel the opposite.