Fentanyl Drug Test – Dip Test

The Fentanyl Drug Dip Test from 12 Panel Now is a safe and reliable method of presenting for fentanyl drug abuse.
As well as all, fentanyl urine drug dip tests are 99% correct 
Also, the Fentanyl Test has a cutoff level of 200 ng/ml
Test results will display within five minutes as well
Although, each test is easy to use and fast-acting
Our Fentanyl Drug Dip Tests are for Forensic use only
How to Use a Fentanyl Drug Test

12 Panel Now's Single Panel Fentanyl Dip Test besides a simple and effective way to test for Fentanyl in urine or any other solution. The Fentanyl Drug Tests are available in single packs, as well as multi-pack amounts. As a result are display in as little as five minutes. In order to begin using the Single Panel Fentanyl Drug Test, make sure to have your materials ready. Moreover, you will need:
A container (for the urine specimen to collect)
Gloves
Eye protection
Stop Watch
How to Test for Fentanyl through drug dip test?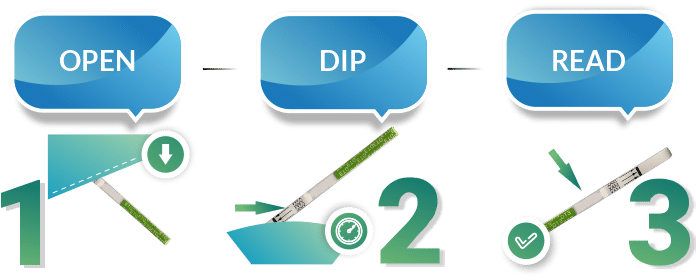 Remove the fentanyl drug test from its sealed pouch and use it as soon as possible. For best results, perform the assay within an hour.

After that, hold the test by the end, where you can see the product name. So, to avoid contamination, do not touch the test membrane.

Then, holding the test vertically, dip the test in the urine specimen for at least 10-15 seconds. Do not immerse above the maximum line (MAX) on the test dip test. That's about 1/5th of the way up the test.

After the fentanyl drug test has finished, then remove the test from the specimen and place it on a non-absorbent flat surface. Start the timer and wait for the colored band(s) to appear. Finally, read the result at 5 minutes. Do not interpret it after 10 minutes.
Drug Test Results:
Why Test for Fentanyl?
If used within the bounds of medicine, as advise and under direction, Fentanyl can use to treat chronic pain.  It is 50-100 times more potent than morphine.  Unfortunately, the use of this illicit drug is leading to a growing number of overdose deaths in the United States and abroad.  
The rise in opioid usage (a type of drug that includes heroin, fentanyl, oxycodone, hydrocodone, codeine, morphine, etc.) has devolved into an epidemic that has taken a violent toll on society for the past 20 years. The opioid epidemic has claimed hundreds of thousands of lives (over 800,000) in the U.S. since the 1990s. It began as an increase in overdoses from prescription opioids. This is one of the drugs that is of most concern when urine drug testing.
Additional Information:
The fentanyl urine drug test kit contains a cutoff level of 200ng/ml. Moreover, use it exclusively to detect the use of fentanyl in the urine. If stored in a refrigerator, bring the dip test to room temperature before use. 
Economical. You don't even have to spend an arm and a leg to fight overdose or use these fentanyl drug dip tests or kits for your rehab, clinic, workplace, or academic institution. Also, w

e can give them to you for as low as $0.59 per Fentanyl Drug Dip Tests.
Using The Fentanyl Drug Test Kit
The Fentanyl Drug Dip Tests are a very exact urine drug testing solution.  It can be used to detect the presence of fentanyl in urine.
Side Effects of Fentanyl
Akin to morphine and heroin, fentanyl generates the feeling of relaxation, pain relief, and drowsiness.  People who use drugs like this may also experience a high level of euphoria as well.  It does so by targeting opioid receptors in the brain that are responsible for mediating emotion and pain.
Fentanyl also releases dopamine (a chemical that induces the feeling of pleasure) in the reward center of the brain. This is how repeated use of fentanyl reinforces the user's dependency on the drug.
Individuals on fentanyl are often dizzy, in a state of confusion, have pupillary cramp (shrunken pupils), and may feel nauseated. Opioid poisoning or overdosing leads to near-unconsciousness, coma, cold-bluish skin, respiratory failure, and death.  Sadly one of the direst consequences of fentanyl use is opioid overdose.
Frequently Asked Questions
How do these Fentanyl Dip Tests Work?
12 Panel Now's drug test use the lateral flow assay (LFA) technology. It's a paper-based platform for detecting substances in complex mixtures like urine.
The paper-like surface of the dip test is made up of membranes. These membranes are infused with chemicals that help pinpoint the presence of specific drugs in pee.

All you need to do is dip the drug test into the urine and then wait for a few minutes. This gives the test enough time to absorb the urine. Then, read the results.

Easy drug testing at a price you can afford!
Will Fentanyl Show up on a Probation Drug Test?
Fentanyl is not always included on a standard urine drug screen.  However many institutions, including probation offices, will use drug screens that detect fentanyl if that is a drug of concern.
Will Fentanyl Show up on a 10 Panel Drug Test?
Does Fentanyl Show up as Morphine on a Drug Test?
No, fentanyl won't show up as morphine on a drug test.  According to NCBI, "fentanyl and buprenorphine are sufficiently distinct in structure compared to morphine. These drugs show essentially no reactivity is commonly marketed morphine-specific opiate immunoassays. Detection of these opioid drugs, therefore, requires separate tests that are specific for these compounds [27–30] or methods capable of their detection and specific identification.