Cotinine, Nicotine Urine Test – Dip Test
The single panel Cotinine drug test detect nicotine levels in urine
Cotinine is a Metabolite of Nicotine and is the primary alkaloid found in tobacco products
Cutoff Level for Cotinine in this Particular Test is 200 ng/mL
This test is designed to be both cost-efficient and reliable.
Cotinine is detectable up to 4 days after a person's last cigarette
12 Panel Now's dip tests have high level of accuracy level at 99%.
Test results from urine samples will be visible within five minutes.
Forensic use only
Why Use a Cotinine Nicotine Urine Test?
Despite the risks associated with nicotine use, it is not considered a controlled substance by the FDA.
Employers and institutions still are within their right to test individuals for Cotinine. They may include a cotinine test when they initiate their drug screening procedures.
On the other hand, some employers may wish to assess tobacco use within their workforce or enforce a no-smoking policy in their company.
If you want to learn more about nicotine, check out our knowledge base.
How to Use a Cotinine Urine Dip Test?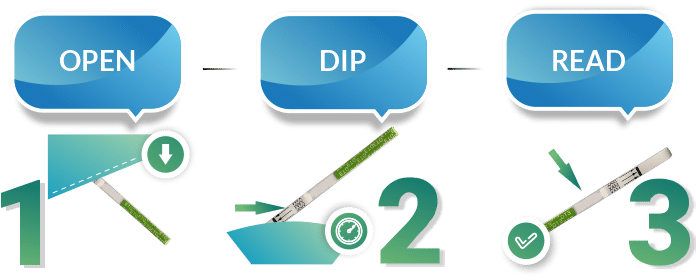 Remove the cotinine urine test from its sealed pouch and use it as soon as possible. For best results, perform the assay within an hour.

Next, hold the dip test by the end, where you can see the product name. To avoid contamination, do not touch the test membrane.

Then, holding the test vertically, dip the test in the urine specimen for at least 10-15 seconds. Do not immerse above the maximum line (MAX) on the test. That's about 1/5th of the way up the test.

After the drug test has finished, remove the test from the specimen and place it on a non-absorbent flat surface. Start the timer and wait for the colored band(s) to appear. Read the result at 5 minutes. Do not interpret it after 10 minutes.
How to read Cotinine Urine Test?
What is Cotinine, Nicotine ?
Cotinine is a metabolite of nicotine, a toxic substance that stimulates the central nervous system. It is a metabolite of Nicotine and is the main alkaloid in tobacco.
Cotinine levels can be present in the body after consuming nicotine products like cigarettes, nicotine patches, gums, and nasal sprays. Studies today show that small doses of nicotine release adrenaline.
Like many stimulants, the nicotine assumption in small amounts will increase energy and cause the user to become more alert. In larger doses, however, nicotine releases dopamine, consequently providing a sedative effect.
What Can Cause a False Positive for Cotinine?
Cotinine is a metabolite of nicotine and is often used as a biomarker for tobacco use. However, certain substances or conditions can cause a false positive for cotinine on a drug test. Here are some possible causes of a false positive for cotinine:
Secondhand smoke exposure: Exposure to secondhand smoke can cause cotinine to be present in the body even if the person did not smoke themselves.
Nicotine replacement therapy: Nicotine gum, patches, lozenges, or other nicotine replacement products can cause a false positive for cotinine on a drug test.
Certain medications: Some medications, such as antibiotics or antidepressants, can cause a false positive for cotinine on a drug test.
Foods and beverages: Certain foods and beverages, such as tea, coffee, and chocolate, can contain trace amounts of nicotine and may cause a false positive for cotinine.
Mouthwash: Some types of mouthwash and dental products may contain small amounts of nicotine and can cause a false positive for cotinine.
How Long is Cotinine Detectable in Urine Test?
Cotinine is a metabolite of nicotine, the active ingredient in tobacco products. Cotinine is often used as a biomarker for tobacco exposure because it has a longer half-life than nicotine, making it easier to detect.
In urine, cotinine can typically be detected for up to 2-3 days after the last tobacco use in occasional users. However, for habitual smokers or those who use other tobacco products regularly, cotinine might be detectable for a longer period, up to 2 weeks or more, because of accumulation in the body.
Is Nicotine Tested in Drug Testing?
A standard drug test does not test for nicotine. A nicotine test is used instead to detect nicotine or its metabolite cotinine in the body. Cotinine is a chemical produced by the human body after nicotine exposure.
Nicotine testing to detect cotinine is usually done as part of a smoking cessation program, or a health or life insurance application. Nicotine testing can also be ordered by the court in child custody cases, prior to certain surgical procedures, or if there is suspected nicotine overdose or poisoning.
Nicotine can be detected in the blood, urine, saliva, and hair. A saliva test is the most sensitive test used to detect cotinine. It can detect nicotine up to 4 days after nicotine inhalation or use.
How Long is Cotinine Detectable in Urine Test?
The detection time for cotinine in a urine test depends on the frequency of exposure to nicotine. If a person smokes infrequently, cotinine may be present in their urine for about four days, while with regular exposure to nicotine, it may be detectable for up to three weeks after the last exposure. However, both nicotine and cotinine are usually detectable in the blood for 1 to 3 days after the person stops using tobacco.
Can You Test Positive for Cotinine from Second Hand Smoke?
Measuring cotinine in blood is considered the most reliable way to determine exposure to nicotine for both smokers and nonsmokers who are exposed to environmental tobacco smoke . However, it's important to note that cotinine levels will start to return to a normal level 7 to 10 days after being away from tobacco products or secondhand smoke.
How Long Does Cotinine Stay in Your System?
What Can Cause a Failed Drug Test?
A failed drug test can mean either a positive test result or problems in the testing process that affect the result of the test. It can also be caused by food or medication taken before testing.
A failed drug test due to a positive drug test result means the drugs tested for are detected in the body. The individual failed the drug test because drugs are present in his body above the cut-off level, indicating the use of the drugs tested for.
A failed drug test can also mean a breach in the integrity of the testing process thereby affecting the results of the test. The breach in testing protocol may occur in specimen collection, handling, or storage.