What is a Xylazine Drug Test?
Xylazine, known by its street names: tranq dope and zombie drug, is used in veterinary medicine as an animal tranquilizer and sedative for large animals. Having been identified as an illicit adulterant in drug use in Puerto Rico in the early 2000s, it's now reached public notoriety for its shocking effects on the human body and the many drug overdose deaths associated with its use. Xylazine drug test is a tool used to detect the presence of xylazine in substances. These dip tests function in a manner similar to other dip drug tests, with a color change indicating the presence of the drug. The primary use of these dip tests is in harm reduction settings, where they can be used to test substances for unexpected or potentially harmful adulterants.
Xylazine is not a controlled substance, however, the Drug Enforcement Administration has urged the public to be aware of its dangers as well as its being reportedly mixed into illicit drugs. Reports have shown that xylazine has been found in drug mixtures that contain illicit opioids like the synthetic opioid fentanyl and heroin.
The use of Xylazine and fentanyl has contributed to an increasing number of overdose deaths in northeast communities like New York City and parts of Rhode Island and has been spreading westward toward California in communities near San Francisco and Los Angeles.
What Does Xylazine Do to Humans?
Xylazine is not approved for human use. It is only FDA-approved for its use on animals. Today,it is only available to licensed veterinarians who are trained to use it on treating non-human mammals. Xylazine has made its way into the illicit drug supply where both drug addicts and other unsuspecting users have experienced its shocking physical side effects.
Known as the zombie drug, illegal xylazine use in injection form has been tied to conditions that include rotting skin and skin ulcers around the injection site. These severe skin wounds have been known to become necrotic and in some cases rot the skin to the bones. There have also been reports of patients requiring amputation from the growing increase of the wounds.
Due to its nature as an animal sedative, xylazine has been known to cause in humans: respiratory depression, muscle relaxation, and low blood pressure. It also delivers extreme side effects such as heavy drowsiness and fatigue causing the user to have an emaciated look. This certainly explains, in part why xylazine is known by one of its street names: the zombie drug.
How to use Xylazine Dip Test?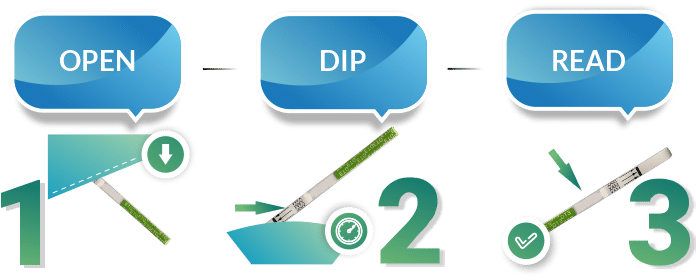 Remove the Xylazine dip test from its sealed pouch and use it as soon as possible. For best results, perform the assay within an hour.

After that, hold the test by the end, where you can see the product name. So, to avoid contamination, do not touch the test membrane.

Then, holding the dip test vertically, dip the test in the urine specimen for at least 10-15 seconds. Do not immerse above the maximum line (MAX) on the test. That's about 1/5th of the way up the dip test.

After the Xylazine drug test has finished, then remove the test from the specimen and place it on a non-absorbent flat surface. Start the timer and wait for the colored band(s) to appear. Finally, read the result at 5 minutes. Do not interpret it after 10 minutes.
How to Test For Xylazine:
Xylazine has been reportedly mixed into illegal street drugs catching drug users and first responders unaware. The intoxicating effects of the drug are similar to that of synthetic opioids like fentanyl. First responders will treat those who are overdosing on illicit fentanyl with naloxone, a drug that treats narcotic opioid overdoses, however, it will not reverse the effects of xylazine like slow breathing.
Even though this drug is relatively new to the public eye, those who wish to facilitate xylazine testing can purchase their own xylazine test through 12 Panel Now. 12 Panel Now carries a wide variety of multi-drug tests and single panel tests are fast and accurate. At this time they carry one of the few xylazine drug tests available in the form of an accurate single-panel test.
A single-panel xylazine drug test will detect the presence of one drug (xylazine) in urine at one cutoff level. These types of tests are simple and easy to use, delivering accurate results in just a few minute's time. The person who is administering the xylazine drug test simply dips the test dipstick into a urine specimen for 10-15 seconds, then places it on a non-absorbent surface where results can be evaluated at the 5-minute mark.
Xylazine Drug Test Results:
Xylazine Side Effects
Xylazine, a non-opioid veterinary tranquilizer, is increasingly associated with overdoses and fatalities, particularly when mixed with illicit substances like fentanyl, other opioids, and substances like cocaine, heroin, benzodiazepines, and alcohol. This drug acts as a central nervous system depressant, which can result in a variety of adverse effects, including but not limited to:
Drowsiness and Amnesia: Xylazine can cause significant sedation, leading to drowsiness, and can also impair memory.
Depression of Vital Signs: Xylazine can lead to dangerously low levels of vital signs such as blood pressure, heart rate, and respiratory rate.
Increased Risk of Overdose: The risk of a life-threatening overdose increases significantly when xylazine is combined with opioids and other depressants. Furthermore, the effectiveness of naloxone, a medication used to reverse opioid overdose, may be reduced in cases where xylazine is involved.
Skin Ulcers and Abscesses: Xylazine use has been associated with the development of skin ulcers and abscesses. The vasoconstrictive effect of xylazine on blood vessels, coupled with decreased skin perfusion, is believed to be responsible for these ulcers.
Despite being a veterinary tranquilizer, xylazine has been found in the illicit drug supply, leading to its abuse among persons who inject drugs. Ongoing research is being conducted to better understand the patterns of its use, the changes in the illicit drug supply, and the interplay between xylazine and synthetic opioids. These efforts are crucial in addressing the growing overdose crisis.
Is Xylazine a Controlled Substance?
Xylazine is not a controlled substance. Controlled substances are drugs that are regulated by federal law. Traces of xylazine have been found in the illicit drug supply sold by drug dealers in the illegal drug trade here in the United States. Early uses have been traced back to Puerto Rico in the early 2000s where xylazine had been used as an adulterant in other drug mixtures.
The prevalence of xylazine as a new drug being used outside of its purpose as an animal sedative has caused alarm due to its strong opioid-like effects. There are an increasing amount of overdose-related deaths reported during the current opioid crisis. In recent years xylazine abuse has in some cases, been likened to individuals looking to extend the effects of other drugs like fentanyl or heroin.
When a person experiences a xylazine overdose and has used a drug mixture containing xylazine-containing fentanyl, the person may appear to be unresponsive and may appear to have a gray blush skin coloration.
What is Xylazine Used for?
Because illicit xylazine is commonly found in illicit opioid drug mixtures, xylazine addicts will look to the drug to lengthen the euphoric effects of other drugs such as fentanyl. This is also true with mixtures containing heroin as injection-drug use with xylazine has been reported by the Drug Administration.
As a veterinary sedation drug, xylazine is FDA-approved for animals. Before Xylazine had made headlines as an illicit drug of concern, veterinary xylazine has been and continues to be used in veterinary medicine for large mammals like cattle, deer, horses, mules, and elk to name a few.
Due to the recent discovery of xylazine being used as an adulterant in illicit drugs, the FDA is starting to restrict certain imports of xylazine and with the help of the DEA and other federal agencies, they can work to ascertain that all shipments of xylazine will be allocated for legitimate use.
Is Xylazine Addictive?
Frequent use of the illicit drug xylazine can certainly increase the potential for addiction. As xylazine has been introduced as a cutting agent in the illicit drug supply, many fentanyl addicts and those who are already battling drug abuse and opioid use have become addicted to these drug mixtures.
Xylazine has almost always been identified alongside fentanyl so there is definitely a danger of this drug combination becoming addictive. Injecting or consuming an unknown amount of the deadly drug xylazine can prove to be especially lethal due to its extreme sedative effects.
Some who have injected trace amounts of xylazine have reported falling asleep for a long period of time, and some reports indicate that xylazine use can cause users to fall into a coma.