12 Panel Drug Test Cup
Our 12 Panel Urine Drug Test Cup is a Standard 12 panel drug test that is CLIA waived and FDA approved POC (Point of Care) urinalysis test.
This drug test is extremely sensitive and conforms to SAMHSA cutoff levels.
It possesses a 99% accuracy rate and is a comprehensive test to use at home.
It is a fully integrated and self-contained drug screening cup.
Each 12 Panel drug test cup also contains a built-in temperature strip for authenticating the donor's urine.
It is designed to be both cost-efficient and reliable.
This test contains a peel-and-read label and is leak-resistant.
The PCP drug test time will be only a few minutes before displaying results!
Instant 12 Panel Drug Test Cup cut-off levels and detection times are shown in chart on this page.
Special wholesale pricing is available for drug tests in bulk!
What Is Tested For In a 12 Panel Drug Test
| | | | |
| --- | --- | --- | --- |
| Drug Name | Abbreviation | Detection time | Cut-Off Level |
| Amphetamines | AMP | 1-2 Days | 1000 ng/mL |
| Barbiturates | BAR | 1-4 Days | 300 ng/mL |
| Benzodiazepines | BZO | 1-2 Days | 300 ng/mL |
| Buprenorphine | BUP | 2-6 Days | 10 ng/mL |
| Cocaine | COC | 2-4 Days | 300 ng/mL |
| Ecstasy | MDMA | 2-4 Days | 500 ng/mL |
| Marijuana | THC | 5+ Days | 50 ng/mL |
| Methadone | MTD | 1-3 Days | 300 ng/mL |
| Methamphetamine | mAMP (or MET) | 2-4 Days | 1000 ng/mL |
| Morphine | OPI | 2-3 Days | 300 ng/mL |
| Oxycodone | OXY | 1-3 Days | 100 ng/mL |
| Phencyclidine | PCP | 7-14 Days | 25 ng/mL |
How to Use a 12 Panel Drug Test Cup?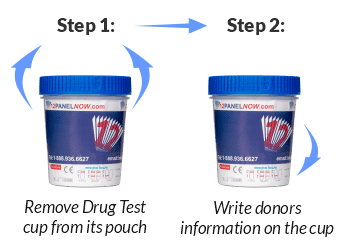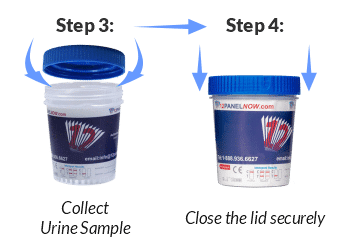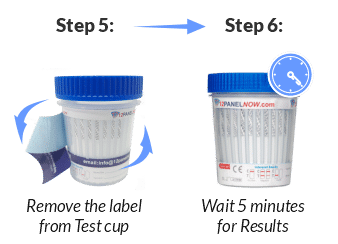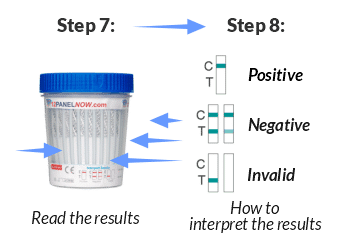 Step 1:
Remove Drug Test cup from its pouch
Step 2:
Write donors information on the cup
Step 3:
Collect Urine Sample
Step 4:
Close the lid securely
Step 5:
Remove the label from Test cup
Step 6:
Wait 5 mins for Results
Step 7:
Read the results
Step 8:
How to interpret the results
How to Read a Urine Drug Test Results?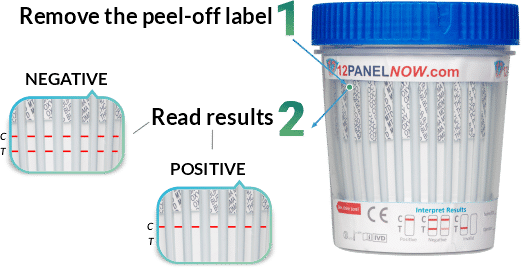 Testing for Drug Use
The drugs outlined here can be tested for using the 12 panel drug test cup. Each cup contains everything needed to conduct a single test. This means that each cup is a self-contained drug testing kit.
These tests are extremely reliable with their 99% accuracy rate. Healthcare providers at clinics and hospitals can rely on them to report accurate readings. If the test detects the presence of any of these drugs, it will show it on the cup test strip. You'll be able to read which drug or drugs are present in the person's urine.
What Are the Benefits of Urine Drug Screening?
Using a instant 12 panel drug test cup to screen for drug use is highly advantageous because of its inexpensive cost and rapid results. However, these tests are also convenient and non-invasive. Tests can also reflect the drug's presence if it was used in the prior week–even longer if the individual uses the drug on a routine basis. Containers are easy to store and transport. They're also easy for people being screened to use.
What do Drug Test Cutoff Levels Mean?
In a drug test, a cut-off level is a level at which the amount of a detected substance reaches a point where it indicates a danger.  If the test results indicate an amount that is less than the indicated cut-off level, the test will yield a negative result.  When a urine drug test results exceed the indicated cut-off level, it will result in a positive result.
A Fraudulent Free Screening
There is always a concern about fraudulent samples being submitted, especially regarding PCP tests in the United States.  Urine tests from 12 Panel Now contain a temperature strip that verifies the temperature of the urine sample.
When a urine specimen is submitted to a test administrator, the temperature should normally be within the 90 – 100 degree range.  If the administrator receives a sample that is far above or far beneath the normal temperature, then they can assess the sample to determine whether it has been tampered with.
All of the multidrug tests from 12 Panel Now are equipped with a built-in Temperature Strip for fast and accurate results.
What Does a 12 Panel Drug Test test For?
A 12 Panel Drug Test detects 12 substances.  The 12 Panel Tests from 12 Panel Now are CLIA waived and FDA approved.  They detect the following: AMP, BAR, BUP, BZO, COC, MAMP (MET), MDMA, MTD, OPI300 (MOP), OXY, THC & Phencyclidine PCP
There are other configurations of 12 Panel Urine Drug tests available.  For instance, the 12 Panel Drug Test with TCA includes the drugs listed above with the exception of PCP.
Instead of including PCP, it detects TCA (Tricyclic antidepressants).  The 12 Panel Drug Test + Etg detects the same drugs as the 12 Panel TCA test, with the addition of EtG. (Ethyl glucuronide)