12 Panel Drug Test Cup Information
Our 12 Panel PCP Drug Test is a CLIA waived and FDA approved POC (Point of Care) urinalysis test.
This drug test is extremely sensitive and conforms to SAMHSA cutoff levels.
It possesses a 99% accuracy rate and is a comprehensive test to use at home.
It is a fully integrated and self-contained drug screening cup.
Each 12 Panel drug test cup also contains a built-in temperature strip for authenticating the donor's urine.
It is designed to be both cost-efficient and reliable.
This test contains a peel-and-read label and is leak-resistant.
The PCP drug test time will be only a few minutes before displaying results!
Special wholesale pricing is available for drug tests in bulk!
12 Panel PCP Urine Drug Test
How to Use a Drug Test Kit?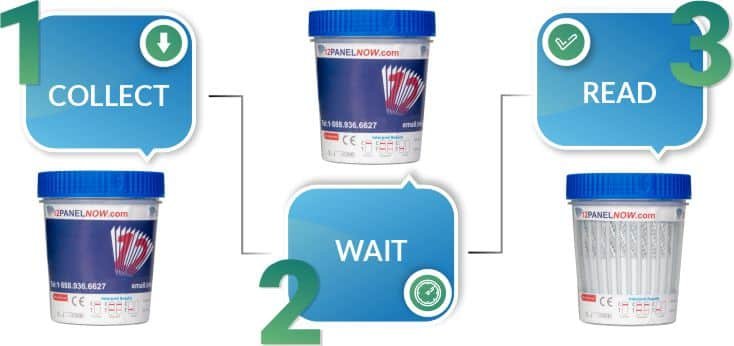 COLLECT
Remove the urine drug test cup from the sealed pouch and use it as soon as possible.
WAIT
At 2-4 minutes, verify the temperature of the specimen by observing where the green dot appears. A green dot will appear on the corresponding temperature line.
READ
Peel off the label when you're ready to interpret the results. Test results should be read within 5 minutes. Do not interpret the result after 8 minutes.
How to Read Drug Test Kit?
POSITIVE
Only one colored band appears, in the control region ©. No apparent colored band appears in the test region (T)
NEGATIVE
Two colored bands appear on the membrane. One band appears in the control regions © and another band appears in the test region (T).
INVALID
The control band fails to appear. Results from any test which has not produced a control band at the specified read time must be discarded. Please review the procedure and repeat it with a new test.
12 Panel Drug Test Cup (PCP)

Our 12 Panel drug test cup with PCP is CLIA waived and FDA approved. These tests were designed with high standards in mind. Its accuracy and an ergonomic design provide safe, precise, and hygienic urine drug testing for a variety of drug screening scenarios.
What is PCP on a Drug Test?
Phencyclidine PCP is a hallucinogen that produces mind-altering effects for the user.  It has been available in powder or liquid form as well as tablets.  It has taken on many street names including: "angel dust" and "rocket fuel".  The 12 Panel Drug test detects 12 drugs of abuse including PCP.
Fraudulent Free Screening
There is always a concern about fraudulent samples being submitted, especially with PCP tests.  Urine tests from 12 Panel Now contain a temperature strip that verifies the temperature of the urine sample.
When a urine specimen is submitted to a test administrator, the temperature should be within the 90 – 100 degree range.  If the administrator receives a sample that is far above or far beneath the normal temperature, then they can assess the sample to determine whether it has been tampered with.
How Long Does PCP Stay in Your System?
The detection time for PCP can certainly depend on many factors. For instance, every individual metabolizes differently.  It is for this reason that an exact detection time cannot be determined.
Generally, PCP can be detected up to 5 days after use.  In some instances, the drug has been detected in urine up to 30 days after last use.
Widespread use of PCP had risen and peaked in the 1980s in the United States.  However, in the 2000s, there had been an increase in young adults.  Because of the potential for abuse, PCP has been a concern for pre-employment and PCP urine tests are consequently included on many screenings today.
12 Panel PCP Urine Drug Tested
| | | | |
| --- | --- | --- | --- |
| Drug Name | Abbreviation | Detection time | Cut-Off Level |
| Amphetamines | AMP | 1-2 Days | 1000 ng/mL |
| Barbiturates | BAR | 1-4 Days | 300 ng/mL |
| Benzodiazepines | BZO | 1-2 Days | 300 ng/mL |
| Buprenorphine | BUP | 2-6 Days | 10 ng/mL |
| Cocaine | COC | 2-4 Days | 300 ng/mL |
| Ecstasy | MDMA | 2-4 Days | 500 ng/mL |
| Marijuana | THC | 5+ Days | 50 ng/mL |
| Methadone | MTD | 1-3 Days | 300 ng/mL |
| Methamphetamine | mAMP (or MET) | 2-4 Days | 1000 ng/mL |
| Morphine | OPI | 2-3 Days | 300 ng/mL |
| Oxycodone | OXY | 1-3 Days | 100 ng/mL |
| Phencyclidine | PCP | 7-14 Days | 25 ng/mL |