12 Panel Drug Test Information
Our 12 Panel PCP Urine Test is a CLIA waived and FDA approved POC (Point of Care) urinalysis test.
This drug test is extremely sensitive and conforms to SAMHSA cutoff levels.
It possesses a 99% accuracy rate and is a comprehensive test to use at home.
It is a fully integrated and self-contained drug screening cup.
Each 12 Panel drug test cup also contains a built-in temperature strip for authenticating the donor's urine.
It is designed to be both cost-efficient and reliable.
This test contains a peel-and-read label and is leak-resistant.
The PCP drug test time will be only a few minutes before displaying results!
Special wholesale pricing is available for drug tests in bulk!
Drugs Tested | Detection Time | CutOff Levels
| | | | |
| --- | --- | --- | --- |
| Drug Name | Abbreviation | Detection time | Cut-Off Level |
| Amphetamines | AMP | 1-2 Days | 1000 ng/mL |
| Barbiturates | BAR | 1-4 Days | 300 ng/mL |
| Benzodiazepines | BZO | 1-2 Days | 300 ng/mL |
| Buprenorphine | BUP | 2-6 Days | 10 ng/mL |
| Cocaine | COC | 2-4 Days | 300 ng/mL |
| Ecstasy | MDMA | 2-4 Days | 500 ng/mL |
| Marijuana | THC | 5+ Days | 50 ng/mL |
| Methadone | MTD | 1-3 Days | 300 ng/mL |
| Methamphetamine | mAMP (or MET) | 2-4 Days | 1000 ng/mL |
| Morphine | OPI | 2-3 Days | 300 ng/mL |
| Oxycodone | OXY | 1-3 Days | 100 ng/mL |
| Phencyclidine | PCP | 7-14 Days | 25 ng/mL |
How to Use a Drug Test Kit?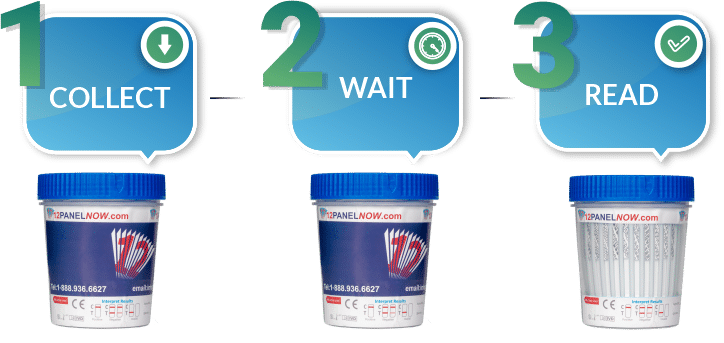 COLLECT
Remove the urine drug test cup from the sealed pouch and use it as soon as possible.
WAIT
At 2-4 minutes, verify the temperature of the specimen by observing where the green dot appears. A green dot will appear on the corresponding temperature line.
READ
Peel off the label when you're ready to interpret the results. Test results should be read within 5 minutes. Do not interpret the result after 8 minutes.
How to Read Drug Test Kit?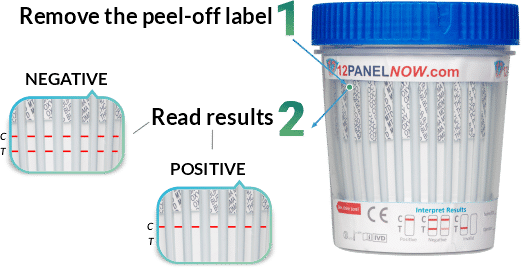 What is PCP (Phencyclidine)?
 PCP (Phencyclidine) is a synthetic hallucinogenic or dissociative drug that is considered one of the most dangerous illicit substances in the current list of drugs of abuse. Developed as a general anesthetic drug, its medical usage was discontinued due to its addictive nature and negative side effects.
PCP Effects and Symptoms
Phencyclidine affects the functioning of the brain receptors which plays a part in one's perception of pain, emotion, and memory as well as learning abilities. It also triggers the neurotransmitter dopamine which is responsible for the euphoria experienced with drug use.
How Long Does PCP Stay in Your System?
Because PCP abuse has become more widespread, many Drug Tests are now designed to detect PCP among other substances.  Like many other Hallucinogens, the drug can be detected in a Urine Drug Test four to seven days after use.  It can also appear in urine even up to 30 days after initial use.
What do Drug Test Cutoff Levels Mean?
In a drug test, a cut-off level is a level at which the amount of a detected substance reaches a point where it indicates a danger.  If the test results indicate an amount that is less than the indicated cut-off level, the test will yield a negative result.  When a urine drug test results exceed the indicated cut-off level, it will result in a positive result.
A Fraudulent Free Screening
There is always a concern about fraudulent samples being submitted, especially regarding PCP tests in the United States.  Urine tests from 12 Panel Now contain a temperature strip that verifies the temperature of the urine sample.
When a urine specimen is submitted to a test administrator, the temperature should normally be within the 90 – 100 degree range.  If the administrator receives a sample that is far above or far beneath the normal temperature, then they can assess the sample to determine whether it has been tampered with.
All of the multidrug tests from 12 Panel Now are equipped with a built-in Temperature Strip for fast and accurate results.
What Does a 12 Panel Drug Test test For?
A 12 Panel Drug Test detects 12 substances.  The 12 Panel Tests from 12 Panel Now are CLIA waived and FDA approved.  They detect the following: AMP, BAR, BUP, BZO, COC, MAMP (MET), MDMA, MTD, OPI300 (MOP), OXY, THC & Phencyclidine PCP
There are other configurations of 12 Panel Urine Drug tests available.  For instance, the 12 Panel Drug Test with TCA includes the drugs listed above with the exception of PCP.
Instead of including PCP, it detects TCA (Tricyclic antidepressants).  The 12 Panel Drug Test + Etg detects the same drugs as the 12 Panel TCA test, with the addition of EtG. (Ethyl glucuronide)