Tramadol Drug Test – Urine Dip Test
Tramadol Urine Tests Are Easy and Convenient to Use
Users Can Perform Tramadol Testing Without Seeking Assistance.
Tramadol Urine Dip Tests Provide Quick Results Within Five Minutes.
Our Tml Dip Tests Possess a Cutoff Level of 100 Ng/Ml.
This Tramadol Drug Test Includes Internal Procedural Controls.
If There's a Sufficient Amount of Specimen and the Procedure Is Followed Properly, a Positive Result Will Show as a Colored Band in the Control Region.
There Are No External Controls in This Kit. That's Why We Highly Recommend Further Testing to Verify Positive Results.
Forensic Use Only
What is Tramadol?
is an opioid pain-relieving medication used to treat moderate and severe pain. It can be taken orally as well as by injection.
Tramadol comes in both immediate-release and extended-release forms.
Tramadol works by changing how the brain interprets pain. Essentially, the drug works in a similar way to endorphins in that it minimizes the pain messages sent to the brain.
Why Test for Tramadol?
Tramadol is a narcotic painkiller. With medications like these, there is always the potential for addiction and abuse, especially in large doses.
Though Tramadol is not considered to be a highly addictive substance, care needs to be taken when taking this prescription-only drug.
The misuse and abuse of tramadol affect the chemical balances in the brain and negatively impact emotional and psychological well-being.
How to Use a Tramadol Drug Test?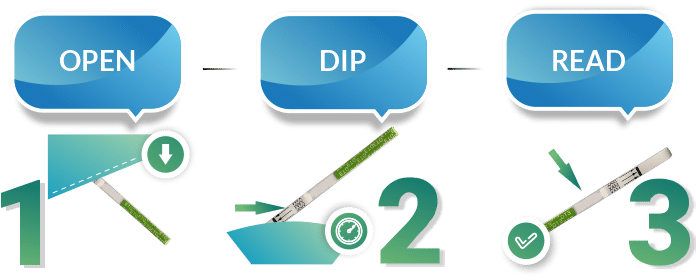 Remove the drug test from its sealed pouch and use it as soon as possible. For best results, perform the assay within an hour.

Next, hold the test by the end, where you can see the product name. To avoid contamination, do not touch the test membrane.

Then, holding the test vertically, dip the test in the urine specimen for at least 10-15 seconds. Do not immerse above the maximum line (MAX) on the test. That's about 1/5th of the way up the test.

After the drug test has finished, remove the test from the specimen and place it on a non-absorbent flat surface. Start the timer and wait for the colored band(s) to appear. Read the result at 5 minutes. Do not interpret it after 10 minutes.
How to Read Tramadol Drug Test?
Our Tramadol Urine Dip Tests enable users to perform Tramadol testing with complete ease and without seeking assistance.
The Tramadol tests provide quick results within five minutes.
Our TRA dip tests possess a cutoff level of 100 ng/ml.