8 Panel Drug Test Cup Information
12 Panel Now's 8 Panel drug test kit is your all-in-one drug testing cup.
No extra tools or equipment necessary, so you can also use them as an at-home drug screening solution.
The 8 Panel drug test provides a safe, efficient, and cost-effective way to perform screening procedures.
This Multi-Drug test detects up to 8 different drugs of abuse and displays a negative/positive result within minutes!
This test is CLIA waived and stamped with a 99% accuracy rating.
New lower cut-off levels make this the ideal urinalysis for drug screening and pain management.
The 8 Panel Drug test is an instant urine test that will prove to be an essential drug screening solution!
8 Panel Drug test cup Video
How to Use a Drug Test Kit?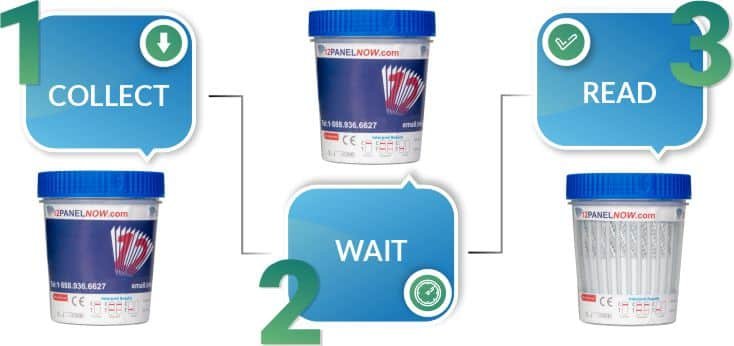 COLLECT
Remove the urine drug test cup from the sealed pouch and use it as soon as possible.
WAIT
At 2-4 minutes, verify the temperature of the specimen by observing where the green dot appears. A green dot will appear on the corresponding temperature line.
READ
Peel off the label when you're ready to interpret the results. Test results should be read within 5 minutes. Do not interpret the result after 8 minutes.
POSITIVE
Only one colored band appears, in the control region ©. No apparent colored band appears in the test region (T)
NEGATIVE
Two colored bands appear on the membrane. One band appears in the control regions © and another band appears in the test region (T).
INVALID
The control band fails to appear. Results from any test which has not produced a control band at the specified read time must be discarded. Please review the procedure and repeat it with a new test.
8 Panel Drug Test Information
12 Panel Now's 8 Panel drug test kit is an all-in-one drug testing cup.  Employer drug testing can be a complex process. At times, those who are being tested may resist, feeling as if it encroaches upon their fundamental liberties.
It is for this reason that purchasing a urine test that is fast and accurate is absolutely essential. The 8 Panel Drug test is made from durable construction with functionality at the forefront. Moreover, the 8 Panel drug test cup is airtight and its no-trickle screw-top cover makes it safer and more reliable.
Test cups with even the smallest of leaks can present a hygienic problem and a health risk for infectious diseases. The drug screening procedure should be safe, reliable, and efficient every step of the way.
Administering the drug screening process with an 8 Panel drug test is very straightforward and fast.  From start to finish, the procedure in which the donor provides the specimen should only be a few minutes.
Once the specimen is provided, test results can be evaluated at the five-minute mark allowing multiple individuals to be tested in a short period of time.
8 Panel Drugs Tested
| | | | |
| --- | --- | --- | --- |
| Drug Name | Abbreviation | Detection time | Cut-Off Level |
| Amphetamines | AMP | 1-2 Days | 1000 ng/mL |
| Benzodiazepines | BZO | 1-2 Days | 300 ng/mL |
| Buprenorphine | BUP | 2-6 Days | 10 ng/mL |
| Cocaine | COC | 2-4 Days | 300 ng/mL |
| Marijuana | THC | 5+ Days | 50 ng/mL |
| Methamphetamine | mAMP (or MET) | 2-4 Days | 1000 ng/mL |
| Morphine | OPI | 2-3 Days | 300 ng/mL |
| Oxycodone | OXY | 1-3 Days | 100 ng/mL |