What is a 10 Panel Drug Test?
The 10 Panel Urine Drug Test  is a 10 Panel Instant Drug test and is a fully integrated drug test cup that gives a instant read on a 10 point drug test. The drugs tested are as follows: AMP/1000, OPI/300, MET/1000, BZO/300, COC/300, MTD/300, OXY/100, BUP/10, MDMA/500, THC/50 with a temperature strip to validate urine specimen.
These tests are 99% accurate, providing negative/positive results within minutes!
New lower cut-offs make this the ideal rapid test for pain management and addiction screening.
Fast and Accurate test results within just a few minutes.
Test results can be viewed through the peel and read the label without opening the specimen.
How much does a 10 Panel Urine Drug test cost? They start at $3.69 and go as low as $1.99 Per Cup when bought in Bulk .
The 10 panel drug test cutoff levels can be see in the chart marked Cut Off Level.
What does a 10 Panel Drug Test test for
| | | | |
| --- | --- | --- | --- |
| Drug Name | Abbreviation | Detection time | Cut-Off Level |
| Amphetamines | AMP | 1-2 Days | 1000 ng/mL |
| Benzodiazepines | BZO | 1-2 Days | 300 ng/mL |
| Buprenorphine | BUP | 2-6 Days | 10 ng/mL |
| Cocaine | COC | 2-4 Days | 300 ng/mL |
| Ecstasy | MDMA | 2-4 Days | 500 ng/mL |
| Marijuana | THC | 5+ Days | 50 ng/mL |
| Methadone | MTD | 1-3 Days | 300 ng/mL |
| Methamphetamine | mAMP (or MET) | 2-4 Days | 1000 ng/mL |
| Morphine | OPI | 2-3 Days | 300 ng/mL |
| Oxycodone | OXY | 1-3 Days | 100 ng/mL |
How is a 10 Panel Drug Test Done?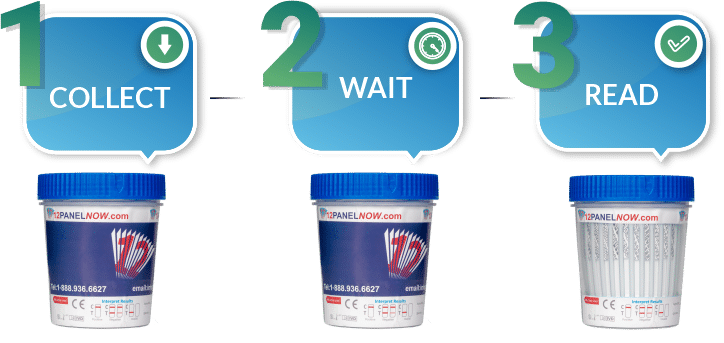 COLLECT
Remove the urine drug test cup from the sealed pouch and use it as soon as possible.
WAIT
At 2-4 minutes, verify the temperature of the specimen by observing where the green dot appears. A green dot will appear on the corresponding temperature line.
READ
Peel off the label when you're ready to interpret the results. Test results should be read within 5 minutes. Do not interpret the result after 8 minutes.
How to Read 10 Panel Drug Test?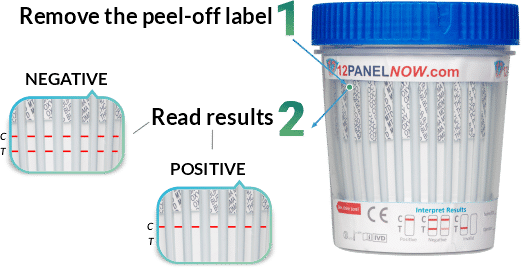 10 Panel Drug Test Information
Drug testing can be a multifaceted process. Many individuals who have to submit a random drug test, or have to participate in workplace drug testing may feel that it encroaches upon their rights.
It's for this reason that a reliable and accurate drug test would be essential in this particular scenario.
Construction
This 10 Panel urine Drug Test includes a rounded design with a no-drip twist top lid, a peel-and-read tag, and is leak-resistant.  It is designed with solid and durable construction.
The screening test procedure should only take a few minutes from start to finish.  In fact, once the specimen has been provided by the donor, the test evaluation process takes place at the 5-minute mark.
Fraudulent Free
Also contained within the Standard 10 Panel Drug Test is a temperature strip.  This will indicate the temperature of the urine specimen alerting the test administrator to a potentially fraudulent specimen.
Please note that this is a Urine Test.  For a 10 Panel Oral fluid test, see the 10 Panel Oral Swab test.
Drug detection windows vary with every substance.  The screening and confirmation process in a testing environment may bring to light positive results in some, while others experience negative results.
10 Panel Drug Test Kit 
12 Panel Now's 10 Panel Drug Test Kit is a self-contained drug screening solution that is fast and easy to use!
Safety and Reliability
As it is, drug testing is already a complicated issue. Most donors resent it because they consider it an insult to their human rights. 
This is why it is essential to use a drug test that is fast and accurate.  12 Panel Now's 10 panel drug test cup is leak-proof and is built with a no-drip screw top lid making the process hygienically sound.
Drug Test Accuracy
All our cups pass through the rigorous standards of government entities like FDA, CLIA, and SAMSHA, so you can be sure they're 99% accurate.
New lower cut-offs make this the ideal urine analysis test for pain management and addiction screening. 
Urine Drug Test Detection Times
Once a substance has metabolized, there is only a finite amount of time before it is completely eliminated from the body.
For instance, phencyclidine PCP and its metabolites will be detectable within urine for up to two weeks.  Oxycodone, on the other hand, will be detectable in urine for up to four days.
How to Read a 10 Panel Drug Test?
The process for reading results from a 10 panel drug test cup is the same as any form of panel drug test cup.  While reading the test result is a simple test method to follow, it involves a few steps to provide an accurate conclusion.
There are two regions in every panel: the control region (C) and the test region (T). The control region at the top indicates whether the test is functional, while the test region means whether the drug being tested is present. Based on the combination of colored lines in two regions, the drug test result for an illicit substance is interpreted as either positive, negative, or invalid.
Will Fentanyl Show up on a 10 Panel Drug Test?
Fentanyl is known as a synthetic opioid analgesic that changes how your body perceives and responds to pain. However, when Fentanyl is misused, it is 50 times more destructive and deadly than heroin.
Fentanyl does not show up on a standard 10 panel drug test. Instead, the test for Fentanyl is only included in 13 panel tests and above. There are also Fentanyl Drug Test Strips available in the market. It's easy to use by just dipping it in the urine sample, and you'll get results quickly in just a few minutes. There is no need to wait for days to get the result.
Will Methadone Show up on a 10 Panel Drug Test?
Yes, this morphine-like substance will be detected on a 10 panel drug test.
Will Tramadol Show up on a 10 Panel Drug Test?