What is a 10 Panel Drug Screen?
10 Panel Drug Screen Cup detects up to ten different drugs that are commonly abuse including Fentanyl.
One of the Most Affordable Methods to Conduct Drug Screenings.
Each test comes with an integrated temperature strip that authenticates the donor's urine.
Instant 10 Panel Test Cup with Fentanyl possesses a 99% accuracy rate.
Special non-drip screw tops are included on Cups to prevent spills and Leaks.
10 Panel instant drug Test with FYL in Bulk – As low As $1.69 per drug test cup!
Forensic use only.
What does a 10 Panel Drug Screen test for
| | | | |
| --- | --- | --- | --- |
| Drug Name | Abbreviation | Detection time | Cut-Off Level |
| Amphetamines | AMP | 1-2 Days | 1000 ng/mL |
| Benzodiazepines | BZO | 1-2 Days | 300 ng/mL |
| Buprenorphine | BUP | 2-6 Days | 10 ng/mL |
| Cocaine | COC | 2-4 Days | 300 ng/mL |
| Marijuana | THC | 15-30 Days | 50 ng/mL |
| Methadone | MTD | 1-3 Days | 300 ng/mL |
| Methamphetamine | mAMP (or MET) | 2-4 Days | 1000 ng/mL |
| Morphine | OPI | 2-3 Days | 300 ng/mL |
| Oxycodone | OXY | 1-3 Days | 100 ng/mL |
| Fentanyl | FYL/FEN | 2-3 Days | 20 ng/mL |
How is a 10 Panel Drug Screen Test Done?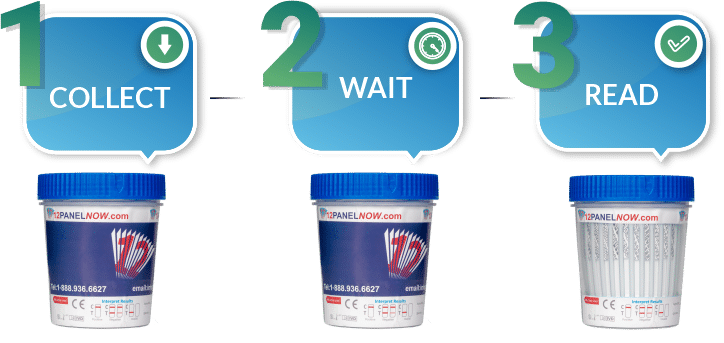 COLLECT
Remove the urine drug test cup from the sealed pouch and use it as soon as possible.
WAIT
At 2-4 minutes, verify the temperature of the specimen by observing where the green dot appears. A green dot will appear on the corresponding temperature line.
READ
Peel off the label when you're ready to interpret the results. Test results should be read within 5 minutes. Do not interpret the result after 8 minutes.
How to Read 10 Panel Drug Screen Test?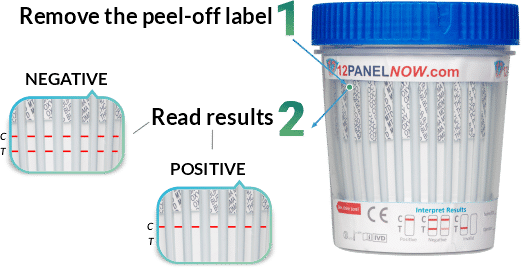 10 panel drug screening
Testing for the presence of illicit or prescription drugs is easy with the standard 10 panel drug test with Fentanyl. Designed to be quick and easy for medical professionals to provide in hospitals for emergency treatment, drug treatment centers or medical facilities, this 10 panel instant urine drug test by 12 Panel Now is a UA cup that displays results via the control strips on the side of the cup that correspond with each drug tested for.
List of Drugs Tested for in the 10 Panel Drug Screen Cup with Fentanyl
The most common drugs and prescription medications, including fentanyl which many people use for pain management, are included in this 10 panel ua. The 10 panel drug test cutoff levels and the drugs:
AMP (Amphetamine) — 1000 cutoff
OPI (Opiates) — 300 cutoff
MET (Methadone) — 1000 cutoff
BZO (Benzodiazepines) — 300 cutoff
COC (Cocaine) — 300 cutoff
MTD (Methadone) — 300 cutoff
OXY (Oxycodone) — 100 cutoff
BUP (Buprenorphine) – 10 cutoff
THC (Marijuana) — 50 cutoff
FYL (Fentanyl) — 20 cutoff
Certain drugs stay in the body longer than others, the 10 panel drug screen detection times are effective between 1 to 3 days for drugs like cocaine, amphetamines and opiates, whereas some last for up to 10 days.
Features of the Fentanyl Urine Test
This 10 panel drug test urine provides a small cup, which is completely leakproof so that it can be sent to a certified laboratory for further lab testing if a positive result is shown. Fentanyl testing is included which is important in detecting and preventing overdoses due to its potency. The collection of the urine sample is automatically tested via the built-in strips and lines will appear in the test (T) and control (C) windows. If a single line appears in the C window this indicates the presence of the drugs tested for. If a double line appears, one in the C window and one in the T window, this indicates a negative result. A single line in the T window shows an invalid test. This urine cup also includes a temperature panel to ensure that no tampering occurs.
Benefits of the 10-Panel Drug Test
The typical standard 10-panel instant drug screen and this is sufficient for employment drug testing for the most common drugs in the workplace specifically. However, the 10 panel drug screen option is more effective for certain applications as other drugs including prescription medications are included. This helps to determine which drugs may be in the system of someone who has overdosed, which is common with fentanyl. Due to the high levels of opiate use, and different types of drugs that are becoming more commonplace, this more comprehensive UA drug test is important. Testing screens can be used in forensic work as well as in clinical settings.
Importance of High-Quality Tests
Getting accurate results means using a drug screen 10 panel that is high quality with strips that are clear and provide accurate results and should be recognized by professional associations. We have affordable drug test cups which can be purchased in a range of quantities from 10 to 5000. 10 panel drug test price as low as $1.69 per cup
The 10 panel drug test cup is simple to use, convenient, and 99.9% accurate. The test cup has a screening cup that is all-in-one, integrated, and self-contained. Cup also includes a temperature strip for verifying the authenticity of a donor's urine sample.
Because it requires a urine sample, the panel 10 drug test is pretty simple to conduct compared to the other panel tests. The way urine testing operates is straightforward; many drugs used will stay in the body for days after use. Because it is noninvasive and relatively inexpensive, urinalysis is the most widely used type of drug testing.