12 Panel Now's Psilocybin Drug Test is a dependable tool for accurate and reliable detection of psilocybin, commonly known as magic mushrooms. With the psilocybin test kit, you can easily screen for the presence of psilocybin and get precise results quickly. The product only requires a urine sample to find traces of psilocybin and can provide results within 15 to 20 minutes.
The Latest Technology in Psilocybin Testing
Does psilocybin show up in a urine test? Do drug tests test for psilocybin in the first place? These are the common questions we encounter. While most drug tests do not include panels for the byproducts of magic mushrooms, 12PanelNow.com offers dip tests that can detect these substances. You count on our psilocybin drug test kit to provide you with valid and accurate results!
Industry-Standard Detection Threshold
Each psilocybin urine dip test has a cutoff level of 500 ng/ml. Any psilocin concentrations above this value will register on the dip test. Psilocin is the byproduct made after the body converts psilocybin, and the former typically lasts inside the body for up to 24 hours. In terms of psilocybin drug test detection times, you can get same-day results with our dip tests.
High-Reliability and Accuracy
Our drug dip tests are designed with utmost precision for psilocybin drug testing. Our methods ensure exceptional reliability and accuracy in detecting psilocybin. Each dip test is manufactured using cutting-edge technology and undergoes rigorous quality control measures to deliver consistent and dependable results.
Simple and Easy To Use Drug Test for Psilocybin
Using our drug test is incredibly straightforward. Simply place a small amount of urine onto the test and wait for the designated time. The test will indicate the presence of psilocybin through a clear and easy-to-interpret color change. Our user-friendly instructions make the testing process quick and hassle-free, allowing you to get accurate results in just minutes.
Personal Use Monitoring
Whether you are a responsible user or need to monitor the substance use of a loved one, our dip tests provide a discreet and efficient way to track the presence of psilocybin in the body.
How to use Psilocybin Dip Test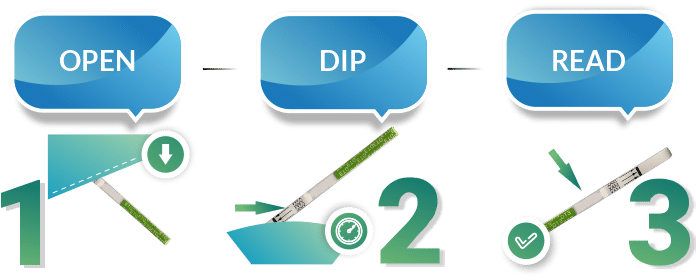 Remove the dip test from its sealed pouch and use it as soon as possible. For best results, perform the assay within an hour.

After that, hold the test by the end, where you can see the product name. So, to avoid contamination, do not touch the dip test membrane.

Then, holding the test vertically, dip the test in the urine specimen for at least 10-15 seconds. Do not immerse above the maximum line (MAX) on the test . That's about 1/5th of the way up the test.

After the drug test has finished, then remove the test from the specimen and place it on a non-absorbent flat surface. Start the timer and wait for the colored band(s) to appear. Finally, read the result at 5 minutes. Do not interpret it after 10 minutes.
Psilocybin Dip Test Results:
Applicable in Workplace and Educational Settings
Educational institutions, workplaces, and organizations concerned about substance misuse can benefit from our psilocybin drug test. These products may aid in maintaining a drug-free environment by enabling proactive testing and deterring the use of psilocybin. By implementing regular testing protocols, you can identify and address potential issues promptly, ensuring the safety and well-being of employees, students, or individuals under your care.
Legal Compliance
In jurisdictions where psilocybin is regulated or prohibited, our dip tests can assist individuals and organizations in complying with legal requirements. By conducting tests on individuals suspected of using psilocybin, you can avoid legal complications and ensure adherence to local laws and regulations.
Helps in Community Support and Education Efforts
By incorporating psilocybin drug test into harm reduction programs, drug rehabilitation centers, or community outreach initiatives, you can provide valuable support and education to individuals using or considering psilocybin. These dip tests open up opportunities for dialogue, ensuring that users are equipped with accurate information and resources to make responsible