Benzodiazepine/ BZO Drug Test – Urine Dip Test
BZO drug test is accurate and convenient to use
Perform BZO testing with complete ease and without seeking assistance.
The BZO urine dip tests provide quick results within five minutes.
Additionally, our Benzodiazepine dip tests possess a cutoff level of 300 ng/ml of oxazepam
This Benzodiazepine Drug Test includes internal procedural controls.
If there's a sufficient amount of specimen and the procedure is followed properly, a positive result will show as a colored band in the control region.
There are no external controls in this kit. That's why we highly recommend further testing to verify positive results.
Forensic use only
What is Benzodiazepine?
Benzodiazepines are central nervous system depressants. They are typically known as tranquilizers. Additionally, there are over 15 types of FDA approved benzodiazepine medications on the market today.
What are Benzodiazepines Used For?
Doctors prescribe Benzodiazepines for many health conditions.
alcohol withdrawal
insomnia
treating anxiety
panic disorder
Additionally, this drug is easily attainable. It remains to be among the most commonly prescribed medications in the U.S.
How to Use a Benzodiazepine Test: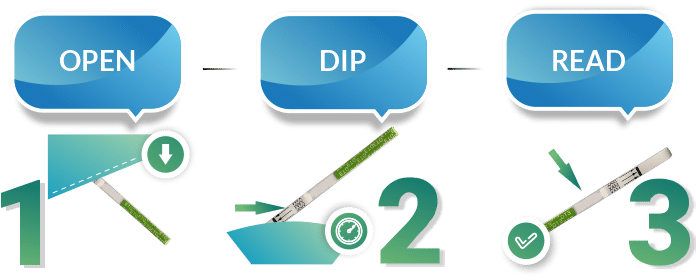 Remove the drug test from its sealed pouch and use it as soon as possible. For best results, perform the assay within an hour.

Next, hold the test by the end, where you can see the product name. To avoid contamination, do not touch the test membrane.

Then, holding the test vertically, dip the test in the urine specimen for at least 10-15 seconds. Do not immerse above the maximum line (MAX) on the test. That's about 1/5th of the way up the test.

After the drug test has finished, remove the test from the specimen and place it on a non-absorbent flat surface. Start the timer and wait for the colored band(s) to appear. Read the result at 5 minutes. Do not interpret it after 10 minutes.
How to Read BZO Drug Test:
Why Test for Benzodiazepine?
Benzodiazepines have many medical uses. However, due to their relaxing effect on users, they tend to be abused. Check out our knowledge base to learn more about benzodiazepines.
Benzodiazepine Overdose
During a benzodiazepine overdose, a person might have difficulty breathing. When this happens, oxygen cannot reach the brain properly. As a consequence, cell death, coma, and brain damage may ensue.
In addition, without immediate medical intervention, the patient might die. Thus, the need to test for Benzodiazepine.