Barbiturates Drug Test – Urine Dip Test
The Barbiturates drug test is a one-step rapid drug test that detects the presence of barbiturates in human urine.
They're 99% accurate, safe, and easy to use.
Get Barbiturate urine dip tests to enable users to perform Barbiturate testing with complete ease and without seeking assistance.
The BAR drug dip tests provide quick results within five minutes.
12 Panel Now's BAR urine tests possess a cutoff level of 300 ng/ml.
This barbiturates drug test includes internal procedural controls.
Barbiturates are also Detected on many Multidrug Test Cups
If there's a sufficient amount of specimen and the procedure is followed properly, a barbiturates positive drug test result will show as a colored band in the control region.
However, there are no external controls in this kit. That's why we highly recommend further testing to verify positive results.
Forensic use only
What are Barbiturates?
Barbiturates belong to a class of drugs known as Central Nervous System Depressants. Doctors prescribe them for people suffering from insomnia, anxiety, and seizures.
Some of the known side effects include: Drowsiness, Headache, Low blood pressure (hypotension), Nausea, Sedation, and Skin rash
These drugs come in several forms and have different detection times.
Long-acting: up to 15 days
Intermediate-acting: 7 days
Short-acting: 3 days
Side Effects
Well, as there are side effects to every drug, there are some common, others that are serious, and those rare, but very serious effects of barbiturates, too.
Common side effects are drowsiness, headache, low blood pressure, skin rash, nausea, and sedation.
Serious side effects of BAR are abnormally slow breathing, coma, or confusion, even hallucinations, and fainting.
And the last, but the worst side effects of these drugs are Agranulocythosis, Erythroderma, liver injury, and megaloblastic anemia.
How to Use a Barbiturates Drug Test?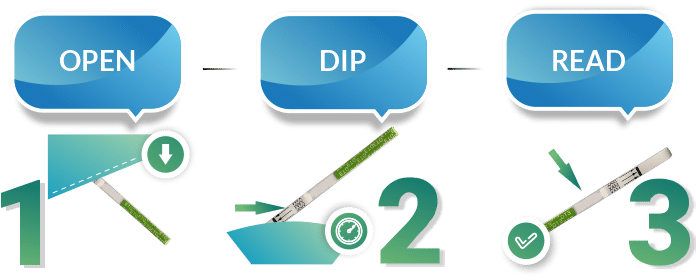 Remove the drug test from its sealed pouch and use it as soon as possible. For best results, perform the assay within an hour.

Next, hold the test by the end, where you can see the product name. To avoid contamination, do not touch the test membrane.

Then, holding the test vertically, dip the test in the urine specimen for at least 10-15 seconds. Do not immerse above the maximum line (MAX) on the test. That's about 1/5th of the way up the test.

After the drug test has finished, remove the test from the specimen and place it on a non-absorbent flat surface. Start the timer and wait for the colored band(s) to appear. Read the result at 5 minutes. Do not interpret it after 10 minutes.
How to Read Barbiturates Dip Test?
Why Test for Barbiturates?
The Drug Enforcement Administration (DEA) classifies barbiturates as Schedule III Drugs. They are less addictive than drugs under Schedules I and II. However, they have current medical uses in the US.
Why Do Some People Abuse Barbiturates?
Barbiturates help people sleep and relax. As such, doctors prescribe them to people who need more sleep and relaxation.
Additionally, people who are using stimulant drugs like amphetamine need them to relax or sleep.
The problem is, some people become so dependent on barbiturates. As a consequence, they get hooked, and later on, develop resistance to the drug. When this happens, they need to take more drugs. This is when overdose most likely occurs.
What Causes False Positive for Barbiturates?
Barbiturates act as depressants of the central nervous system. These drugs produce effects ranging from mild sedation to general anesthesia.
They are classified as controlled class B Prescription Only drugs under the Medicines Act. 
A false positive means that a drug test has detected the presence of a substance in your body when you haven't taken it.
Sometimes, harmless substances can trigger a false-positive result for drugs. Barbiturates are typically screened and make you test positive with common over-the-counter Nonsteroidal anti-inflammatory drugs (NSAID).
You may test positive for barbiturates if you have taken such substances as Ibuprofen (Motrin, Advil) or naproxen (Aleve).
Is There a Home Drug Test Available?
Modern technology makes at-home drug testing more convenient and accurate. With the pandemic of Coronavirus still ongoing, at-home drug tests can provide a safe and private way to monitor and detect drug use. In addition, home drug tests are fast, convenient, and eliminate the need to wait for lab results.
Without a doubt, with the increasing demand for home drug tests, it's widely available in clinically approved stores and even in the online space.
However, you should buy from a reputable supplier for the best results, such as 12 Panel Now. By doing so, you can be sure that you are not using an outdated or expired test, and you can be confident that the results are reliable.
How Do Pee Tests Work?
Studies have shown that urine or pee drug test is the most commonly used drug testing method by employers. In this test, the donor's urine sample is collected and then either analyzed through a panel drug screening or sent to a laboratory for analysis.
A urine drug test involves analyzing a biological sample to determine if a subject has taken illicit drugs. Moreover, an employer might conduct this test in several conditions, including pre-employment and random drug testing, college or professional athletic testing, post-accident testing, and safety-related testing. Typically, a urine drug test screens for:
amphetamines

methamphetamines

benzodiazepines

barbiturates

marijuana

cocaine

PCP

methadone

opioids (narcotics)
Can You Buy Urine Tests?
If you suspect anyone abusing drugs at home, you can buy a urine panel drug test to check the test subject. It comes in both drug test cups and dip tests that can detect multiple drugs in a single test so that you won't worry about what substance needs to screen.
Typically, most industries buy this way as cost-effective to conduct mass testing, especially in workplaces, schools, hospitals, government offices, rehab centers, etc.
If you're looking for affordable yet superior quality urine testing supplies, take a look at 12 Panel Now.
Can Urine Drug Tests Be Wrong?
Urine drug tests, while generally accurate, can still produce wrong results. These results are called false positives or false negatives. 
False positives occur if the subject has ingested anything related to illicit drugs, but not illegal themselves. These can be food or over-the-counter medications. An example of food is the poppy seed, which is related to opium.
Another is if the subject takes decongestants, which can cause false-positive tests for amphetamine or methamphetamine.
False negatives can occur when the urine test sample is tampered with. Water or other liquids are usually added. Retesting is necessary for doubtful results.
How to Know You Passed a Drug Test?
Passing a drug test means that test results come out negative, indicating that the individual tested has not recently used drugs.
A negative drug test result means that the drug tested for is below the cut-off level or threshold for the particular drug. Depending on the type of drug test used and the drug tested for, recent drug use can be anywhere from several hours to a few days up to three months.
For home drug test kits, passing a drug test would mean a line appearing in the control (C) and test (T) regions indicating a negative result.