MTD Drug Test – Methadone Dip Test
MTD Drug Test Is a Preliminary Test for Detecting Methadone at the Cut-off of 300 Ng/Ml.
Quick Test Results Within five Minutes.
Trusted by Companies, Institutes, Schools, and Similar Organizations for Its Accuracy and Reliability.
A Great Drug Screening Solution for All Industries!
Forensic Use Only.
What is Methadone?
Doctors prescribe methadone for treating opioid addiction. This synthetic opioid agonist acts on the opioid receptors in the brain that are activated by opioids like morphine, heroin, and opioid-based pain medication.
However, unlike heroin, morphine, or opioid pain relievers, methadone acts slowly. Additionally, it does not produce euphoria in a person with an opioid disorder.
What Are the Side Effects of Methadone?
Methadone is an effective and cheaper option for the treatment of opioid use disorder. This is why doctors prescribe it – to allow patients to get access to more affordable pain relievers.
However, there is always a danger of addiction when it comes to prescribed opioid medication. Eventually, a long-term methadone user can experience withdrawal symptoms such as:
Slow, shallow breathing, known as respiratory depression
Clammy or bluish skin
Blue-tinted lips and fingertips
Extreme fatigue to the point of being unable to stay awake
Stupor
Convulsions
Vomiting
Coma
Death
Learn more about Methadone Addiction or read more about Methadone.
How to Use a MTD Urine Dip Test?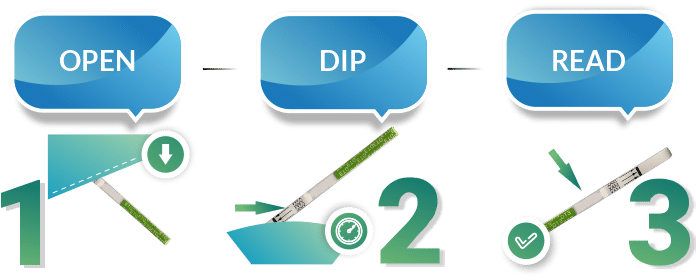 Remove the MTD drug test from its sealed pouch and use it as soon as possible. For best results, perform the assay within an hour.

Next, hold the test by the end, where you can see the product name. To avoid contamination, do not touch the test membrane.

Then, holding the test vertically, dip the test in the urine specimen for at least 10-15 seconds. Do not immerse above the maximum line (MAX) on the test. That's about 1/5th of the way up the test.

After the drug test has finished, remove the test from the specimen and place it on a non-absorbent flat surface. Start the timer and wait for the colored band(s) to appear. Read the result at 5 minutes. Do not interpret it after 10 minutes.
How to Read Methadone Drug Test?
Why Test for MTD?
Methadone is a controlled substance and a Schedule II drug. Therefore, it has a high potential for substance abuse which may lead to severe psychological or physical dependence.
Because of the high potential for addiction, those who administer drug screenings may want to incorporate this specific test into their drug testing procedures.
The Urine Dip Tests available from 12 Panel Now may prove to be a more practical solution than a blood test or a hair test.  The urine tests are a fast and accurate way to perform screening.
Many have become addicted after receiving methadone as medication for pain relief. Sadly, abusing or misusing this drug can lead to fatal consequences.
Does Methadone Show up on a Drug Test?
What is MTD on a Drug Test?
MTD stands for Methadone, which is a synthetic opioid used commonly in the treatment of opioid addiction, particularly heroin. MTD is used in maintenance therapy because it helps to reduce cravings and withdrawal symptoms, allowing the individual to function more normally.
When it comes to drug testing, MTD is not usually detected on a standard opiate drug test because it has a different structure compared to other opiates. As a result, a separate, specific test is often required to detect methadone. This might be denoted on the test panel as "MTD".
Just like with other drugs, the detection window for methadone in a drug test depends on a number of factors, including the type of test used (urine, blood, hair, etc.), as well as individual factors like metabolism, body mass, and hydration status. In general, methadone can be detected in urine for 3-7 days after the last dose.
What Can Cause a False Positive Drug Test for Methadone?
Do Employment Drug Tests Test for Methadone?
How Long Does Methadone Stay in Your System?