Pregnancy Test – HCG Urine Test
hCG one-step home pregnancy dip test contains chemically infused membranes that identify hCG in urine.
It's safe, accurate, and easy to use. Dip in urine, wait for 3 minutes, then read the results.
The HCG Urine Tests are one of the safest ways to determine pregnancy at home, but it is also a convenient way to determine test results quickly.
These results are 99% accurate if used properly.
With our tests, you can begin testing at 7-10 days past ovulation. A negative result this early is not always conclusive.  Also, it does not foreclose the possibility of pregnancy. You can get a negative test result if the hCG increases more gradually.
How to Read hCG Urine Dip Test?
Important note: 2 lines are the positive results, 1 line is a negative result.
on a regular drug test, this is the opposite.
How to Use a Pregnancy Urine Test?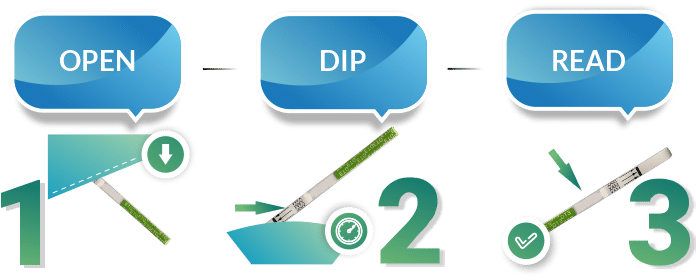 Remove the hCG test from its sealed pouch and use it as soon as possible. For best results, perform the assay within an hour.

Next, hold the test by the end, where you can see the product name. To avoid contamination, do not touch the test membrane.

Then, holding the test vertically, dip the test in the urine specimen for at least 10-15 seconds. Do not immerse above the maximum line (MAX) on the test. That's about 1/5th of the way up the test.

After the test has finished, remove the test from the specimen and place it on a non-absorbent flat surface. Start the timer and wait for the colored band(s) to appear. Read the result at 5 minutes. Do not interpret it after 10 minutes.
Why Use Pregnancy Dip Urine Tests?

There are some reasons why you'd want to use a self pregnancy urine test.
1. Knowing you're pregnant at an early stage can help you make lifestyle changes.
If you've got an active lifestyle, finding out that you'll be a mother soon can help you plan your activities in the coming months.
You'll need to sleep earlier, eat healthier, and be gentler on your exercise routines. 
2. Discovering your pregnancy can help ensure your baby's health and safety.
If you have an existing health condition that requires you to take medications that may be harmful to a baby inside the womb, you'd like to find out as soon as possible if you're pregnant or not.
Once you learn what you're expecting, you can consult your doctor. Do you need to change medications? What do you have to do to make sure your baby will be safe and healthy?
3. Finding out that you're pregnant early on removes the guesswork.
To a couple who's been trying to have a child, nothing's more exciting than finding out that they've hit the jackpot early on!
An hCG Rapid Test You Can Rely On
12 Panel Now's hCG Rapid Tests are a fast and accurate way to test early pregnancy at a price you can afford!
We encourage pregnant women about their test results to speak to their Primary Care Doctor for more insight regarding their pregnancy.
What is an HCG Test?
Human chorionic gonadotropin hCG is a hormone.  It's produced immediately after egg implantation.  These dip tests work by detecting if HCG is present in urine samples to generate positive or negative results.
The HCG Urine Tests are one of the safest ways to determine pregnancy at home, but it is also a convenient way to determine test results quickly.  These results are 99% accurate if used properly. 
Pregnancy Test
Are you looking to buy hCG dip tests in bulk? 
Then our hCG pregnancy tests might just be the right ones for you. For only $0.29 per dip test, you can find out if you're pregnant early on. 
Characteristics of 12 Panel Now's Urine Pregnancy Test
12 Panel Now provides some of the nation's most accurate and affordable drug screening solutions.  The hCG tests are no exception.  It works similar to the way the urine drug tests work.  It has chemically infused membranes that help identify the pregnancy hormone's presence in pee.
This is a Single Panel urine dip test. However, for a drug test that detects drugs of abuse and contains a pregnancy test, see the 14 Panel Drug Test with hCG.
How Early Can You Test with hCG Urine Tests?
The exact timing can vary depending on the individual and the specific test. Some more sensitive home pregnancy tests may be able to detect hCG levels as early as 8-9 days post-conception, or even before a missed period. Still, these early results may not be as reliable, and there is a higher chance of a false negative result (the test is negative, but the woman is actually pregnant) due to lower hCG levels at this stage.
Are hCG Dip Tests Accurate?
Accuracy rates for home pregnancy tests can be as high as 99%, but this often assumes ideal usage conditions, including:
The test is taken after a missed period. hCG levels may not be high enough to detect if the test is taken too early (i.e., before a missed period).
The test is performed with the first urine in the morning, when hCG concentration is typically highest.
The test instructions are followed correctly, including the time frame in which the results should be read.
How does an Pregnancy dip test work?
Pregnancy dip test work on the principle of immunochromatography. The dip test contains antibodies that specifically bind to the HCG hormone. When urine is applied to the test, the HCG, if present, binds to the antibodies, resulting in the appearance of a colored line on the test.
When is the best time to use an HCG test?
The best time to use an HCG urine test is typically in the morning, as the concentration of HCG in urine is usually the highest at this time. However, instructions provided with the dip test should be followed for accurate timing.
Can HCG dip tests detect a very early pregnancy?
HCG dip test are designed to detect the presence of HCG hormone in urine, even in the early stages of pregnancy. However, the sensitivity of the test may vary among different brands. Some dip tests can detect HCG levels as low as 10-25 mIU/mL, allowing early detection.
Are Pregnancy dip tests reusable?
Most Pregnancy dip tests are designed for single-use and are not reusable. Once the test has been conducted it should be discarded as per the instructions provided by the manufacturer. It is important to use a new, unused dip test for each testing instance to ensure accurate results.