Amphetamine Drug Test
Amphetamine Urine Dip Tests Are Easy and Convenient to Use
The Dip Tests Enable Users to Perform Amphetamine Testing with Complete Ease and Without Seeking Assistance.
This is a One-step Process Urine Test
Amphetamine Drug Test Provide Quick Results Within Five Minutes
Our Amp Dip Tests Possess a Cutoff Level of 1000 Ng/Ml
This Amphetamine Drug Test Includes Internal Procedural Controls
If There's a Sufficient Amount of Specimen and the Procedure Is Followed Properly, a Positive Result Will Show as a Colored Band in the Control Region.
However, There Are No External Controls in This Kit. That's Why We Highly Recommend Further Testing to Verify Positive Test Results.
Bulk Quantities are Available Upon Request
Forensic Use Only
What is Amphetamine?
Amphetamines are central nervous system stimulants.  this stimulant has been used to treat conditions such as depression and narcolepsy.
Those who have used Amphetamines to excess have reported feelings of happiness, focus, confidence, and euphoria.
Due to its high potential for abuse, Amphetamines still remain a concern for those who are administering urine screens.  This is why it is included in many urine tests.
Because of the prevalence of Amphetamine abuse, an in-house urine drug test may be more practical for drug screening procedures, more so than blood tests and other lab tests.
Another drug that is a variant of amphetamines is methamphetamines, which is more potent, highly addictive, and is illicit.  Additionally, amphetamines are prescribed to treat ADHD, narcolepsy, and Parkinson's disease.
How to Use a AMP Drug Test: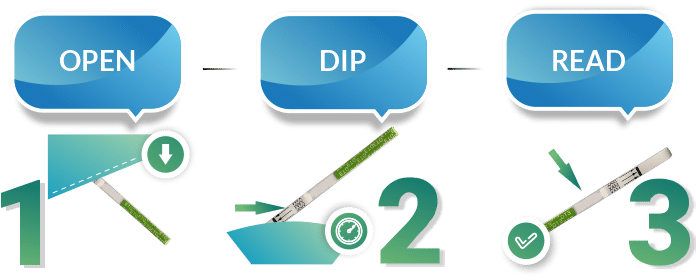 Amphetamine Test Instructions:
Remove the Amphetamine drug test from its sealed pouch and use it as soon as possible. For best results, perform the assay within an hour.

Next, hold the test by the end, where you can see the product name. To avoid contamination, do not touch the test membrane.

Then, holding the test vertically, dip the test in the urine specimen for at least 10-15 seconds. Do not immerse above the maximum line (MAX) on the test. That's about 1/5th of the way up the test.

After the drug test has finished, remove the test from the specimen and place it on a non-absorbent flat surface. Start the timer and wait for the colored band(s) to appear. Read the result at 5 minutes. Do not interpret it after 10 minutes.
How to Read Amphetamine Urine Dip Test?
A Great Drug Screening Solution!
The Amphetamine urine dip tests are convenient to use and display results within only a few minutes.  The AMP tests enable users to perform amphetamine testing with complete ease and without seeking assistance.
The AMP dip tests provide quick results within five minutes.
Our AMP dip tests possess a cutoff level of 1000 ng/ml.
A Urine Drug test is one of the most effective ways to perform a thorough on-site drug screening.  When blood tests or hair tests aren't practical, a rapid urine test will certainly provide the needed results.
Lower cutoff levels allow the urine tests to detect even the slightest use in some drug categories.  Urine drug tests are the preferred method of testing for many across various industries!
What is AMP On a Drug Test?
AMP on a drug test refers to the screening for the presence of amphetamines in the body. Amphetamines are drugs that stimulate the central nervous system and include methamphetamine (meth) and Methylenedioxymethamphetamine (MDMA), as well as other designer forms. AMP is a Schedule II controlled drug with considerable potential for abuse and addiction. A standard 5-panel drug test can detect amphetamines and the drug metabolites can stay in the urine for a minimum of 2 days to a maximum of 90 days, depending on the intake amount and frequency.
What Shows Up as AMP on a Drug Test?
How long after use can amphetamines be detected in an AMP Drug Test?
What Is the Difference Between Amphetamine and Methamphetamine?
Can an AMP Drug Test return false positives?
What are the consequences of a positive Amphetamine Drug Test?
Can prescription medications lead to a positive Amphetamine Drug Test?
Yes, prescription medications that contain amphetamines, such as Adderall, used for treating attention deficit hyperactivity disorder (ADHD), can cause a positive result on an AMP Drug Test. If you're taking a prescription medication, it's essential to disclose this information prior to the test to prevent any misinterpretation of results.