Methamphetamine Drug Test
Methamphetamine Drug Tests Are convenient and Easy to Use.
MET Drug Tests Enable Users to Perform Methamphetamine Testing Without Seeking Assistance.
The Methamphetamine Urine Dip Tests Provide Quick Test Results Within five Minutes.
12 Panel Now's MET Urine Tests Possess a Cutoff Level Of 1000 Ng/Ml.
Designed to Be Both Cost-efficient and Reliable.
99% Accuracy Rate and Easy to Use at Home or Workplace Drug Testing.
This Methamphetamine Drug Dip Test Includes Internal Procedural Controls.
If There's a Sufficient Amount of Specimen and the Procedure Is Followed Properly, a Positive Result Will Show as a Colored Band in the Control Region.
There Are No External Controls in This Kit. That's Why We Highly Recommend Further Testing to Verify Positive Results.
Quantity Pricing Available
Forensic Use Only.
Why Test for Meth?
Meth is a highly addictive substance. Although it is possible to stop using it, the withdrawal symptoms that experienced by those who have taken the drug are extremely difficult to deal with.  Those who are recovering from Meth withdrawal may suffer symptoms such as:
fatigue
anxiety
intense cravings for the drug
severe depression
psychosis
As Methamphetamine continues to be an issue in the United States, many are incorporating Methamphetamine single dip test into their urine drug screens.  It is one of the most addictive drugs known today, and pose a danger to those who use it and their family.
Methamphetamine addiction can lead to lifelong or even fatal consequences for the user. As a consequence, he is more at risk of contracting deadly diseases like HIV and hepatitis.
How to Use a Meth Drug Test?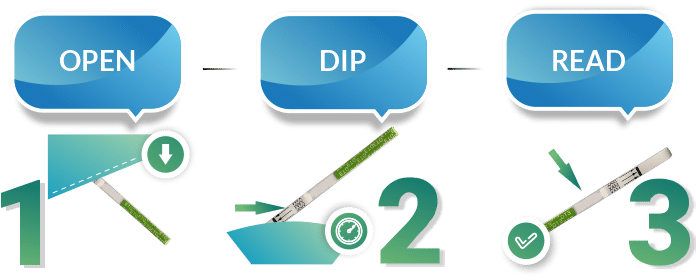 Remove the drug test from its sealed pouch and use it as soon as possible. For best results, perform the assay within an hour.

Next, hold the test by the end, where you can see the product name. To avoid contamination, do not touch the test membrane.

Then, holding the test vertically, dip the test in the urine specimen for at least 10-15 seconds. Do not immerse above the maximum line (MAX) on the test. That's about 1/5th of the way up the test.

After the drug test has finished, remove the test from the specimen and place it on a non-absorbent flat surface. Start the timer and wait for the colored band(s) to appear. Read the result at 5 minutes. Do not interpret it after 10 minutes.
How to Read Methamphetamine Drug Test Kit?
What is Methamphetamine?
Methamphetamine is a powerful stimulant initially developed in the 20th century. Although it has therapeutic applications, it is mostly being misused by people who have developed an addiction to it.
Additionally, methamphetamine produces a certain "high" which is sought by its users. As a result, it heightens the senses and induces euphoria when taken in higher doses.
What Are the Other Names for Methamphetamine?
Methamphetamine is also known as crystal, blue, meth, ice, and speed.
Is Ritalin a Methamphetamine?
What is the Difference Between Amphetamine and Methamphetamine?
However, meth is illegal. It works much faster in the brain than methamphetamine. Thus, users prefer the former to get the 'high' feeling more quickly.
Does Zantac Show up as Methamphetamine?
How Long Does Methamphetamine Stay in Your Body?
How to Pass a Drug Test for Meth?
If you are trying to pass a drug test for meth, there are several tips and home remedies that you can try. First, it's essential to know that the detection time for meth depends on the drug test's type and sensitivity. Meth can stay in your urine for up to 3-5 days, in your blood for up to 1-3 days, and in your hair for up to 90 days. To increase your chances of passing the test, you can try to urinate as much as possible before the test, which helps pump drug metabolites from your body. Drinking a lot of water the morning of the test and making an extra effort to pee a lot before you take it can also help flush your system. Using some sort of diuretic can also stimulate urination and flush out toxins. Additionally, some people use detox bags or powders, and others use home remedies like baking soda, which can help pass a drug test.
Will Adderall Test Positive for Methamphetamine?
What Can Cause a Positive Drug Test for Methamphetamine?
Below are the agents with the potential to cause false positives in immunoassay.
Amantadine
Amphetamine analogues
Benzathine penicillin
Bupropion
Chlorpromazine
Deprenyl
Desipramine
Ephedrine
Labetalol
Mebeverine
Methylphenidate
Perazine
Phenothiazines
Phenylephrine
Phenylpropanolamine
Promethazine
Pseudoephedrine
Ranitidine
Ritodrine
Selegiline
Thioridazine
Trazodone
Trimipramine.
Can You Overdose on Methamphetamine?
Additionally, some drug dealers add cheap, dangerous synthetic opioids to street methamphetamine without the user's knowledge. This can have fatal consequences.
How Do You Test for Methamphetamine?