Introducing Our K2 Drug Test 
Here at 12PanelNow we are  an industry leader in providing high-quality, efficient, and reliable drug testing solutions. Among our extensive selection of drug testing products, the k2 urine test stands out for its ability to accurately detect synthetic cannabinoids.
Unmasking K2: The K2 Drug Test
The K2 drug test, also known as the Spice drug test, is a specialized tool developed to detect the use of synthetic cannabinoids, commonly referred to as K2 or Spice. These substances can be challenging to detect, but our K2/Spice Dip Stick is specifically designed to identify these compounds, offering an effective solution for K2 Spice drug test needs.
K2 Urine Drug Test: Precision and Simplicity
Our K2/Spice Dip Stick is a K2 urine drug test that provides simple, non-invasive testing with precise results. It's a convenient tool that delivers quick and reliable outcomes, making it an ideal choice for various testing environments.
K2 Drug Test – Spice Dip Test
K2 drug test enable users to perform K2 testing with complete ease and without seeking assistance
Fast and reliable detection in human urine of synthetic cannabis within 5 minutes
One step, easy to use dip tests
Clear and easy to read results
12 Panel Now's urine test includes internal procedural controls.
If there's a sufficient amount of specimen and the procedure is followed properly, a positive result will show as a colored band in the control region.
There are no external controls in this kit. That's why we highly recommend further testing to verify positive results.
Forensic use only
What is K2 / Synthetic Marijuana?
K2 is the first generation of synthetic cannabis to appear on the market.
K2 is a synthetic version of tetrahydrocannabinol (THC), the mind-altering ingredient in marijuana.
Marijuana vs Spice
Synthetic cannabinoids mimic the effects of THC naturally found in marijuana. However, all the ingredients used for creating spice are synthetic or human-made.
Marijuana comes from the cannabis plant. K2, on the other hand, is the combination of several chemicals, namely CP 47,497, HU-210, and JWH-018.
What Makes Spice Harmful?
They both bind to the same cannabinoid receptors in the brain. When used for medicinal purposes, marijuana can heal. Synthetic cannabinoids don't. It is a harmful chemical that, when used, can lead to life-threatening consequences.
Some may consider synthetic marijuana to be a safer alternative than cannabis. However, evidence proves otherwise.
Using the K2 Drug Test Kit
Our K2 drug tests enable users to perform K2 testing with complete ease and without seeking assistance.
Urine test for the detection of synthetic cannabinoids type K2 or Spice.
K2 is the first generation of synthetic cannabis to appear on the market.
How to Use a K2 Drug Test?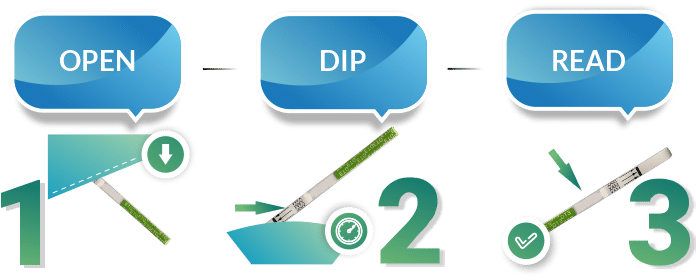 Remove the drug test from its sealed pouch and use it as soon as possible. For best results, perform the assay within an hour.

Next, hold the test by the end, where you can see the product name. To avoid contamination, do not touch the test membrane.

Then, holding the test vertically, dip the test in the urine specimen for at least 10-15 seconds. Do not immerse above the maximum line (MAX) on the test. That's about 1/5th of the way up the test.

After the drug test has finished, remove the test from the specimen and place it on a non-absorbent flat surface. Start the timer and wait for the colored band(s) to appear. Read the result at 5 minutes. Do not interpret it after 10 minutes.
How to Read K2 Spice Dip Test?
Why Test for K2 /Synthetic Marijuana?
Some may consider synthetic marijuana to be a safer alternative than cannabis. However, evidence proves otherwise.
How Harmful is K2?
Reports of Synthetic marijuana laced with chemicals such as rat poison have resulted in numerous hospitalizations and several instances of death.  
What makes synthetic marijuana so dangerous is that no one fully knows what chemicals go with the substance. It is labeled as not fit for human consumption.

Other Side Effects of K2/
Some may experience a high from using the substance, or some may become violently ill or even pass away from it. 
Side effects range from anxiety, paranoia, hallucinations to full-on psychosis.
Does Dot Test for Spice?
Marijuana
Cocaine
Opiates – opium and codeine derivatives
Amphetamines and methamphetamines
Phencyclidine – PCP
However, DOT does not prohibit motor carrier employers from carrying out their own drug testing programs and policies. As such, any employer can require testing for other drugs of abuse not listed above such as K2/spice.
How Long Does Spice Stay in Your Urine?
What Schedule Drug Is K2?
Because the chemicals that are commonly used for creating spice have a high potential for abuse but no medical benefit, the Drug Enforcement Administration (DEA) has designated them as Schedule I drugs.
What Can Cause a False Positive for K2/Spice?
Lamictal is an anti-epileptic medication. It is also used for delaying mood episodes in people with bipolar disorders.
Gabapentin, on the other hand, is a prescription anticonvulsant medication for epilepsy and postherpetic neuralgia.
What you can do
If you're taking any of these medications, we strongly suggest you to inform the technician prior to drug testing.
Is There a Urine Test for Spice?
Does Spice Show Up in Drug Test?
What is K2 on a Drug Test?
On a k2 urine test, K2 refers to the synthetic cannabinoids that are often used as a substitute for marijuana. While they may produce similar effects, K2 and Spice are chemically different from marijuana and require a specific test for detection.
How Long Does K2 Stay in Your System?
K2 or Spice typically stays in the system for 3 days to a week after use. However, detection times can vary based on the specific synthetic cannabinoid used, the amount used, and the individual's metabolism. Our K2 test strips are designed to detect these substances within this detection window.
Can You Drug Test for K2?
Yes, specialized tests like our K2/Spice Dip Stick are designed to detect K2. While standard drug tests may not pick up synthetic cannabinoids, our K2 strip offers a reliable solution for detecting these substances.
K2 Test Strips: Quick and Accurate
Our spice drug test Dip Stick uses K2 test strips that are dipped into a urine sample. These drug test strips are designed to provide quick results, typically in just a few minutes, making them a practical choice for situations that require rapid results.
12 Panel Now: Dependable Drug Testing Solutions
At 12 Panel Now, we strive to provide high-quality, dependable, and affordable drug testing solutions. Our K2/Spice Dip Stick is a prime example of this commitment, offering a highly specific test for synthetic cannabinoids.
Rapid Drug Test Kit: Results When You Need Them
In drug testing scenarios, fast and accurate results are paramount. Our K2/Spice Dip Stick delivers results quickly, typically within minutes, making it an efficient tool for drug screening.
Your Source for Drug Test Supplies
From K2 test strips to a broad selection of other drug tests for sale, 12 Panel Now is your trusted source for all your drug testing needs. We ensure that our customers have access to the highest quality drug test supplies on the market.
Drug Test Wholesale: Value and Convenience
Are you looking for wholesale drug testing options? We offer competitive pricing for bulk purchases. Whether you need a large quantity of K2/Spice Dip Sticks or a variety of other drug testing supplies, we've got you covered.
Trust 12 Panel Now for all your drug testing requirements. Contact us today and get started on your order!