6 Panel Drug Test Cup Information
Our 6 Panel urine rapid drug test is a CLIA-waived and FDA-approved POC (Point-of-Care) urinalysis cup.
Trusted by companies, institutes, schools, and similar organizations for its accuracy and reliability.
These tests are affordable, rapid drug tests. They are fully integrated self-contained screening tests.
Each of our 6 Panel urine test cups contains a built-in temperature strip for validating urine samples.
Extremely sensitive and affiliates to SAMHSA cutoff levels.
Each standard 6 Panel drug test has a 99% accuracy rate and easy to use at home or workplace drug testing.
They all contain a rounded design for a better grip. These tests are built with a no-drip screw top lid, an easy peel-and-read label, and a leak-resistant design.
You can read the 6 Panel drug test results in as little as two minutes or less, although we recommend that you assess the urine specimen five minutes after the drug test. Do not wait longer than eight minutes to interpret the result.
These drug tests are suitable for clinical use or as an at home drug test
6 Panel Drugs Tested
| | | | |
| --- | --- | --- | --- |
| Drug Name | Abbreviation | Detection time | Cut-Off Level |
| Amphetamines | AMP | 1-2 Days | 1000 ng/mL |
| Benzodiazepines | BZO | 1-2 Days | 300 ng/mL |
| Buprenorphine | BUP | 2-6 Days | 10 ng/mL |
| Cocaine | COC | 2-4 Days | 300 ng/mL |
| Morphine | OPI | 2-3 Days | 300 ng/mL |
| Oxycodone | OXY | 1-3 Days | 100 ng/mL |
How to Use a Drug Test Kit?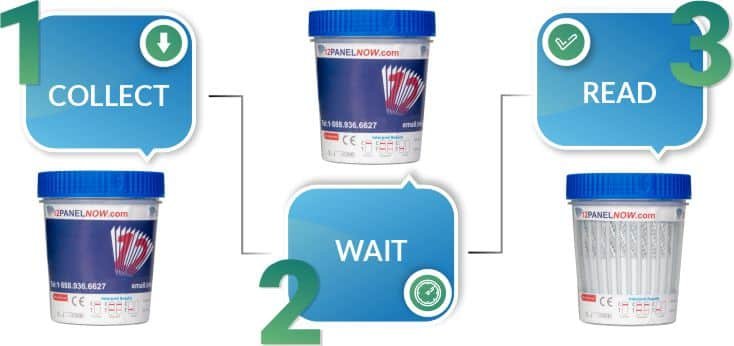 COLLECT
Remove the urine drug test cup from the sealed pouch and use it as soon as possible.
WAIT
At 2-4 minutes, verify the temperature of the specimen by observing where the green dot appears. A green dot will appear on the corresponding temperature line.
READ
Peel off the label when you're ready to interpret the results. Test results should be read within 5 minutes. Do not interpret the result after 8 minutes.
POSITIVE
Only one colored band appears, in the control region ©. No apparent colored band appears in the test region (T)
NEGATIVE
Two colored bands appear on the membrane. One band appears in the control regions © and another band appears in the test region (T).
INVALID
The control band fails to appear. Results from any test which has not produced a control band at the specified read time must be discarded. Please review the procedure and repeat it with a new test.
What is a 6 Panel Drug Test?
A 6 Panel Drug Test is a test specifically designed to detect 6 illicit drugs/substances within a single urine specimen.  As this is one of the least expensive drug test kits, it is popular with many who administer drug test programs, pre-employment screenings among others.
This 6 Panel rapid urine drug test's rounded design, no-drip twist top lid, and leak-resistant features make it safe and easy to use for both you and the donor. Plus, it has a built-in temperature strip for authenticating a donor's urine sample.
Some test administrators may be concerned about whether the urine sample is authentic, substituted, or diluted.
These urine test cups offer a simple solution – a built-in temperature strip.  The temperature strip indicates the temperature of the urine specimen.  This is useful in determining whether the urine specimen has been tampered with.
Our wholesale panel drug test cups are very sensitive and conform to SAMHSA cutoff levels. New lower cutoffs make this the perfect urine analysis test for pain management and addiction screening.
Anybody can use these tests whether it be in rehabs, clinics, hospitals, police stations, even at homes.
And because it's the most economical choice out there, you'll be saving a lot of money when you buy these 6 Panel drug test cups in bulk.