14 Panel Drug Test Cup with EtG and FYL
The 14 Panel Drug Test Cup is a Point of Care (POC) urine test.
14 Panel Drug Test List : AMP /1000, OPI /300, MET /1000, BZO/ 300, COC /300, MTD /300, OXY/ 100, BUP /10, MDMA/ 500, THC/ 50, BAR/ 300,
PCP/25, FYL/FEN/ 20, ETG/ 500.
Although, these tests are safe, easy to use, and one of the most accurate ways to determine drug abuse.
These tests also have an expiration date included on the packaging.
Also, every test has a Long shelf life – Up to 2 years.
In fact, it is a fully integrated and self-contained drug screening tool.
Although 14 Panel Instant Drug test is suitable as a clinical test or for at-home drug testing.
Also, each test has a built-in temperature strip for further authenticating the donor's urine.
Each drug conforms similarly with the cut-off levels according to SAMHSA's guidelines.
Since test provides accurate results in under 10 minutes.
14 Panel Instant Drug Test in Bulk – In fact as low As $2.49 per drug test cup!
Also, this test is not CLIA waived.
Forensic use only
What does a 14 Panel Drug Test test For
| | | | |
| --- | --- | --- | --- |
| Drug Name | Abbreviation | Detection time | Cut-Off Level |
| Amphetamines | AMP | 1-2 Days | 1000 ng/mL |
| Barbiturates | BAR | 1-4 Days | 300 ng/mL |
| Benzodiazepines | BZO | 1-2 Days | 300 ng/mL |
| Buprenorphine | BUP | 2-6 Days | 10 ng/mL |
| Cocaine | COC | 2-4 Days | 300 ng/mL |
| Ecstasy | MDMA | 2-4 Days | 500 ng/mL |
| Fentanyl | FYL/FEN | 2-3 Days | 20 ng/mL |
| Marijuana | THC | 15-30 Days | 50 ng/mL |
| Methadone | MTD | 1-3 Days | 300 ng/mL |
| Methamphetamine | mAMP (or MET) | 2-4 Days | 1000 ng/mL |
| Morphine | OPI | 2-3 Days | 300 ng/mL |
| Oxycodone | OXY | 1-3 Days | 100 ng/mL |
| Phencyclidine | PCP | 7-14 Days | 25 ng/mL |
| Ethyl-glucuronide | EtG | 1-3 Days | 500 ng/mL |
How to Use a 14 Panel Drug Test Cup?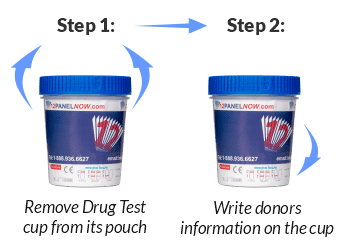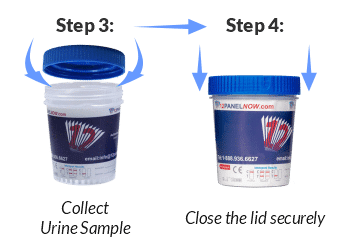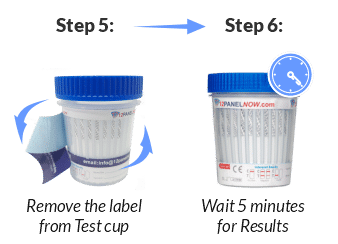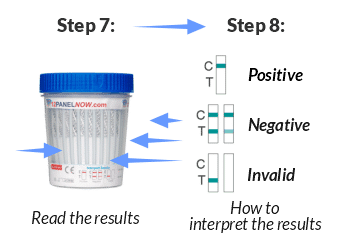 Step 1:
Firstly, Remove Drug Test cup from its pouch
Step 2:
Secondly, Write donors information on the cup
Step 3:
Thirdly, Collect Urine Sample
Step 4:
After that, Close the lid securely
Step 5:
Then, Remove the label from Test cup
Step 6:
Now, Wait 5 mins for Results
Step 7:
Finally, Read the results
Step 8:
At last, How to interpret the results
How to Read a 14 Panel Drug Test?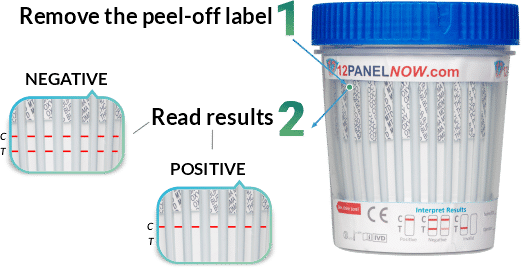 14 Panel Drug Test Cup
12 Panel Now's 14 Panel Drug Test cups are similarly safe, accurate, and reliable. Because this test detects up to 14 different substances, many consider this one of the most thorough tests available.
With the concern of prescription drug abuse and the opioid crisis escalating, then 14 Panel Drug test cup is an ideal solution for drug screening.
Also, alcohol abuse is one of the many concerns in drug screening.  Moreover, the 14 Panel Drug Test cup also contains an EtG test strip that detects Ethyl glucuronide, a byproduct of ethanol.
Test Detection Time
Although, what makes this test unique is its longer detection time.  As well as it will detect the presence of EtG in urine for up to 3.3 days after last consumption.
Another test strip that is not included on the standard 12 Panel Drug test, but is included on the 14 Panel Drug Test is Fentanyl.
Also, this is one of the main drugs of abuse today, is among the many opioids that are contributing to the overdose crises in the United States.
For a thorough, accurate, and fast drug screening test, then 14 Panel Instant Drug Test is an ideal solution offering 99% accurate and ease of use.
What is an EtG Test?
In fact, EtG (Ethyl glucuronide) is a metabolite of ethanol produced in the human body after consuming alcohol.  Some alcohol tests will detect the presence of alcohol in urine from 8-24 hours after last use.  However, many prefer an EtG test is due to its longer detection time. The EtG test detects the presence of alcohol in urine up to 80 hours (3.3 days) after last consumption.
But for those are aiming to verify sobriety through their drug screening procedures, the 14 Panel Drug Tests with EtG is an ideal solution as well.
What is Fentanyl?
Fentanyl is an opioid analgesic that is 50 to 100 times more potent than morphine. Also, it is used in 70% of all surgeries in the US and for post-operative pain relief. Moreover, it binds to the opioid receptors in the brain that control pain and emotions.  Then doctors prescribe fentanyl to patients of all ages due to its fast action and potency. However, it has some side effects which include addiction. This is why fentanyl use also requires strict medical supervision.
Illegal fentanyl use has increased significantly throughout the years contributing to the ever-growing opioid crisis with thousands of overdose-related deaths every year.  Because of fentanyl's potency and its danger to the human body, it is a drug of concern amongst those who frequently require candidates to pass a drug screening procedure.
Frequently Asked Questions
What Does a 14 Panel Drug Screen Test for?
This 14 Panel Drug Test detects up to 14 different drugs of abuse.  What makes this test unique is the inclusion of EtG, which detects the presence of alcohol.  Also, the inclusion of Fentanyl.  The full list includes: AMP /1000, OPI /300, MET /1000, BZO/ 300, COC /300, MTD /300, OXY/ 100, BUP /10, MDMA/ 500, THC/ 50, BAR/ 300, TRA/200, FYL/ 200, ETG/ 500
Does Neurontin Show up on a 14 Panel Drug Test?
Neurontin is a popular brand name for Gabapentin. It is a prescription medicine used alone or with other medications to prevent and control partial seizures in adults and children at least 12 years old.  Gabapentin is not normally detected on a 14 Panel drug test.  There are, however, specific Gapabentin tests available in the form of urine test strips.
Does Positive Mean You Passed a Drug Test?
If you are positive in a drug test that confirms a positive screening, it means you were found to have consumed some of the substances tested for. 
Retests are done using GC/MS(gas chromatography-mass spectrometry) You may not be under the influence of drugs at the time of the test, but drug metabolites show up in drug tests.
 Usually, positive results aren't sent right away to your employer or to whoever ordered the test.
 You may be asked by a Medical Review Officer if you have been taking prescription drugs for the treatment of some health condition. 
Having none, the positive results may be shared with your employer or the body that ordered the test.
Do 14 Panel Drug Tests Look for Alcohol?
The 14 Panel Drug Tests from 12 Panel Now detect 14 drugs of abuse including EtG (Ethyl glucuronide).  EtG is a metabolite of ethanol.  This is produced whenever someone consumes alcohol  EtG tests are more sentivie tests than other conventional alcohol tests.  EtG tests can detect the presence of alcohol up to 3.3 days after last consumption.
Does Negative Mean You Passed a Drug Test?
A negative drug test means that none of the drugs being tested were found in your system. The reason is because your body has naturally expelled the drug if you have taken them, the drug maybe present but below the cut-off level or you haven't ingested any at all,  
Drug tests provide accurate analysis of substance abuse and are often more reliable than initial screenings. 
A drug screen may show negative results but an experienced health care provider sees the results unmatched with his clinical expectations. To make an informed medical decision he  may request a confirmatory drug test.
Negative results mean you have passed the purpose of the drug test.
How Long Can an Etg Test Detect Alcohol?
An EtG test detects the presence of Ethyl Glucuronide (EtG) in your system. Ethyl glucuronide(EtG) is a metabolite produced when the liver reacts with alcohol in the body.  This test can detect alcohol in urine even in relatively small amounts. 
Hence, it confirms whether someone has drunk alcohol.
As a general guide, alcohol can stay in your system anywhere from 12 to 36 hours after ingestion. EtG, on the other hand, remains in the urine and is detectable within 2 hours after use. It may reach up to 80 hours past consumption if the user is a heavy drinker.