14 Panel Drug Test Cup with EtG and Tramadol
Whenever you need a comprehensive and accurate drug test, order the 14 Panel Drug Test Cup with EtG, FYL and TRA from 12 Panel Now. 
For clinical and at home use
Fully Integrated and self-contained drug screening kit with built in temperature strip
 It is best to read test results before 10 minutes
Expiration date is printed on the individual product packaging
Test is for Forensic use only. Test is not CLIA Waived
14 Panel Drug Test List : AMP /1000, OPI /300, MET /1000, BZO/ 300, COC /300, MTD /300, OXY/ 100, BUP /10, MDMA/ 500, THC/ 50, BAR/ 300,
TRA/200, FYL/FEN/ 20, ETG/ 500.
14 Panel Instant Drug Test is also available in Bulk
What does a 14 Panel Drug Test test For
| | | | |
| --- | --- | --- | --- |
| Drug Name | Abbreviation | Detection time | Cut-Off Level |
| Amphetamines | AMP | 1-2 Days | 1000 ng/mL |
| Barbiturates | BAR | 1-4 Days | 300 ng/mL |
| Benzodiazepines | BZO | 1-2 Days | 300 ng/mL |
| Buprenorphine | BUP | 2-6 Days | 10 ng/mL |
| Cocaine | COC | 2-4 Days | 300 ng/mL |
| Ecstasy | MDMA | 2-4 Days | 500 ng/mL |
| Fentanyl | FYL/FEN | 2-3 Days | 20 ng/mL |
| Marijuana | THC | 15-30 Days | 50 ng/mL |
| Methadone | MTD | 1-3 Days | 300 ng/mL |
| Methamphetamine | mAMP (or MET) | 2-4 Days | 1000 ng/mL |
| Morphine | OPI | 2-3 Days | 300 ng/mL |
| Oxycodone | OXY | 1-3 Days | 100 ng/mL |
| Tramadol | TRA | 1-4 Days | 200 ng/mL |
| Ethyl-glucuronide | EtG | 1-3 Days | 500 ng/mL |
How to Use a 14 Panel Drug Test Cup?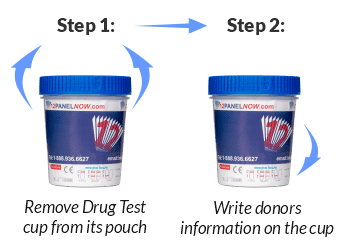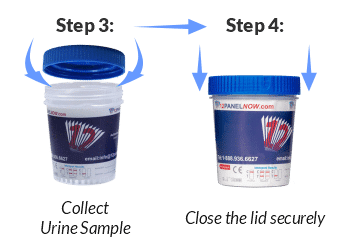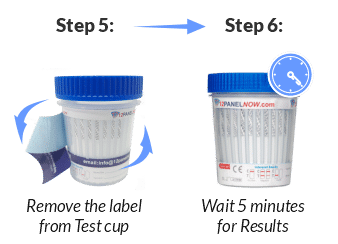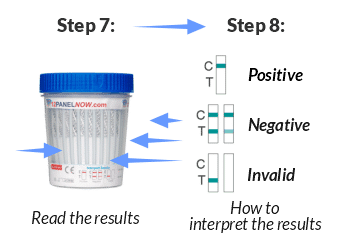 Step 1:
Firstly, Remove Drug Test cup from its pouch
Step 2:
Secondly, Write donors information on the cup
Step 3:
Thirdly, Collect Urine Sample
Step 4:
After that, Close the lid securely
Step 5:
Then, Remove the label from Test cup
Step 6:
Now, Wait 5 mins for Results
Step 7:
Finally, Read the results
Step 8:
At last, How to interpret the results
How to Read a 14 Panel Drug Test?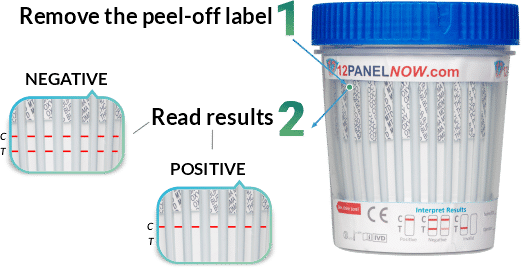 Why Use the 14 Panel Urine Drug Test Cup?
This compact and easy-to-use test cup offers reliable and accurate results, screening up to 14 substances. This thorough coverage makes it ideal for forensic purposes, especially to help control the substance abuse crisis escalating throughout the country.
Drug Detection and Accuracy
12 Panel Now uses high-quality testing cups to ensure a 99% accuracy rate. Our 14-panel urine drug test cup with EtG, FYL, and TRA can detect substances 24 hours after a person takes them, and three days for EtG specifically.
Long-Shelf Life, Quick Results
Each cup has a shelf life of up to two years, so you can order as many as you need without having to worry about expiration dates. When you use it, you can get results in as quick as five to 10 minutes for a quick turnaround.
Easy to Use and Easy to Read
You'll only need to deposit the sample into the cup and wait for the prescribed time period for the results. Once the red bands appear, two lines mean negative and one means positive. The results are invalid if there are no lines. While these invalid results rarely happen, you should always use another cup for a retest.
Disclaimer
The 14 Panel Drug Test Cup With EtG, FYL, and TRA follows concentration standards set by the Substance Abuse and Mental Health Services Administration (SAMHSA). However, these are not CLIA-waived. This means that they cannot be used for home use, only forensic applications.
Order in Bulk Today
Our 14 Panel Urine Drug Test Cup With EtG, FYL, and TRA is available for bulk purchases, with a minimum of 10 cups for each order. The more orders you make, the more savings you get. You could enjoy as low as $2.49 a cup with enough bulk orders! Contact us today and tell us about your needs.
Frequently Asked Questions
What Does a 14 Panel Drug Screen Test for?
This 14 Panel Drug Test detects up to 14 different drugs of abuse.  What makes this test unique is the inclusion of EtG, which detects the presence of alcohol.  Also, the inclusion of Fentanyl.  The full list includes: AMP /1000, OPI /300, MET /1000, BZO/ 300, COC /300, MTD /300, OXY/ 100, BUP /10, MDMA/ 500, THC/ 50, BAR/ 300, TRA/200, FYL/ 200, ETG/ 500
Does Neurontin Show up on a 14 Panel Drug Test?
Neurontin is a popular brand name for Gabapentin. It is a prescription medicine used alone or with other medications to prevent and control partial seizures in adults and children at least 12 years old.  Gabapentin is not normally detected on a 14 Panel drug test.  There are, however, specific Gapabentin tests available in the form of urine test strips.
Does Positive Mean You Passed a Drug Test?
If you are positive in a drug test that confirms a positive screening, it means you were found to have consumed some of the substances tested for. 
Retests are done using GC/MS(gas chromatography-mass spectrometry) You may not be under the influence of drugs at the time of the test, but drug metabolites show up in drug tests.
 Usually, positive results aren't sent right away to your employer or to whoever ordered the test.
 You may be asked by a Medical Review Officer if you have been taking prescription drugs for the treatment of some health condition. 
Having none, the positive results may be shared with your employer or the body that ordered the test.
Do 14 Panel Drug Tests Look for Alcohol?
The 14 Panel Drug Tests from 12 Panel Now detect 14 drugs of abuse including EtG (Ethyl glucuronide).  EtG is a metabolite of ethanol.  This is produced whenever someone consumes alcohol  EtG tests are more sentivie tests than other conventional alcohol tests.  EtG tests can detect the presence of alcohol up to 3.3 days after last consumption.
Does Negative Mean You Passed a Drug Test?
A negative drug test means that none of the drugs being tested were found in your system. The reason is because your body has naturally expelled the drug if you have taken them, the drug maybe present but below the cut-off level or you haven't ingested any at all,  
Drug tests provide accurate analysis of substance abuse and are often more reliable than initial screenings. 
A drug screen may show negative results but an experienced health care provider sees the results unmatched with his clinical expectations. To make an informed medical decision he  may request a confirmatory drug test.
Negative results mean you have passed the purpose of the drug test.
How Long Can an Etg Test Detect Alcohol?
An EtG test detects the presence of Ethyl Glucuronide (EtG) in your system. Ethyl glucuronide(EtG) is a metabolite produced when the liver reacts with alcohol in the body.  This test can detect alcohol in urine even in relatively small amounts. 
Hence, it confirms whether someone has drunk alcohol.
As a general guide, alcohol can stay in your system anywhere from 12 to 36 hours after ingestion. EtG, on the other hand, remains in the urine and is detectable within 2 hours after use. It may reach up to 80 hours past consumption if the user is a heavy drinker.