Fentanyl Test Strips 
In recent years, hospital emergency rooms have been witnessing a strange phenomenon: drug testing showed a decrease in opioid use while at the same time overdoses have been increasing. Hospital after hospital determined that the culprit, an opioid, was responsible for the overdoses but was not showing up on drug tests. The drug in question–Fentanyl. Since Fentanyl has not been included in many products that test for common drugs of abuse like cocaine, heroin, and methamphetamine, doctors have begun to rely on Fentanyl test strips to detect the presence of this dangerous and, often, deadly narcotic in urine.
The increased abuse of Fentanyl now necessitates the use of Fentanyl urine test strips. Conducting a drug test for Fentanyl allows hospitals to address the gap in patient care in relation to drug abuse testing.
What Are Fentanyl Testing Strips?
A Fentanyl test strip is a simple method for detecting the presence of Fentanyl in urine. Fentanyl test strips have a cutoff level of 20 ng/ml. Fentanyl strip testing is easy to conduct. The tests are fast-acting and require few supplies other than the Fentanyl test strip, a container to collect urine specimens, rubber gloves, eye protection, and a stopwatch.
Fentanyl test strips from 12PanelNow.com are for forensic use only and available in bulk quantities. A Fentanyl l urine test using our Fentanyl test strips is a safe and reliable method for labs to screen for Fentanyl use.
How to use Fentanyl Test Strips?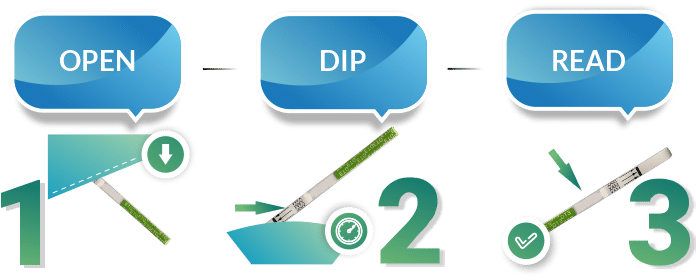 Remove the fentanyl test strip from its sealed pouch and use it as soon as possible. For best results, perform the assay within an hour.

After that, hold the strip by the end, where you can see the product name. So, to avoid contamination, do not touch the strip membrane.

Then, holding the strip vertically, dip the test strip in the urine specimen for at least 10-15 seconds. Do not immerse above the maximum line (MAX) on the test strip. That's about 1/5th of the way up the strip.

After the fentanyl drug test has finished, then remove the strip from the specimen and place it on a non-absorbent flat surface. Start the timer and wait for the colored band(s) to appear. Finally, read the result at 5 minutes. Do not interpret it after 10 minutes.
Why Screen for Fentanyl Use?
Fentanyl, a synthetic opioid prescribed to treat pain, is between 50 and 100 times stronger than morphine. Unfortunately, Fentanyl has become widely abused because it can produce a euphoric-like effect that's similar to heroin. On the street, Fentanyl is often mixed with other drugs such as heroin to induce a more powerful high.
Unfortunately, Fentanyl is extremely potent; like other opioids, it targets the opioid receptors in the brain, affecting an area of the brain that's extremely close to the controls for respiratory function. Using even slightly too much can result in an opioid overdose as the drug suppresses respiratory function–slowing or, sometimes, even stopping breathing. It's not uncommon for people who use illicit drugs to be unaware that Fentanyl has been added to a drug they purchased illicitly on the street.
Buy Fentanyl Test Strips
12 Panel Now features Fentanyl drug test strips for sale. Including a Fentanyl urine test for patient drug screening addresses a serious gap in the testing process. The increased abuse of this drug has been the catalyst for overdose deaths and emergency room visits all over the country. A simple Fentanyl drug test will identify if this powerful drug is present in patients' urine samples.
Where to Buy Fentanyl Test Strips
Wondering where to get Fentanyl test strips? Choose 12 Panel Now to buy Fentanyl drug tests in bulk. We sell bulk drug test strips for Fentanyl that are for forensic use only and ideal for hospital labs. These urine drug tests are accurate and affordable. If Fentanyl testing is not standard for your institution, you can correct the omission by adding bulk Fentanyl urine test strips to your drug screens.
Fentanyl Drug Test Strip Results: