What is a 10 Panel Mouth Swab Drug Test?
An Oral Swab Drug test or Mouth Swab Drug Testing Kit will detect multiple substances and also provide results in under 10 minutes. As a result are accurate fast, and this is the preferred method of screening for many large companies in the United States.
In fact, due to the rising issue of falsifying urine Drug Tests, an Oral fluids drug test provides a more secure method of testing that is difficult to adulterate.  
Although mouth swab testing device is also use to collect the saliva along the inner cheek. Then, the administrator secures the sample with the snap swab cap. However, it indicate results on the panels inside can evaluated in a few short minutes.
Results in under 15 minutes as well
Also able to Photocopy
Up to 10 Drugs of Abuse
Eliminates Need for Restrooms
Difficult to Adulterate
Easily Transport to Labs
Drug Test results are Display in Minutes!
Do Not Place Anything in the Mouth Including Food Drink or Gum prior to Test
Negative and Positive Results are Clear and Easy to Read
Forensic use only 
What Drugs Does a Mouth Swab Test For
| | | | |
| --- | --- | --- | --- |
| Drug Name | Abbreviation | Detection time | Cut-Off Level |
| Amphetamines | AMP | 1-2 Days | 50 ng/mL |
| Cocaine | COC | 2-4 Days | 20 ng/mL |
| Morphine | OPI | 2-4 Days | 40 ng/mL |
| Marijuana | THC | 5+ Days | 40 ng/mL |
| Methamphetamine | MET | 2-4 Days | 50 ng/mL |
| Phencyclidine | PCP | 7-14 Days | 10 ng/mL |
| Benzodiazepines | BZO | 1-2 Days | 50 ng/mL |
| Buprenorphine | BUP | 2-6 Days | 5 ng/mL |
| Oxycodone | OXY | 1-3 Days | 20 ng/mL |
| Barbiturates | BAR | 1-4 Days | 50 ng/mL |
Why Use 10 Panel Mouth Swab Drug Test?
The 10 Panel Oral Swab Drug Test will detect up to 10 different drugs. When taking an Oral Swab drug test, the donor can supervise, if need , in close proximity to the test administrator. This will help minimize fraudulent test results.  
Although this is another reason why companies and administrators may also decide to use a Mouth Swab Drug Test in place of a Urine Drug Test. For pre-employment drug screening, this is a viable option as many candidates can test at once.
The 10 Panel Oral Swab Drug Test also allows you to detect up to 10 different illicit drugs in one testing. Therefore, the collection of human saliva is less invasive and hard to adulterate, because there is no need for a private restroom and you can observe the oral fluid collection.
Furthermore, using a mouth swab, the saliva collected along the inner cheek. Then, you simply secure the sample with a snap swab cap and transport it to a lab for confirmation. Also, there is the option of photocopying the test results as well.
How to Use 10 Panel Saliva Drug Test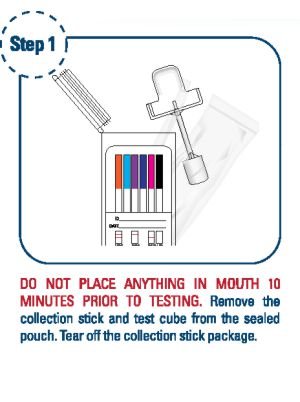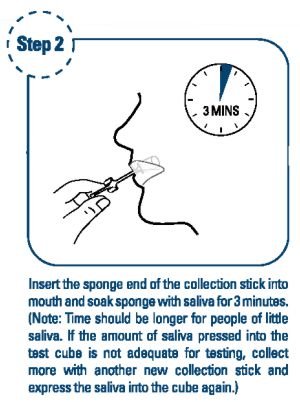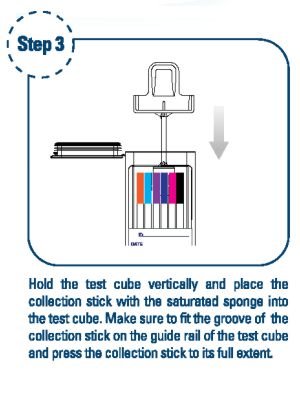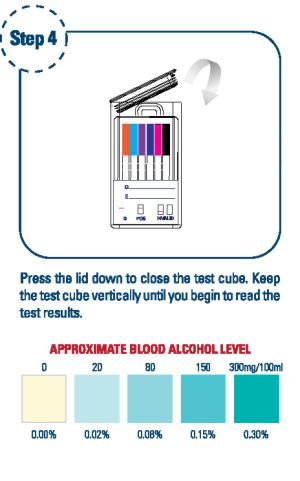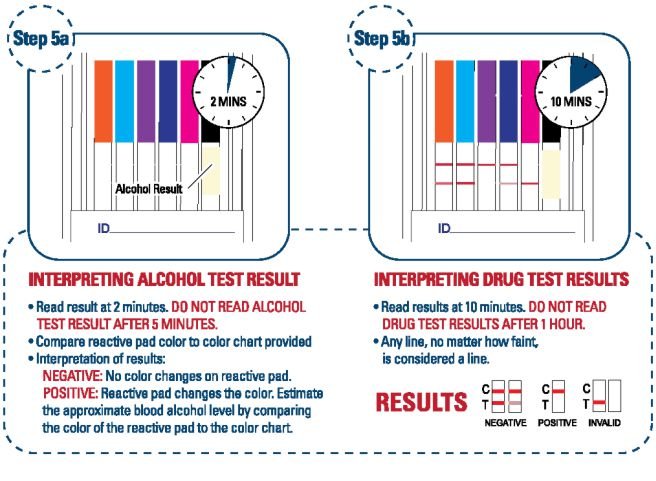 Do Mouth Swabs Test for Alcohol?
Mouth swab tests can determine the presence of alcohol in the body. Approximately 12 to 24 hours after consumption, metabolites of alcohol can be detected in saliva. An absorbent pad at end of a stick collects saliva from the inner cheek.  For preparation, the person has to take nothing 10 minutes prior to swab.
Testing with this method is most effective for people who have consumed alcohol recently. Beyond 24 hours, it is not helpful.  Saliva by then contains no metabolites of alcohol. 
 The test is popularly used for deterring alcohol-related problems in the workplace. Likewise, it has been used to detect alcohol in work-related accidents.
How Far Back Does a Mouth Swab Go?
Have Not Heard Back from Drug Test...
Drug test results typically take 24 to 48 hours after administering the test. But windows of detection may vary based on the type of tests being administered, such as urine, blood, hair, or saliva.
The rapid drug test, however, can deliver much faster results in under 10 minutes compared with the standard drug test.
However, if you haven't heard back about your result for more than a week, there may be something wrong. Typically, the common delays in drug test results is caused by two factors. This includes:
Delay at collections sites. 
Collection delays are usually caused by simple collector mistakes. Among the reasons are: omitting the donor's signature on the vial, failing to correctly file the forms at the collection site, and failing to send in the urine samples as soon as possible.
Delays at the lab
There may be delays if the test does not confirm a negative or positive result. Another reason is that positive results are sent to MRO review, which can take over a week.
https://www.concentra.com/tests-and-screenings/frequently-asked-questions/
https://www.cnsprotects.com/speed-up-dot-drug-test-results-from-collection-site-to-labs/