Clonazepam Drug Test Strips
Clonazepam (CLON) Drug Test Strip is a preliminary test for detecting Clonazepam in human urine
With 99% accuracy, and certifications from CLIA and FDA. drug testing is safe and reliable.
It provides you with a fast and efficient drug testing process
These tests are 99% accurate, providing negative/positive results within minutes
Forensic use only
Why Test for Clonazepam?
Clonazepam can be addictive. In addition, withdrawal can be challenging and can lead to serious medical complications.
As a result, individuals who are addicted will do everything they can to get more of the drug at the expense of their schooling, work, relationships, and finances.
If you suspect your family member or friend to be addicted, early and accurate testing is crucial.
Additionally, employers who wish to maintain a healthy and safe working environment will find it wise to test their employees, too.
What is Clonazepam?
Clonazepam is a form of benzodiazepine and is sold as Klonopin. This prescription drug is for treating seizure disorders, managing panic attacks, and for pain relief.
Clon works by releasing calming substances in the brain, acting as a sedative.
Consequently, users can develop either physical or emotional dependence or both on Clonazepam in as little as two weeks. The U.S Drug Enforcement Administration, therefore,  has classified it as a Schedule IV drug under its Controlled Substance Schedule due to its potential for abuse.
How to Use a Drug Test Strip?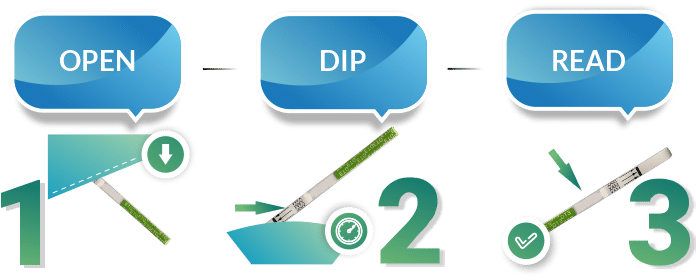 Remove the drug test from its sealed pouch and use it as soon as possible. For best results, perform the assay within an hour.

Next, hold the strip by the end, where you can see the product name. To avoid contamination, do not touch the strip membrane.

Then, holding the strip vertically, dip the test strip in the urine specimen for at least 10-15 seconds. Do not immerse above the maximum line (MAX) on the test strip. That's about 1/5th of the way up the strip.

After the drug test has finished, remove the strip from the specimen and place it on a non-absorbent flat surface. Start the timer and wait for the colored band(s) to appear. Read the result at 5 minutes. Do not interpret it after 10 minutes.
How to Read Drug Test Strip?
What Are the Side Effects of Clonazepam?
Below are some of the common side effects of Clonazepam.
drowsiness
dizziness
poor muscle coordination
problems with memory
increased saliva
muscle or joint pain
frequent urination
blurred vision
changes in sex drive or ability.
Severe side effects
rash
hives
swelling of the eyes, face, lips, tongue, or throat
difficulty breathing or swallowing.
Read more here: Clonazepam
Drinking coffee or caffeinated substances with Clonazepam is not recommended. It's because it will negate the drug's sedative effect.
Read more here: Clonazepam Lifestyle Interactions
Yes, it does.  It makes your brain release substances that have a calming effect. However, make sure you follow your doctor's prescription for taking it.
Read more here: Clonazepam
Although several studies have been done on the effects of Clonazepam on pregnant mothers and their babies, nothing's conclusive. It seems more research is needed to determine if the adverse effects were due to the drug or underlying conditions.
Read more here: Clonazepam
Standard drug testing cups cannot detect clonazepam. However, a Clonazepam test strip can.
Doctors prescribe clonazepam for treating panic disorders and seizures. When taken as prescribed, clonazepam won't kill you. However, if an elderly, health-compromised individual develops an addiction for it, death can be a possibility.
Drug Test Strips
Other strips