What is a Clonazepam (CLON) drug test?
12 Panel Now's Rapid Clonazepam (CLON) Drug Test Strip is a preliminary test for detecting Clonazepam (CLON). With 99% accuracy, and certifications from CLIA and FDA. drug testing is safe and reliable.
Plus, it provides you with a fast and efficient drug testing process at only $ 0.99 per strip!
Why Test for Clonazepam?
Clonazepam can be addictive. In addition, withdrawal can be challenging and can lead to serious medical complications.
As a result, individuals who are addicted will do everything they can to get more of the drug at the expense of their schooling, work, relationships, and finances.
If you suspect your family member or friend to be addicted, early and accurate testing is crucial.
Additionally, employers who wish to maintain a healthy and safe working environment will find it wise to test their employees, too.
What is Clonazepam?
Clonazepam is a form of benzodiazepine and is sold as Klonopin. This prescription drug is for treating seizure disorders, managing panic attacks, and for pain relief.
Clon works by releasing calming substances in the brain, acting as a sedative.
Consequently, users can develop either physical or emotional dependence or both on Clonazepam in as little as two weeks. The U.S Drug Enforcement Administration, therefore,  has classified it as a Schedule IV drug under its Controlled Substance Schedule due to its potential for abuse.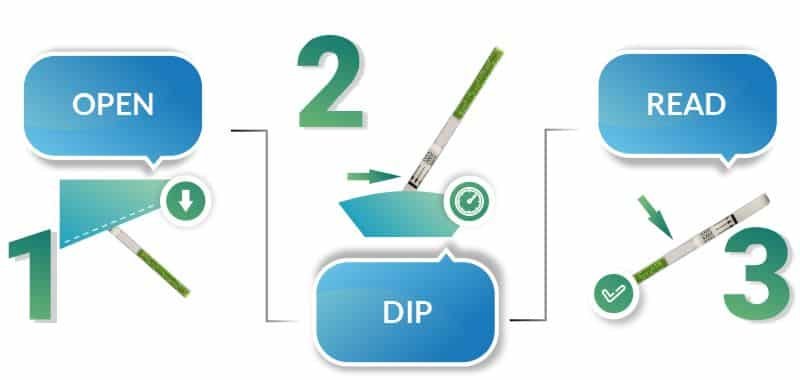 CLON Test Strips
CLON Test Strips Procedure:
First, remove the test strip  from the sealed pouch and use it within one hour
Second, immerse the strip into the urine with the arrow pointing towards the urine
Third, take the strip out after 15 seconds and lay the strip flat on a clean, dry, non-absorbent surface.
Finally, read the result in 5 minutes  
What Are the Side Effects of Clonazepam?
Below are some of the common side effects of Clonazepam.
drowsiness
dizziness
poor muscle coordination
problems with memory
increased saliva
muscle or joint pain
frequent urination
blurred vision
changes in sex drive or ability.
Severe side effects
rash
hives
swelling of the eyes, face, lips, tongue, or throat
difficulty breathing or swallowing.
Read more here: Clonazepam
12 Panel Now carries over 20 types of drug test strips you can use for detecting a specific substance in human urine.
12 Panel Now's List of Drug Test Strips
Other strips
12 Panel Now is a family-owned business that cares about you and your organization.
And we understand your drug testing needs. That's why we do our best to provide you with top quality, but low-cost, 99% accurate, CLIA-waived, and FDA-approved drug testing supplies.
Additionally, our products have a 24-month shelf life from the date of manufacture.
Something wrong with your products?
If there is something wrong with your product, call us at 888-936-6627 or 561- 409-5151, or email us at [email protected] We will replace it for you.
If you are unsatisfied with any of our products, you can contact 12 Panel Now at 888-936-6627, every Monday-Friday between 8 am – 7 pm EST. 
12 Panel Now provides you with quality and affordable drug tests in bulk that deliver fast and accurate results.
We commit to fulfill this mission while also following the procedure for returns.
Refunds
Unfortunately, all opened drug and alcohol products, like Drug Test Cups, are non-refundable.
However, you can return unopened products for a full refund of the cost of the item, excluding freight.
You can only return products if we shipped them in our error or the product is deemed defective by 12 Panel Now after thorough investigation.
Additionally, the product must be returned in new condition, with the original packaging and all the included accessories.
Also,  we do not refund misused products or if the procedures for test confirmation (gc/ms or lc/ms) were not followed thoroughly. In this case, all the manufacturer's warranties will automatically expire.