Propoxyphene Drug Test – PPX Urine Dip Test
Propoxyphene Drug Test Dip Tests are convenient and easy to use.
Our PPX Urine Drug Tests enable users to perform propoxyphene testing with complete ease and without seeking assistance.
The PPX Single Dip Tests provide quick results within five minutes.
Up to 99% accurate
12 Panel Now's PPX Drug Tests Possess a cut off 300 ng ml.
The detection time of Propoxyphene in urine is up to 2 days after consumption
Forensic use only
What is Propoxyphene?
Propoxyphene is an Opioid Pain Reliever (OPR) prescribed to people suffering from chronic pain. Additionally, it's a cough suppressant. However, it was recalled in 2010 due to its potentially fatal side effects.
Regardless of its benefits, the Food and Drug Administration (FDA) deemed it too risky as it can cause fatal heart disorders. Nowadays, however, the drug is still tested as a part of nonregulated panel testing.
The half-life of propoxyphene is anywhere from 8 hours to a whole day. It reaches its peak in 1 to 2 hours after oral administration.
How to Use a PPX Drug Test?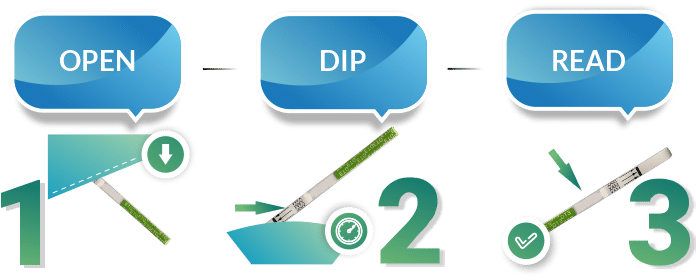 Remove the Propoxyphene Drug test from its sealed pouch and use it as soon as possible. For best results, perform the assay within an hour.

Next, hold the dip test by the end, where you can see the product name. To avoid contamination, do not touch the test membrane.

Then, holding the test vertically, dip the test in the urine specimen for at least 10-15 seconds. Do not immerse above the maximum line (MAX) on the test. That's about 1/5th of the way up the test.

After the drug test has finished, remove the test from the specimen and place it on a non-absorbent flat surface. Start the timer and wait for the colored band(s) to appear. Read the result at 5 minutes. Do not interpret it after 10 minutes.
How to Read Propoxyphene Dip Drug Test?
Why Test for Propoxyphene?
Propoxyphene was a drug often prescribed to treat pain.  Patients would take it orally and its effects could be positive depending on the circumstance.
Today, propoxyphene is now banned in the United States, however, it is still sold on the streets and in black markets.  The FDA recommended against the production of PPX dues to the 'cause serious toxicity to the heart, even when used at therapeutic doses.
While it was more widely prescribed, many had reported that propoxyphene can cause respiratory arrest and cardio-respiratory arrest in addition to other detrimental side effects.
Unfortunately, PPX can still be acquired illegally and the severe effects of its use can be disastrous.  Many of those who are conducting drug screens will opt to include PPX into their urine screens due to it's potency.
What Drugs Contain Propoxyphene?
Here's a list of drugs that contain propoxyphene:
Algafan
Antalvic
Deprancol
Depromic
Dolocap
Doloxen
Doloxene
Darvon
Darvon-N
Dolene
Darvocet
Erantin
Femadol
Harmar
Kesso-Gesic
Propacet
Prophene 65
Propxychel
How Long Does Propoxyphene Stay in Your System?
What is PPX on a Drug Test?
PPX in a drug test typically stands for Propoxyphene. Propoxyphene is a narcotic analgesic drug that was once used to treat mild to moderate pain. It was marketed under the names Darvon and Darvocet and was available alone or in combination with acetaminophen.
Propoxyphene, like other opioids, can be detected on a drug test. However, it is not commonly included in standard opioid screens and would typically require a specific test. In urine, propoxyphene can be detected for up to 1-2 days after the last dose, though this can vary depending on a variety of factors, including the amount used, the individual's metabolism, and the sensitivity of the test.
What Does PPX Mean on a Drug Test?