13 Panel Drug Test Cup (FYL & ADLTX)
The 13 Panel Drug Screen with Adulteration Strips will help provide the most accurate results and prevent fraudulent tests submissions.
Adulterants in urine drug testing help identify if there is any manipulation done to a urine specimen.
Detects multiple substances in a single procedure, providing accurate results in 5 minutes.
Leak-proof, which makes it hygienically sound for both the donor and the evaluator.
Designed both for home or clinical use.
99% accurate results exceptionally alert to any variation in the SAMHSA cutoff levels.
Contains a temperature strip installed to confirm the temperature of the urine.
Bulk orders – as low as $2.39 per drug test cup.
This test is not CLIA waived.
Forensic use only.
What Does a 13 Panel Drug Test Test For
| | | | |
| --- | --- | --- | --- |
| Drug Name | Abbreviation | Detection time | Cut-Off Level |
| Amphetamines | AMP | 1-2 Days | 1000 ng/mL |
| Barbiturates | BAR | 1-4 Days | 300 ng/mL |
| Benzodiazepines | BZO | 1-2 Days | 300 ng/mL |
| Buprenorphine | BUP | 2-6 Days | 10 ng/mL |
| Cocaine | COC | 2-4 Days | 300 ng/mL |
| Ecstasy | MDMA | 2-4 Days | 500 ng/mL |
| Fentanyl | FYL | 2-3 Days | 200 ng/mL |
| Marijuana | THC | 5+ Days | 50 ng/mL |
| Methadone | MTD | 1-3 Days | 300 ng/mL |
| Methamphetamine | mAMP (or MET) | 2-4 Days | 1000 ng/mL |
| Morphine | OPI | 2-3 Days | 300 ng/mL |
| Oxycodone | OXY | 1-3 Days | 100 ng/mL |
| Tricyclic Antidepressants | TCA | 2-7 days | 1000 ng/ml |
3 adulterations: Specific Gravity, pH, and Creatinine
How to Use a 13 Panel Drug Test Cup With Adulterants?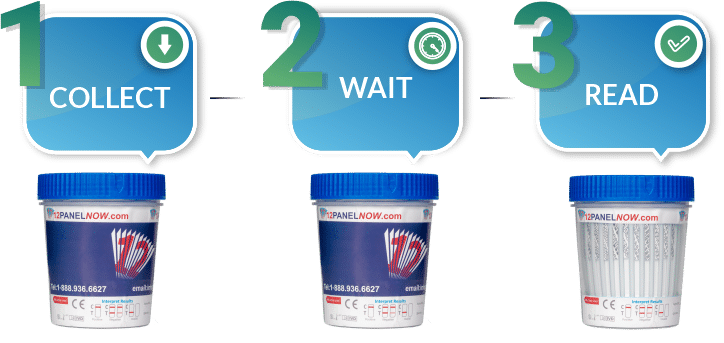 COLLECT
Remove the urine drug test cup from the sealed pouch and use it as soon as possible.
WAIT
At 2-4 minutes, verify the temperature of the specimen by observing where the green dot appears. A green dot will appear on the corresponding temperature line.
READ
Peel off the label when you're ready to interpret the results. Test results should be read within 5 minutes. Do not interpret the result after 8 minutes.
How to Read 13 Panel Drug Test Cup With Adulterants?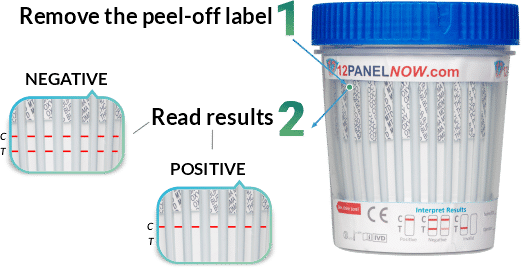 Adulteration of Urine Drug Tests
For test administers, the validity of the drug test results they receive has never been more important.  As the opioid crisis continues to grow, more companies are looking to screen their staff in order to ensure a safe work environment.  However, the use of illegal and recreational drugs has also increased contributing to the need to regularly screen.
One of the most commonly reported methods of falsifying a drug screen is diluting the human urine before submission.  With today's technology and the sophistication of drug tests, this is usually detected.  No amount of water, great or small will provide a passing result for an immunoassay test.  In fact, the drug test results likely report and inconclusive results.
How can adulteration of urine drug tests be prevented?  Every drug test from 12 Panel Now comes with a temperature strip indicating whether the specimen is above or below normal body temperature.  Any deviation from the normal body temperature would indicate a possible fraudulent or tampered sample resulting in an inconclusive test result.
The most effective way to certain that there is no synthetic urine submitted or doctored urine samples is to purchase a drug test with adulteration test strips.  12 Panel Now provides a 12 Panel Test with Adulterants and a 13 Panel Drug Screen Test with adulterants.
What are Adulterants in a Drug Test?
There are three adulteration test strips included in this 13 Panel Drug Screen Test.  Using this test helps prevent false-negative results in drug screening.  Their specific functions are below:
Creatinine (CRE)
Creatinine concentrations below 45 mg/dL are used as a determinant if certain urine samples have been physiologically or non-physiologically diluted and if a corresponding negative drug result is valid.
Specific Gravity (SG)

Along with creatinine levels, specific gravity identifies any dilution of the urine specimen.
pH
Helps detect high PH, or acidic adulterants in the urine specimen