Adulterants in Drug Testing
The 12 Panel urine drug test kit with adulterants is one of the most cost-effective drug screening solutions available. In addition to detecting up to 12 different drugs of abuse in human urine, it also screens for three adulterants – Creatinine, Specific Gravity, and pH.
Adulterants (ADLTX) in a drug test help bring to light any manipulation done to a urine specimen in the drug test result. It minimizes false-negative results due to tampering. 
Forensic use only
What are Adulterants in a Drug Test?

Creatinine (CRE)
Creatinine concentrations below 45 mg/dL are used as a determinant of certain urine samples have been physiologically or non-physiologically diluted and if a corresponding negative drug result is valid.
Specific Gravity (SG)

Along with creatinine levels, specific gravity identifies any dilution of the urine specimen.
pH
Helps detect high PH, or acidic adulterants in the urine specimen
What is all on a 12 Panel Drug Test
(ADLTX) 3 adulterations Specific Gravity, pH, and Creatinine
| | | | |
| --- | --- | --- | --- |
| Drug Name | Abbreviation | Detection time | Cut-Off Level |
| Amphetamines | AMP | 1-2 Days | 1000 ng/mL |
| Barbiturates | BAR | 1-4 Days | 300 ng/mL |
| Benzodiazepines | BZO | 1-2 Days | 300 ng/mL |
| Buprenorphine | BUP | 2-6 Days | 10 ng/mL |
| Cocaine | COC | 2-4 Days | 300 ng/mL |
| Ecstasy | MDMA | 2-4 Days | 500 ng/mL |
| Marijuana | THC | 5+ Days | 50 ng/mL |
| Methadone | MTD | 1-3 Days | 300 ng/mL |
| Methamphetamine | mAMP (or MET) | 2-4 Days | 1000 ng/mL |
| Morphine | OPI | 2-3 Days | 300 ng/mL |
| Oxycodone | OXY | 1-3 Days | 100 ng/mL |
| Nortriptyline | TCA | 2-7 Days | 1000 ng/mL |
How to Use a 12 Panel Drug Test Cup With Adulterants?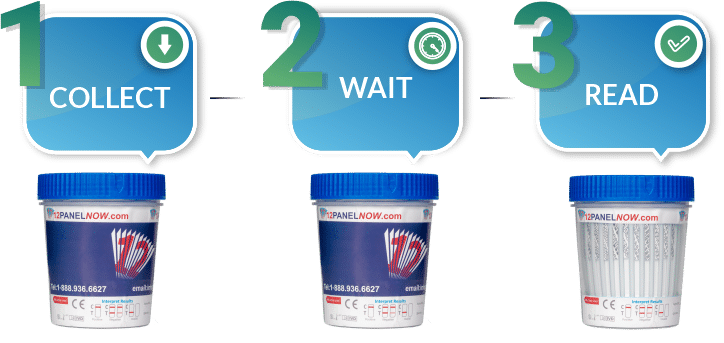 COLLECT
Remove the urine drug test cup from the sealed pouch and use it as soon as possible.
WAIT
At 2-4 minutes, verify the temperature of the specimen by observing where the green dot appears. A green dot will appear on the corresponding temperature line.
READ
Peel off the label when you're ready to interpret the results. Test results should be read within 5 minutes. Do not interpret the result after 8 minutes.
How to Read 12 Panel Drug Test Cup With Adulterants?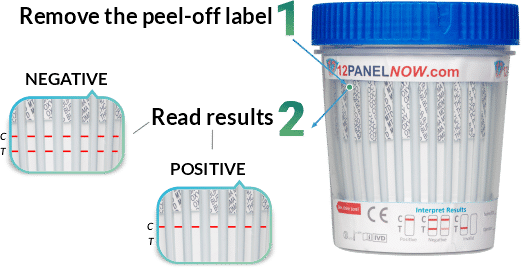 How Does One Falsify a Drug Test?
There are quite a few ways that some have falsified urine screens.  Many have managed to dilute their own urine on a home test, which is usually identified visually by the color of the specimen.
More often than not, this would yield an inconclusive test result.  Moreover, some have added medication to their specimen, or even vitamin B, concluding that it can trick the test into a negative reading.
These methods however are poor attempts to achieve passing results. No amount of water or substance added would yield results that would be identified as passing.
On the contrary.  These attempts at falsifying a drug screen would only yield inconclusive results requiring the test to resubmit at a later date.
Identifying Doctored Urine Samples
There are several ways that one can determine if a urine sample is authentic or not.  The first indication, though obvious, is the temperature of the sample.  Normal body temperature is (98.6°F) All of the urine drug tests cups from 12 Panel Now include a temperature strip within the test.  This strip helps the test evaluator to indicate the proper temperature of the submitted specimen.  This, however, isn't all that is required in order to prevent cheating a drug test.
It is important to visually assess the specimen as well.  A tampered sample may appear to be 100% clear which is unusual even with someone who has claimed to be an avid water consumer.   The specimen will contain sodium, potassium, and other dissolved compounds.  Unfortunately, it can be difficult to thoroughly examine every single specimen visually, which emphasizes the importance of utilizing an accurate drug test, complete with temperature strip and adulteration testing.
Frequently Asked Questions
What is Adulteration in Drug Testing?
Adulteration is a common concern among those who administer drug screening procedures.  When someone attempts to adulterate a drug test, they attempt to tamper with the test so that it yields negative results on all tested substances.  The best way to determine a fraudulent drug test is to purchase one with adulterants that indicate whether the test has been tampered with.
Does Acid Show Up on a 12 Panel Drug Test?
Acid, also known as LSD, is a potent mood-altering substance. It does not show up on a 12 panel drug test cup for reasons you can find here. However, it can show up if you use an LSD drug test strip.
How Much Does a 12 Panel Drug Test Cost?
12 Panel Now offers competitive pricing for our 12 panel drug test kits. On average, a drug test kit will cost around $4.99. However, the pricing is more competitive when more quantity is purchased.
How to Adulterate a Urine Test?
Adulteration is very likely to occur during urine tests. A person who intends to cheat on his specimen will take advantage of the urine collection process. Usually, the collection is unobserved due to privacy concerns. Besides diluting urine and replacing samples, adulteration is used to defeat a drug test.
Adulteration affects test results.  Adulterants are added to the collected urine. They can be household substances like vinegar, detergent, bleach, iodine, eye drops, and isopropyl, food items like lemon juice and soda, and chemicals like nitrite, glutaraldehyde, and pyridinium chlorochromate.
With adulterations getting more creative, regulatory agencies likewise rise to rapidly develop methods to detect adulterants in urine specimens in addition to what is in place now. 
How Does Water Affect Adulterant Levels in Drug Tests?
If someone consumes a large amount of water prior to submitting a drug test, this could cause certain metabolites to become undetectable.  However, if a urine specimen is diluted with attempts at falsifying the results, the test results may come back as inconclusive. Creatinine (CRE) is one of the adulterants included in drug tests that detect tampering.  Creatinine concentrations below 45 mg/dL are used as a determinant if certain urine samples have been physiologically or non-physiologically diluted and if a corresponding negative drug result is valid.
Does Alcohol Show up on a 12 Panel Drug Test?
Not all 12 panel drug test cups detect alcohol. Look for ones that have EtG in them.
Does Cyclobenzaprine Show up on a 12 Panel Drug Test?
Cyclobenzaprine is a muscle relaxant that blocks pain sensations so they don't reach the brain.  It is typically prescribed to patients suffering from skeletal injuries and similar conditions.  Flexeril® and Amrix® are two of the known brands of cyclobenzaprine.  This drug is not detected on the 12 Panel Drug Test Kits available from 12 Panel Now.