LSD Drug Test Strips
LSD drug test Strip can quickly detect the presence of Lysergic acid diethylamide in human urine 1-5 days after intake.
99% accurate– results in a few minutes.
Easy and safe to use.
These strips are ideal for at-home testing.
Cost-efficient, safe, and reliable.
One of the most cost-effective ways to perform drug screenings.
This LSD drug test includes internal procedural controls. If there's a sufficient amount of specimen and the procedure is followed properly, a positive result will show as a colored band in the control region.
There are no external controls in this kit. That's why we highly recommend further testing to verify positive results.
What is LSD?
LSD (lysergic acid diethylamide), popularly known as acid, is a mind-bending substance. It's a Schedule I drug. As such, it has a high potential for abuse but doesn't have any accepted medical use at this time.
Effects of LSD
When consumed at high doses, LSD can produce delusions and hallucinations. It can also alter a person's sense of time and identity.
The effects of LSD vary from person to person. Some users experience "good trips". They feel euphoric and see their surroundings in bright, vivid colors. In addition, they are devoid of the feelings of pain and fear. That's why LSD was used for terminally ill people.
When a person experiences a "bad trip", on the other hand, he feels more anxious, depressed, disappointed and panicky.
For more information, read: LSD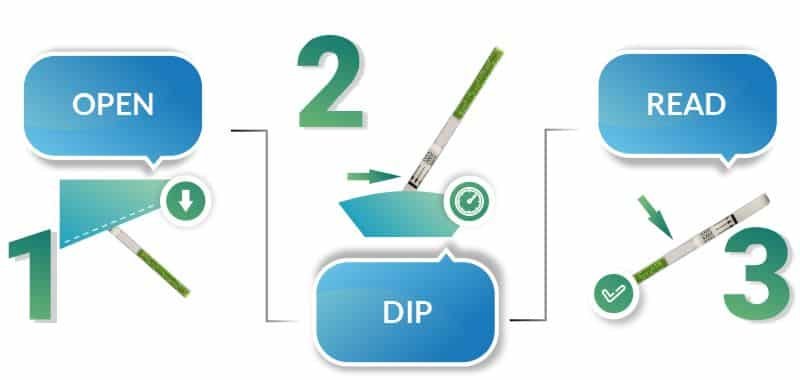 LSD Test Strips Procedure:
First, remove LSD test strip from its sealed pouch and use it as soon as possible.

Second, hold the strip by the end, where you see the label. Do not touch the strip membrane to avoid contamination.

Next, dip the test strip in the specimen for at least 10-15 seconds. Do not immerse above the MAX line.


Then, remove the strip from the specimen and place it on a non-absorbent flat surface.

Next, start the timer and wait for the colored band(s) to appear.

Finally, read the result at 5 minutes. Do not interpret it after 10 minutes.