12 Panel Drug Test Cup Information
12 Panel Urine Drug Test Cups are CLIA waived, and FDA approved POC (Point of Care) urinalysis cups.
They are 99% accurate and results are displayed in a few minutes.
These tests are all easy to use and safe.
They all contain a Built-in temperature strip.
These test kits ideal for at-home testing and employment drug testing
Rounded design for easier handling. They all come with special non-drip screw-tops to prevent spillage.
These are self-contained urine tests. There is no need to acquire additional tools or equipment to complete the drug screening process.
These tests are cost-efficient, safe, and reliable.
One of the most cost-effective ways to perform drug screenings.
Extremely sensitive and conforms to SAMHSA cutoff levels.
Special Wholesale Pricing is available for drug tests in bulk!
How to Use a Drug Test Kit?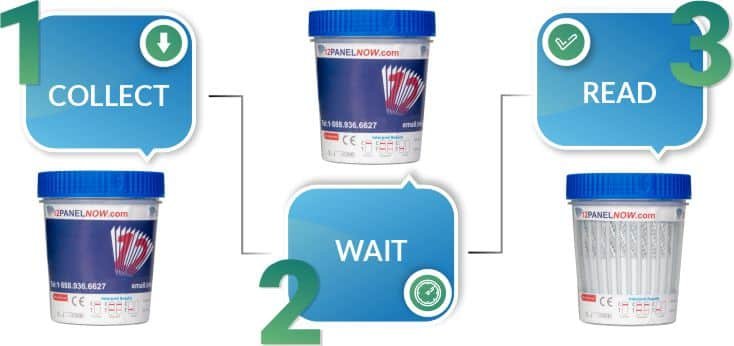 COLLECT
Remove the urine drug test cup from the sealed pouch and use it as soon as possible.
WAIT
At 2-4 minutes, verify the temperature of the specimen by observing where the green dot appears. A green dot will appear on the corresponding temperature line.
READ
Peel off the label when you're ready to interpret the results. Test results should be read within 5 minutes. Do not interpret the result after 8 minutes.
POSITIVE
Only one colored band appears, in the control region ©. No apparent colored band appears in the test region (T)
NEGATIVE
Two colored bands appear on the membrane. One band appears in the control regions © and another band appears in the test region (T).
INVALID
The control band fails to appear. Results from any test which has not produced a control band at the specified read time must be discarded. Please review the procedure and repeat it with a new test.
12 Panel Drug Test Information
The 12 Panel urine drug test is specifically created for maximum performance and reliability.  It is easy to use, delivering fast and accurate results in just a few short minutes.  Due to the types of substances detected, and the overall effectiveness of this test, it has become one of the most preferred urine tests available today.
Construction
Because of its leak-resistant design and solid construction, both the administrator and the donor can rest assured that the screening procedure will be sanitary and hygienically sound.
It also features a peel-and-read tag that allows a more straightforward interpretation of results.
All of the urine drug test cups contain a built-in temperature strip. It automatically detects whether the specimen is within the normal body temperature range.
In drug testing, a normal urine temperature (90-100 degrees F) means the sample was not substituted or diluted.  This helps minimize tampering or fraudulent test results during drug screenings.
12 Panel Drugs Tested
| | | | |
| --- | --- | --- | --- |
| Drug Name | Abbreviation | Detection time | Cut-Off Level |
| Amphetamines | AMP | 1-2 Days | 1000 ng/mL |
| Barbiturates | BAR | 1-4 Days | 300 ng/mL |
| Benzodiazepines | BZO | 1-2 Days | 300 ng/mL |
| Buprenorphine | BUP | 2-6 Days | 10 ng/mL |
| Cocaine | COC | 2-4 Days | 300 ng/mL |
| Ecstasy | MDMA | 2-4 Days | 500 ng/mL |
| Marijuana | THC | 5+ Days | 50 ng/mL |
| Methadone | MTD | 1-3 Days | 300 ng/mL |
| Methamphetamine | mAMP (or MET) | 2-4 Days | 1000 ng/mL |
| Morphine | OPI | 2-3 Days | 300 ng/mL |
| Oxycodone | OXY | 1-3 Days | 100 ng/mL |
| Nortriptyline | TCA | 2-7 Days | 1000 ng/mL |
What Shows Up on a 12 Panel Drug Test?
The 12-Panel Drug test contains 12 drug panels.  This test includes test strips that detect some of the most detrimental drugs of abuse known today.  The 12 Panel drug test list includes the following:
AMP/1000, OPI/300, MET/1000, BZO/300, COC/300,
MTD/300,OXY/100, BUP/10, MDMA/500, THC/50, BAR/300, TCA/1000
Of the panels listed, Benzodiazepines, Barbiturates, and Tricyclic antidepressants are included.  These drugs have been of major concern in recent years due to their high potential for abuse.
For those who require a 12 Panel test with Phencyclidine PCP, they can purchase the 12 Panel Drug Test Cup with PCP from 12 Panel Now.
For test administrators who are overseeing a screening procedure in support of their local Drug Free Workplace program, the 12 Panel drug test is an ideal solution.
How Far Back Can a Urine Test Detect Drugs?
This is a topic that many are concerned about, both test administrators and those submitting drug screens.  Every substance metabolizes differently resulting in different detection times.  This can be due to a person's metabolism, weight, and how heavily they used the substance in question.
The 12 Panel Test detects THC (Tetrahydrocannabinol), for example.  THC is detectable in urine for up to a month after use, depending on how much of it was consumed by the test-taker.
On the other hand, COC (Cocaine) is detectable in urine for up to 4 days after last use.  These are general detection windows.  There are many variables that may affect how long a particular substance is present in urine.