16 Panel Urine Drug Test Cup
16 Panel urine drug test cup screens up to 16 different drugs of abuse including Fentanyl, ETG, and Kratom
Provides fast results that are 99% Accurate
Results are displayed in as little as 5 minutes after the sample is aquired
Detects the presence of 16 drugs of abuse in a system in a single procedure
Easy-to-read test results are indicated on the panels through the container – no need to open the cup
Fully integrated, self-contained drug screening tool with built-in temperature strip to help reduce fraudulent submissions
Exceptionally alert to any variation in the SAMHSA cutoff levels
Ideal urine analysis test for pain management and drug addiction screening
Leak resistant and non-drip screw-top
This test is not CLIA waived
Forensic use only
Drugs Tested | Detection Time | Cutoff Levels
| | | | |
| --- | --- | --- | --- |
| Drug Name | Abbreviation | Detection time | Cut-Off Level |
| Amphetamines | AMP | 1-2 Days | 1000 ng/mL |
| Barbiturates | BAR | 1-4 Days | 300 ng/mL |
| Benzodiazepines | BZO | 1-2 Days | 300 ng/mL |
| Buprenorphine | BUP | 2-6 Days | 10 ng/mL |
| Cocaine | COC | 2-4 Days | 300 ng/mL |
| Ecstasy | MDMA | 2-4 Days | 500 ng/mL |
| Fentanyl | FYL | 2-3 Days | 200 ng/mL |
| Marijuana | THC | 5+ Days | 50 ng/mL |
| Methadone | MTD | 1-3 Days | 300 ng/mL |
| Methamphetamine | mAMP (or MET) | 2-4 Days | 1000 ng/mL |
| Morphine | OPI | 2-3 Days | 300 ng/mL |
| Oxycodone | OXY | 1-3 Days | 100 ng/mL |
| Phencyclidine | PCP | 7-14 Days | 25 ng/mL |
| Nortriptyline | TCA | 2-7 Days | 1000 ng/mL |
| Ethyl -glucuronide | EtG | 1-3 Days | 500 ng/mL |
| Kratom | KRA | 1-9 Days | 500 ng/mL |
How to Use a Drug Test Kit?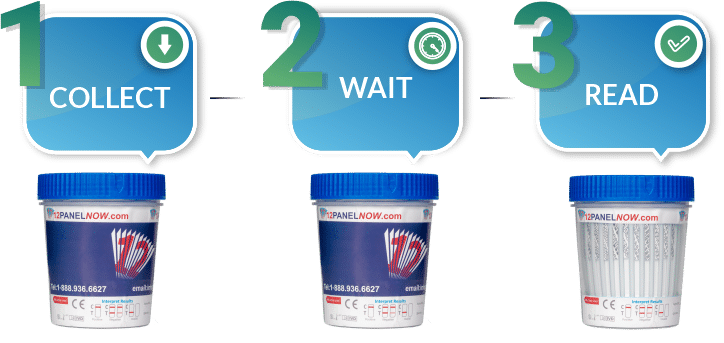 COLLECT
Remove the urine drug test cup from the sealed pouch and use it as soon as possible.
WAIT
At 2-4 minutes, verify the temperature of the specimen by observing where the green dot appears. A green dot will appear on the corresponding temperature line.
READ
Peel off the label when you're ready to interpret the results. Test results should be read within 5 minutes. Do not interpret the result after 8 minutes.
How to Read Drug Test Kit?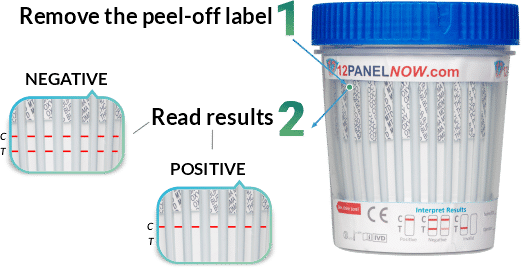 16 Panel Drug Test
12 Panel Now's 16 Panel drug test cup is specifically designed for the more efficient collection, handling, and interpretation of urine specimens.
It is built with a rounded design, a no-drip twist top lid, making the urine drug testing process safe and hygienic for everyone. And there is also a peel-and-read label making it easier for you to check results.
Unlike the 12 Panel and 14 Panel drug tests, the 16 Panel drug test detects Kratom. A total of 16 substances will be detected in minutes, offering accurate results.  For those who are looking to test for Cocaine Marijuana and Tramadol, this is an ideal screening solution.
Construction
Each test cup also includes a built-in temperature strip for validating the donor's urine. It helps determine whether the urine sample falls within the right body temperature range.
The 16 Panel urine drug test kit is very sensitive and meets the SAMHSA cutoff levels. New lower cutoffs make this urine analysis test ideal for pain management and drug screening.
Efficiency
The 16 Panel urine test is a fully integrated, self-contained drug screening tool that offers fast and accurate results in just a few minutes.  It contains 16 test panels, each designed to detect a specific substance.
Many choose the 16 Panel drug test kit not only because of its simplicity and accuracy but the scope of substances detected in each test kit.
What's on a 16 Panel Drug Test?
The 16 Panel test has the most amount of test strips in one urine test.  This makes it one of the most thorough urine test kits available today.  The 16 Panel drug test alcohol strip is in the form of an EtG test, which is a more sensitive alcohol test. The 16 panel drug test list is as follows:
The drugs detected in this test are AMP/ 1000, OPI /300, MET/ 1000, BZO /300, COC /300, MTD/ 300,
OXY /100, BUP /10, MDMA/ 500, THC/ 50, BAR /300, PCP /25,
FYL/ 20, EtG/500, KRA/500, TCA/1000
For most purposes, the 16 Panel drug test is the most ideal solution for drug screening.  It will detect prescription drug use as well as other illicit substances.  For information on the detection window of each test, see the box.
Does Kratom Show Up On a Drug Test?
In the United States, kratom is listed as a "drug of concern" by the Drug Enforcement Administration (DEA), although the drug is not controlled or considered illegal in most states. (americanaddictioncenter.org)
In Southeast Asia where kratom originated from, Kratom is traditionally consumed in its natural form – fresh or dried leaves either chewed on or steeped into a tea.
Kratom contains the stimulant mitragynine and narcotic 7-hydroxy mitragynine. Many today are continuing to self-medicate with kratom as a pain management alternative. Though Kratom is legal in many US states, some government officials are moving to ban this substance from legal use.  One of the main concerns among those administering drug screens that detect kratom is the effects of misuse, which has been likened to the intoxicating effects of other opioids.
Kratom is not usually included in a standard Urine Drug Test.  However, on the new 16 Panel Urine Drug test from 12 Panel Now, Kratom is one of the main substances detected, offering accurate results in just a few minutes.