14 PANEL DRUG TEST CUP INFORMATION
The 14 panel drug tests can detect fourteen types of drugs including alcohol, fentanyl, and HCG, there's no need to add other strips.
The 14 panel drug test cups are safe and easy to use.
All-in-one urine drug testing.
Each kit has a leak-proof screw-top lid and a built-in temperature strip for validating the urine specimen.
They all follow the strict cut-off levels of each drug according to SAMHSA guidelines.
These 14 panel cups are best for drug addiction screening, pain management, and even home use.
Safety, efficiency, and economy are the most important benefits from using 12 Panel Now's 14 panel drug test cups with alcohol, fentanyl, and HCG.
Our 14 panel drug screen cups has everything you need to perform drug testing effectively. The results are clear to read, with little room for confusion.
Free shipping is available on orders of 25 cups or more.
14 Panel Drugs Tested
| | | | |
| --- | --- | --- | --- |
| Drug Name | Abbreviation | Detection time | Cut-Off Level |
| Amphetamines | AMP | 1-2 Days | 1000 ng/mL |
| Barbiturates | BAR | 1-4 Days | 300 ng/mL |
| Benzodiazepines | BZO | 1-2 Days | 300 ng/mL |
| Buprenorphine | BUP | 2-6 Days | 10 ng/mL |
| Cocaine | COC | 2-4 Days | 300 ng/mL |
| Ecstasy | MDMA | 2-4 Days | 500 ng/mL |
| Fentanyl | FYL | 2-3 Days | 200 ng/mL |
| Marijuana | THC | 5+ Days | 50 ng/mL |
| Methadone | MTD | 1-3 Days | 300 ng/mL |
| Methamphetamine | mAMP (or MET) | 2-4 Days | 1000 ng/mL |
| Morphine | OPI | 2-3 Days | 300 ng/mL |
| Oxycodone | OXY | 1-3 Days | 100 ng/mL |
| Human Chorionic Gonadotropin | hCG | | |
| Ethyl Alcohol | ALC | 1-2 Days | |
How to Use a Drug Test Kit?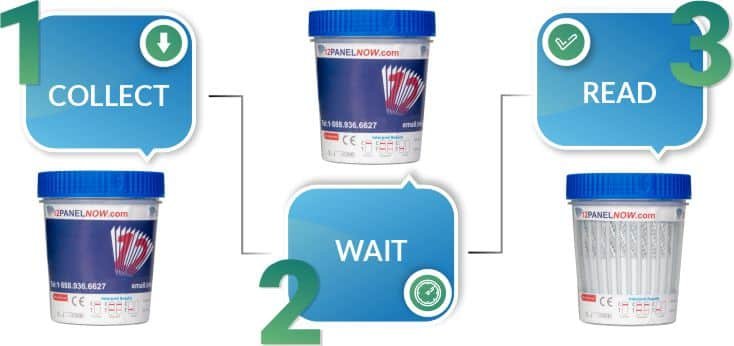 COLLECT
Remove the urine drug test cup from the sealed pouch and use it as soon as possible.
WAIT
At 2-4 minutes, verify the temperature of the specimen by observing where the green dot appears. A green dot will appear on the corresponding temperature line.
READ
Peel off the label when you're ready to interpret the results. Test results should be read within 5 minutes. Do not interpret the result after 8 minutes.
POSITIVE
Only one colored band appears, in the control region ©. No apparent colored band appears in the test region (T)
NEGATIVE
Two colored bands appear on the membrane. One band appears in the control regions © and another band appears in the test region (T).
INVALID
The control band fails to appear. Results from any test which has not produced a control band at the specified read time must be discarded. Please review the procedure and repeat it with a new test.
Why do drug tests test for alcohol?
Anyone who abuses alcohol does not just cause harm to themselves but to everyone, they're in contact with.
In workplaces, an intoxicated person can be unproductive or be a nuisance to his coworkers. In clinics and rehabs, he might endanger the lives of patients and staff members.
These are some of the reasons why employers, rehab and clinic owners, and government officials implement regular and random alcohol tests.
Read more here: Alcohol/EtG Drug Tests – Everything You Need to Know.
When you're performing drug testing for private or government establishments, you want to ensure that the 14 panel drug test cups you're using are reliable, safe and efficient.
Cups with even the minutest of leaks can put you and everyone present at risk for potential infectious diseases.
This is why we at 12 Panel Now implement a stringent quality control process. Because we want your drug testing process to be as safe and as efficiently as possible.