Opiate Drug Test Strips
Opiates/Morphine Test Strips are convenient to use and enable users to perform OPI testing with complete ease and without seeking assistance.
The OPI strips provide quick results within five minutes with 99% accuracy
Our OPI strips possess a cutoff level of 2000 ng/ml.
This opiate drug test includes internal procedural controls.
If there's sufficient specimen and the procedure is followed properly, a positive drug test result will show a colored band in the control region.
Accurate Readings are Displayed within Minutes!
Great Drug Screening Solution for Opioid Detection!
However, there are no external controls in this kit. That's why we highly recommend further testing to verify positive results.
Forensic use only
What are Opiates?
Opiates are a type of drug class that comes from the substance naturally found in the opium poppy plant.  Poppy seeds are naturally occurring opiates.
Opiates fall under the broader term opioid.  According to drugabuse.gov, roughly 21 to 29 percent of patients prescribed opioids for chronic pain misuse them.  For this reason, many of those who are administering drug screenings are very concerned about opioids.  These opioids include:
natural opiates
semi-synthetic opiates
synthetic opiates
What are Opiates Used For?
Among opiates found in opium, morphine is the most common and the most potent pain reliever.
Additionally, doctors prescribe this analgesic to relieve pain from grave war injuries and the management of painful diseases.
How to Use an OPI Drug Test Strip: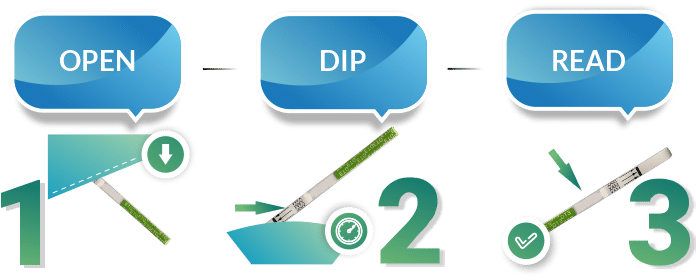 Remove the drug test from its sealed pouch and use it as soon as possible. For best results, perform the assay within an hour.

Next, hold the strip by the end, where you can see the product name. To avoid contamination, do not touch the strip membrane.

Then, holding the strip vertically, dip the test strip in the urine specimen for at least 10-15 seconds. Do not immerse above the maximum line (MAX) on the test strip. That's about 1/5th of the way up the strip.

After the drug test has finished, remove the strip from the specimen and place it on a non-absorbent flat surface. Start the timer and wait for the colored band(s) to appear. Read the result at 5 minutes. Do not interpret it after 10 minutes.
How to Read OPI Drug Test Strip?
Why Test for OPI/Morphine?
Opiates are also illicitly used for recreational purposes by drug abusers. They are highly addictive.
Additionally, opiates can cause incapacitating physical dependence. This could severely affect an abuser's physical and mental health.
After prolonged use, a person's ability to tolerate the drug diminishes. Consequently, those who are misusing it or have obtained it illegally may seek a more powerful solution. This could cause hospitalization or death.
Drug overdose is the leading cause of accidental death in the United States. Opioids top the list of the most commonly abuse prescription drugs.
Learn more about opiates in our knowledge base.