Opiate Drug Test Strips
Opiates/Morphine Test Stripsare convenient to use and enable users to perform OPI testing with complete ease and without seeking assistance.
The OPI strips provide quick results within five minutes with 99% accuracy
Our OPI strips possess a cutoff level of 300 ng/ml.
This opiate drug test includes internal procedural controls.
If there's a sufficient amount of specimen and the procedure is followed properly, a positive drug test result will show as a colored band in the control region.
However, there are no external controls in this kit. That's why we highly recommend further testing to verify positive results.
What are Opiates?
Opiates are drugs that come from the substance naturally found in the opium poppy plant.
Opiate is under the broader term opioid.
natural opiates
semi-synthetic opiates
synthetic opiates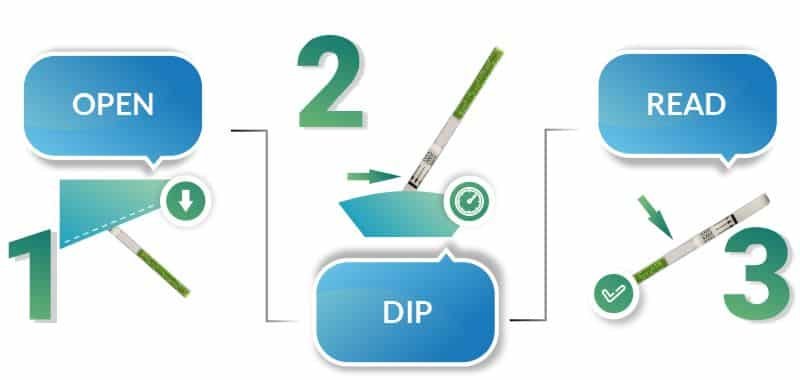 How To Use Opiate Test Strips
First, remove the opiate test strip from the sealed pouch and use it within one hour
Second, immerse the strip into the urine with the arrow pointing towards the urine
Third, take the strip out after 15 seconds and lay the strip flat on a clean, dry, non-absorbent surface.
Finally, read the result in 5 minutes  
Uses of Opiates
Among opiates found in opium, morphine is the most common and the most potent pain reliever.
Additionally, doctors prescribe this analgesic to relieve pain from grave war injuries and the management of painful diseases.
Why Test for OPI/Morphine?
Opiates are also illicitly used for recreational purposes by drug abusers. They are highly addictive.
Additionally, opiates can cause incapacitating physical dependence. This could severely affect an abuser's physical and mental health.
After prolonged use, a person's ability to tolerate the drug diminishes. Consequently, those who are misusing it or have obtained it illegally may seek a more powerful solution. This could cause hospitalization or death.
Drug overdose is the leading cause of accidental death in the United States. Opioids top the list of the most common drug.
Learn more about opiates in our knowledge base.
We supply drug testing kits that detect a range of drugs including the ones listed below.
What makes our product unique?
12 Panel Now's Rapid Opiate Drug Test Strips provide you with fast and accurate results. Therefore, there's no time wasted on waiting for lab results!
Just open the pack, dip in the urine sample, and wait for the result.
Our family-owned and operated business provides you with high quality but lowest-priced drug test strips and cups.  Above all, we value integrity and compassionate service.
We strive to serve you better
This is why we pay careful attention to all your needs and preferences, from purchasing to shipping. We want to make sure that every transaction you make with us goes smoothly and at the lowest price, every time, all the time.
And more!
We also ship same-day on all transactions made before 5pm EST to make sure you receive your order as quickly as possible.
Our company takes pride in providing the best 12 panel drug testing cups on the market. We make sure our customers feel appreciated and respected.
Aside from drug testing strips we offer:
Rest assured that all 12 Panel Now products are accurate and have passed the rigorous standards of CLIA and FDA.
12 Panel Now's opiate drug test kit uses the lateral flow assay (LFA) technology.
This paper-based platform has the following qualities:
detects substances in complex mixtures like urine
made up of membranes infused with specific chemicals that help pinpoint the presence of specific drugs in pee
All you need to do is to dip the drug test strip into the urine, then wait for a few minutes. This gives the strip enough time to absorb the urine. Then, read the results.
Easy drug testing at a price you can afford!
No, suboxone won't cause a false positive in an opiate drug test. However, it will show up if the test is looking for buprenorphine or suboxone.
No, they can't. These qualitative tests can't differentiate between morphine and codeine. Nor can they distinguish synthetic from semi-synthetic opioids.
Yes, but only if you eat a lot of bread with poppy seeds. So, if you're scheduled for a drug test, avoid eating this type of bread for three days.
12 Panel Now's opiates drug test strips are very sensitive. They're 99% accurate, CLIA-waived and FDA-approved.
No, an opiate drug test cannot detect it.
Percocet is a brand name of the drug class oxycodone. In other words, only an oxycodone test strip can detect it.
No, an opiate drug test cannot detect it.
To clarify, nly a dedicated drug test like 12 Panel Now's Tramadol Test Strip can detect it.
Yes, an opiate drug test can detect heroin. However, it shows up as 6-acetylmorphine, a metabolite of heroin.
The initial cut-off levels for opiates is 2000ng/ml within a detection period of up to 2 days.
Additionally, the confirmatory cut-off level for morphine is 300ng/ml.
Read more here: Opiates
12 Panel Now carries over 20 types of drug test strips you can use for detecting a specific substance in human urine.
12 Panel Now's List of Drug Test Strips
Other strips
Our best foot forward and guarantee
12 Panel Now is a family-owned business that cares about you and your organization.
And we understand your drug testing needs. That's why we do our best to provide you with top quality, but low-cost, 99% accurate, CLIA-waived, and FDA-approved drug testing supplies.
Additionally, our products have a 24-month shelf life from the date of manufacture.
Something wrong with your products?
If there is something wrong with your product, call us at 888-936-6627 or 561- 409-5151, or email us at [email protected] We will replace it for you.