Carfentanil Drug Test
This Drug Test kit from 12 Panel Now is an Efficient and Simple way to Detect the Presence of Carfentanil in Urine
Carfentanil is One of the Most Dangerous Illicit Drugs Known in the United States Today
One of the Most Accurate Drug Test Kits Available!
All Urine Dip Drug Tests are 99% accurate
The Carfentanil Drug Test has a cutoff level of 200 ng/ml
Test results are displayed within five minutes
Each test is easy to use and fast-acting
The Carfentanil drug test kit contains 25 dip tests per pack 
A Great Drug Screening Solution!
Forensic use only
A Dangerous Opioid: Carfentanil
Carfentanil is a synthetic opioid that was originally used in conjunction with other drugs to tranquilize large mammals such as elephants. In that light, it should come as no surprise that this drug is immensely powerful.
Like other opioids, carfentanil has become a drug of abuse on the street in spite of its substantial potency.
Not only is this drug associated with overdoses among recreational and habitual drug users, but it also poses a threat to first responders who may accidentally inhale it or absorb it through their skin.
12 Panel Now offers a carfentanil drug test that can be purchased in bulk or in smaller quantities like our other drug tests. Because carfentanil poses a significant risk to others and not only to individual drug users, many employers and first response agencies are hoping to tamp down on its use and its dangers.
What Is Carfentanil?
Carfentanil is a synthetic opioid that is known to be "10,000 times more potent than morphine and 100 times more potent than fentanyl," according to the U.S. Drug Enforcement Administration.
To date, there have been several hundred overdose deaths associated with this drug. A synthetic opioid like heroin, carfentanil is often confused with heroin.
What's the Difference Between Fentanyl and Carfentanil?
Though both of these drugs reduce pain and produce sedative effects, fentanyl is a drug that is designed for humans while carfentanil is a drug designed for large mammals like bears and elephants.
Fentanyl is a powerful pain-relieving narcotic that doctors prescribe to patients after surgery or because they're suffering from extreme pain owing to an injury or certain types of illnesses. Like many prescription narcotics, fentanyl is a drug of abuse. It's highly addictive like other opioids and extremely dangerous because of its potency.
Carfentanil surpasses fentanyl in terms of danger to people because of its immense power. A small dose can be deadly. It is used by zoologists and veterinarians to sedate large animals. Even then, these professionals must handle this drug with extreme care.
A dose of 2 mg is enough to sedate an elephant. Even people who have an opioid tolerance cannot withstand the potency of this drug. A small amount of the drug would be enough to kill a human – an amount that is the size of grains of salt!
What Does Carfentanil Look Like?
One of the dangers of this drug is that it looks similar to heroin or even cocaine when it's offered in powder form. Users may inhale or inject the drug.
It may also be available in pill form. When people purchase drugs on the street, they may believe they are buying fentanyl or heroin when they are, in fact, purchasing carfentanil.
There is no way for users on the street to determine if a drug they are purchasing or using has been laced with carfentanil. It may be sold in pill form and look similar to other opioids like fentanyl.
Does Carfentanil Produce a Euphoric High?
There have not been human studies involving carfentanil because it is not a drug intended for human use. It is used to sedate large mammals.
Currently, there are only anecdotal reports that this drug does produce powerful feelings of euphoria as well as sedation.
There are no studies that have been performed regarding dosage with humans or the effects of the drug on humans.
In short, there is very little medical literature associated with carfentanil and its effects on humans other than when it occurs with overdose.
How to Use the Carfentanil Test: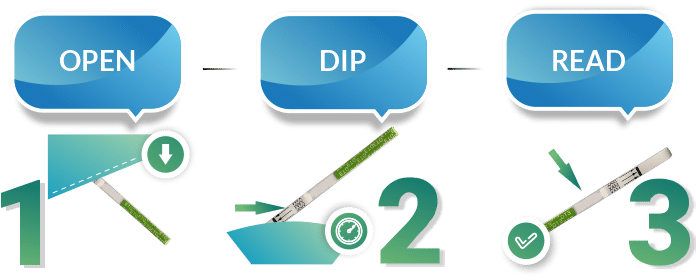 Carfentanil Drug Test Instructions:
Remove the test from its sealed pouch and use it as soon as possible. For best results, perform the test within an hour.

Hold the dip test by the end, where you can see the product name. To avoid contamination, do not touch the test membrane.

Holding the test vertically, dip the test in the urine specimen for at least 10-15 seconds. Don't immerse above the maximum line (MAX) on the test. That's about 1/5

th

of the way up the dip test.

After the carfentanil drug test has finished, remove the test from the specimen and place it on a non-absorbent flat surface. Start the timer and wait for the colored band(s) to appear. Read the result at 5 minutes. Don't interpret it after 10 minutes.
Why Is Carfentanil Dangerous to First Responders?
Carfentanil is so potent that simply handling the drug can be lethal. That's because carfentanil can be absorbed through the skin or accidentally inhaled.
Law enforcement agents have been trained to follow a range of safety protocols if they suspect that they are in the presence of carfentanil.
Only specially trained and outfitted law enforcement personnel should handle this drug. Anyone who suspects they have come into contact with it may require immediate medical attention as symptoms typically occur with great rapidity.
Law enforcement professionals also worry about the potential for carfentanil to be used in aerosol form as a weapon of chemical terrorism.
Overdose rates involving the drug have increased twofold in the last few years, which worries law enforcement. The presence of the drug on North American streets means that illicit shipments are making their way past security.
It's little wonder that this drug, known informally as "elephant tranquilizer" has so many drug enforcement professionals concerned.
What Are the Symptoms of Carfentanil Exposure?
A person may experience symptoms of carfentanil exposure within minutes of touching or inhaling the drug. Common symptoms of carfentanil exposure include:
Drowsiness
Sedation
Clammy skin
Disorientation or confusion
Difficulty breathing
Respiratory arrest
Immediate medical attention is crucial if someone is exposed to this drug. First responders may administer naloxone, which can reverse an overdose of carfentanil or fentanyl if delivered in time.
However, even with naloxone treatment, recovery is less likely than an overdose of fentanyl, for instance. Carfentanil binds to the brain's opioid receptors with tremendous power that naloxone may simply not be able to reverse.
How Prevalent Is Carfentanil on the Streets?
Both Canada and the U.S. have intercepted shipments of illicit carfentanil and it has been recovered on the streets. It has been involved in overdose deaths in several states, including Florida, Ohio, and Kentucky.
It's possible that even more deaths involving this drug have occurred as many hospitals do not routinely test for carfentanil exposure.
However, deaths involving fentanyl analogs are on the rise, making the need for carfentanil testing more important than a mere five years ago.
Carfentanil: A Global Drug Problem
North America is not the only country where dangerous illicit drugs such as CFL have been abused on the street. One of the first countries where carfentanil overdose deaths occurred was Estonia.
Germany, the UK, Finland, Sweden, and Lithuania have also reported drug seizures of heroin and fentanyl mixed with carfentanil.
Carfentanil production has been legal in China, which is where illicit shipments of the drug have been traced to. In 2017, the Chinese government reclassified the drug, listing it as a controlled substance.
Unfortunately, it continues to be manufactured cheaply in China and shipped to other world nations where it is added to other drugs and sold illegally.
Testing for Carfentanil
Typical urine tests will not have the capability to identify carfentanil. Testing requires a drug kit that can identify fentanyl analogs like carfentanil. This is a problem because many clinics and hospitals issuing standard urine tests to determine the presence of drugs may miss the presence of this drug–and doing so may cause them to delay treatment of life-saving naloxone. If opioid exposure is suspected, it's important to test for this drug as well as fentanyl.
Many fentanyl dip tests can detect the presence of fentanyl analogs such as carfentanil. Testing is an important measure to determine if this drug is present in an area. The presence of fentanyl analogs on tests also helps healthcare providers determine what type of treatment to offer patients who may have experienced a carfentanil overdose.
The Importance of Drug Testing
Drug testing is immensely important on many fronts. Employers rely on drug testing to ensure that employees are not working while under the influence. Employees who use drugs or alcohol are five times more likely to experience workplace injuries or to be absent from work.
It has been estimated that 50 percent of workplace injuries/accidents are caused by drug use. About 40 percent of workplace theft has been attributed to drug users who are employed by companies.
Drug testing is also important for medical facilities that need to know what patients have taken so that they can be treated with the right therapeutics. Often, people who overdose have no idea that the drug they thought they were using was laced with it.
Moreover, they may be unresponsive and unable to communicate with healthcare providers about what drugs they took.
What Is Carfentanil Used For?
Carfentanil is a synthetic opioid used as a tranquilizer for elephants and other large mammals.
What Does Carfentanil Look Like?
Carfentanil is colorless and odorless when in liquid form, but it can come in the form of a pale yellow or white powder. It can be injected, smoked, snorted, or absorbed into the skin.
How Much Carfentanil Is Fatal?
2 milligrams of fentanyl, a lethal dose for most people. The lethal dose of carfentanil is uncertain but is predicted to be much smaller. The diameter of a US penny is 19.05 mm, or 0.75 inches.
What Happens When a Drug Test Comes Back Inconclusive?
When a drug test comes back with an inconclusive result, it means that the test did not provide sufficient information to confirm whether the result is positive or negative for the drug tested. It can also mean the test result came out unclear.
One of the reasons why drug tests come back inconclusive is specimen dilution or tampering. Another reason could be the method of specimen collection or storage.
When a drug test comes back inconclusive, you may be asked to retake the test if the drug test is a condition for employment or as part of a drug-free workplace program.