What is K2 Spice/Synthetic Marijuana?
K2 spice is a synthetic version of tetrahydrocannabinol (THC), the mind-altering ingredient in marijuana. It made its first appearance in Europe in 2004 and the US in 2008.
Marijuana vs Spice

Synthetic cannabinoids mimic the effects of THC naturally found in marijuana. However, all the ingredients used for creating spice are synthetic or human-made.
Marijuana comes from the cannabis plant. K2, on the other hand, is the combination of several chemicals, namely CP 47,497, HU-210, and JWH-018.
What makes spice harmful?
They both bind to the same cannabinoid receptors in the brain. When used for medicinal purposes, marijuana can heal. Synthetic cannabinoids don't. It is a harmful chemical that, when used, can lead to life-threatening consequences.
Read more: 
Synthetic Marijuana: A Short History
Why Test for K2 Spice/Synthetic Marijuana?
Some may consider synthetic marijuana to be a safer alternative than cannabis. However, evidence proves otherwise.
How Harmful is K2?
Reports of Synthetic marijuana laced with chemicals such as rat poison have resulted in numerous hospitalizations and several instances of death.  
What makes synthetic marijuana so dangerous is that no one fully knows what chemicals go with the substance. It is labelled as not fit for human consumption.

Other effects of K2/Spice
Someone could get high from a particular dose or become violently ill and even pass away from it. 
Side effects range from anxiety, paranoia, hallucinations to full-on psychosis.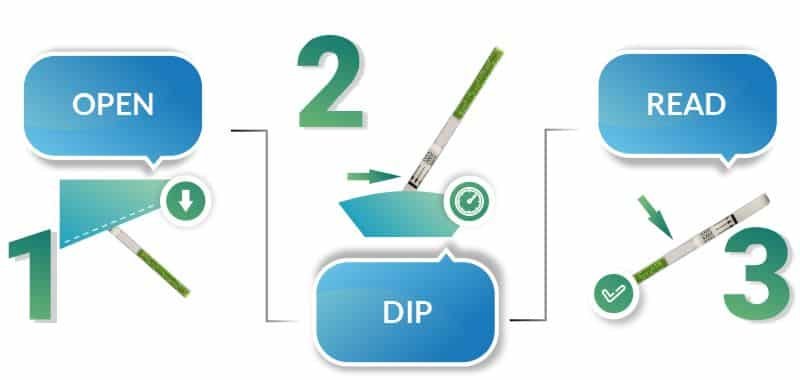 Synthetic Marijuana Test Strips Procedure:
Remove the Synthetic Marijuana test strip from its sealed pouch. Use immediately.
Hold the Synthetic Marijuana test strip where you can see the label. To avoid contamination, do not touch the strip membrane.
Then, dip the test strip in the urine specimen for at least 10-15 seconds. Do not immerse past the maximum line (MAX) on the test strip.
After the test has finished running, remove the strip from the specimen. Next, place it on a non-absorbent flat surface.
Start the timer and wait for the colored band(s) to appear.
Finally, read the result at five minutes. Do not interpret the result after 10 minutes.
Quality control
This spice urine test includes internal procedural controls.
If there's a sufficient amount of specimen and the procedure is followed properly, a positive result will show as a colored band in the control region.
However, there are no external controls in this kit. That's why we highly recommend further testing to verify positive results.
Get Synthetic Marijuana Test strips, convenient to use!
Our K2 / Spice drug tests enable users to perform K2 testing with complete ease and without seeking assistance.
Urine test for the detection of synthetic cannabinoids type K2 or Spice.
K2 is the first generation of synthetic cannabis to appear on the market.
12 Panel Now carries over 20 types of drug test strips you can use for detecting a specific substance in human urine.
12 Panel Now's List of Drug Test Strips
Other strips
12 Panel Now is a family-owned business that cares about you and your organization.
We understand your drug testing needs. That's why we do our best to provide you with top quality, but low-cost, 99% accurate, CLIA-waived, and FDA-approved drug testing supplies. Our products have a 24-month shelf life from the date of manufacture.
If there is something wrong with your product, call us at 888-936-6627 or 561- 409-5151, or email us at [email protected] We will replace it for you.