Buprenorphine Drug Test Strips
Suboxone test strips,convenient to use, our Buprenorphine / BUP test strips enable users to perform BUP testing with complete ease and without seeking assistance.
The Suboxone test strips provide quick results within five minutes.
Our Suboxone testing strips possess a cutoff level of 10 ng/ml.
This suboxone test strip includes internal procedural controls.
If there's a sufficient amount of specimen and the procedure is followed properly, a positive result will show as a colored band in the control region.
However, there are no external controls in this kit. That's why we highly recommend further testing to verify positive results.
The Oxycodone test strips are also available and provide quick results within five minutes.
Forensic use only
What is Suboxone?
Suboxone is a prescription medicine used in treating adults who are dependent on opioid drugs. This drug combines Buprenorphine and Naloxone. Buprenorphine is a long-acting partial opioid agonist. Naloxone, on the other hand, temporarily reverses the effects of opioid medications on the brain.
Overall, Suboxone reduces cravings for addictive opioids. Patients who take this prescribed medication may experience pain relief, reduced stress levels, calmness, and overall well-being.
Suboxone, however, is still addictive, being an opioid. Its abuse could lead to severe physical or psychological dependence.
How to Use a BUP Drug Test Strip: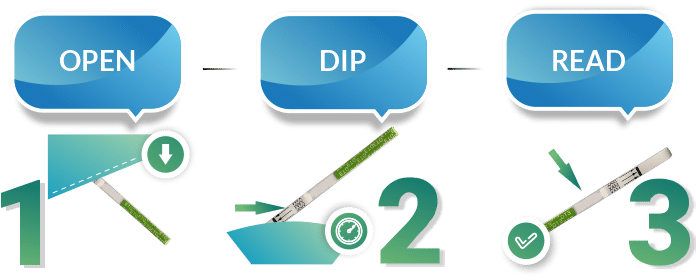 Remove the drug test from its sealed pouch and use it as soon as possible. For best results, perform the assay within an hour.

Next, hold the strip by the end, where you can see the product name. To avoid contamination, do not touch the strip membrane.

Then, holding the strip vertically, dip the test strip in the urine specimen for at least 10-15 seconds. Do not immerse above the maximum line (MAX) on the test strip. That's about 1/5th of the way up the strip.

After the drug test has finished, remove the strip from the specimen and place it on a non-absorbent flat surface. Start the timer and wait for the colored band(s) to appear. Read the result at 5 minutes. Do not interpret it after 10 minutes.
How to Read BUP Drug Test Strip?
In the Workplace
Spending time with different friends, sleepiness, and failing to go to work may indicate opioid use disorder. Testing for Suboxone helps monitor substance use, especially when patients do not report it. Most often, employers use urine tests.
Drug testing shows employees that the company cares. It also helps secure a safe work environment for all.
At Home
People who abuse and are addicted to Suboxone will exhibit similar symptoms to heroin or opioid addiction. Some of these symptoms include stealing prescriptions from family members, "losing" medications to get more drugs, appearing sedated or tired, nausea and vomiting.
Test for Suboxone and let your worries end for your loved ones.
The Suboxone test strips provide quick results within five minutes.
How Do These Drug Test Strips Work?
This paper-based platform has the following qualities:
detects substances in complex mixtures like urine
made up of membranes infused with specific chemicals that help pinpoint the presence of specific drugs in pee
All you need to do is to dip the drug test strip into the urine, then wait for a few minutes. This gives the strip enough time to absorb the urine. Then, read the results
Can You OD on Suboxone?
When people overdose on Suboxone, it is almost always because they mix it with sedatives such as benzodiazepines that also slow breathing.
Read more here: 5 Myths about Using Suboxone 
What Are the Side Effects of Suboxone?
Is Suboxone a Controlled Substance?
How Long Does Suboxone Stay in Your System?
Can You Take Xanax with Suboxone?
Does Suboxone Show up on a Regular Drug Test?