What is Suboxone?
Suboxone is a prescription medicine used in treating adults who are dependent on opioid drugs. This drug combines Buprenorphine and Naloxone. Buprenorphine is a long-acting partial opioid agonist. Naloxone, on the other hand, temporarily reverses the effects of opioid medications on the brain.
Overall, Suboxone reduces cravings for addictive opioids. Patients who take this prescribed medication may experience pain relief, reduced stress levels, calmness, and overall well-being.
Suboxone, however, is still addictive, being an opioid. Its abuse could lead to severe physical or psychological dependence.
In the workplace
Spending time with different friends, sleepiness, and failing to go to work may indicate opioid use disorder. Testing for Suboxone helps monitor substance use, especially when patients do not report it. Most often, employers use urine tests.
Drug-testing shows employees that the company cares. It also helps secure a safe work environment for all.
At home
People who abuse and are addicted to Suboxone will exhibit similar symptoms to heroin or opioid addiction. Some of these symptoms include stealing prescriptions from family members, "losing" medications to get more drugs, appearing sedated or tired, nausea and vomiting.
Test for Suboxone and let your worries end for your loved ones.
The Suboxone test strips provide quick results within five minutes.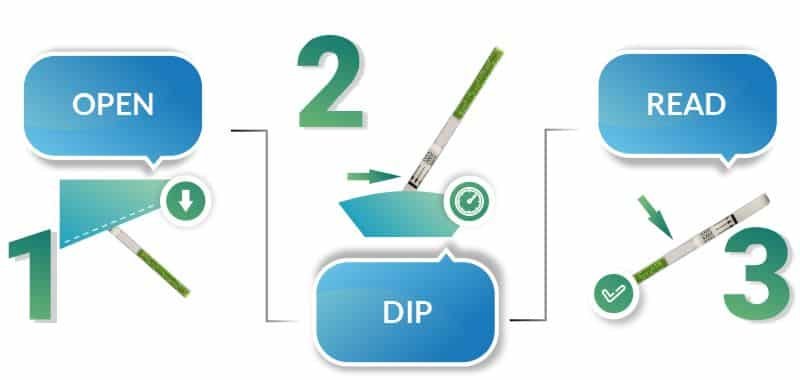 How To Use Suboxone Drug Test Strips
First, remove the suboxone test strip  from the sealed pouch and use it within one hour
Second, immerse the strip into the urine with the arrow pointing towards the urine
Third, take the strip out after 15 seconds and lay the strip flat on a clean, dry, non-absorbent surface.
Finally, read the result in 5 minutes  
Quality control
This suboxone test strip includes internal procedural controls.
If there's a sufficient amount of specimen and the procedure is followed properly, a positive result will show as a colored band in the control region.
However, there are no external controls in this kit. That's why we highly recommend further testing to verify positive results.
Get Suboxone test strips, convenient to use, our BUP test strips enable users to perform Buprenorphine/BUP testing with complete ease and without seeking assistance.
The Suboxone test strips provide quick results within five minutes.
Our Suboxone testing strips possess a cutoff level of 10 ng/ml.
12 Panel Now carries over 20 types of drug test strips you can use for detecting a specific substance in human urine.
12 Panel Now's List of Drug Test Strips
Other strips
12 Panel Now is a family-owned business that cares about you and your organization.
And we understand your drug testing needs. That's why we do our best to provide you with top quality, but low-cost, 99% accurate, CLIA-waived, and FDA-approved drug testing supplies.
Additionally, our products have a 24-month shelf life from the date of manufacture.
Something wrong with your products?
If there is something wrong with your product, call us at 888-936-6627 or 561- 409-5151, or email us at [email protected] We will replace it for you.