Oxycodone Drug Test Strips
Oxycodone Test strips are convenient to use
Our Oxycodone test strips enable users to perform OXY testing with complete ease and without seeking assistance.
The Oxycodone strips provide quick results within five minutes.
Our Oxycodone strips possess a cutoff level of 100 ng/ml.
This oxycodone test strip includes internal procedural controls.
If there's a sufficient amount of specimen and the procedure is followed properly, a positive result will show as a colored band in the control region.
However, there are no external controls in this kit. That's why we highly recommend further testing to verify positive results.
Forensic use only
What is Oxycodone?
Oxycodone comes from an alkaloid of opium known as thebaine. However, it's effect is twice that of morphine and would lead to addiction stronger than some other opiates such as codeine.
Consequently, misuse and abuse of oxycodone can lead to overdose and death.
Why Test for Oxycodone?
In the workplace
Doctors prescribe oxycodone for pain relief. However, it can affect the health, safety and productivity of workers. Additionally, it increase workers' compensation costs.
In effect, oxycodone drug test protects both the business and its employees.
At home
Drug safety is a top priority in every home. Oxycodone is one of the top three drugs most commonly involved in overdose deaths in the United States.
This is why testing for Oxycodone is necessary. It ensures that nobody in your family succumbs to its harmful effects.
How to Use a Drug Test Strip?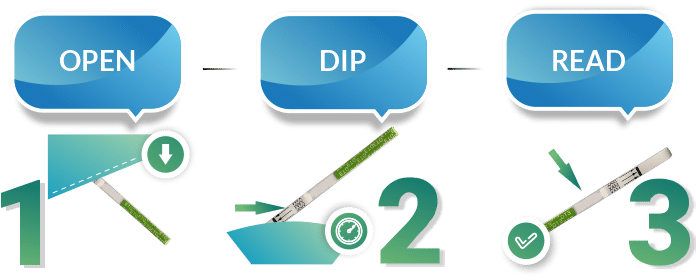 Remove the drug test from its sealed pouch and use it as soon as possible. For best results, perform the assay within an hour.

Next, hold the strip by the end, where you can see the product name. To avoid contamination, do not touch the strip membrane.

Then, holding the strip vertically, dip the test strip in the urine specimen for at least 10-15 seconds. Do not immerse above the maximum line (MAX) on the test strip. That's about 1/5th of the way up the strip.

After the drug test has finished, remove the strip from the specimen and place it on a non-absorbent flat surface. Start the timer and wait for the colored band(s) to appear. Read the result at 5 minutes. Do not interpret it after 10 minutes.
How to Read Drug Test Strip?
Get Oxycodone Test strips, convenient to use, our Oxycodone test strips enable users to perform OXY testing with complete ease and without seeking assistance.
The Oxycodone strips provide quick results within five minutes.
Our Oxycodone strips possess a cutoff level of 100 ng/ml.
Combining alcohol with Oxycodone is dangerous.
It's because both drugs function as central nervous system depressants.
Consequently, the combination of alcohol and Oxycodone is likely to cause respiratory depression. It's a condition characterized by minimal breathing or no breathing at all.
Source: https://www.alcoholrehabguide.org/alcohol/drinking-drugs/alcohol-oxycodone/
No. One study tested Ibuprofen alone vs. Ibuprofen in different combinations.
However, only the 10 mg oxycodone combination was better than the others after 2 hours.  Consequently, at 3-6 hours, there was no difference in pain among the groups.
Additionally, those who took Oxycodone did have more nausea, vomiting, and drowsiness.
Source: https://nwhn.org/rx-for-change-throw-away-your-opioids/
Yes, in some cases, probation tests for oxycodone.
The National Institue on Drug Abuse states that, "Probation and parole agencies should not be limited to testing only for the five drug classes specified by NIDA."
Yes, oxycodone is a Scedule II drug. This means it has a high potential for abuse. Its use can also lead to psychological or physical dependence to the drug.
No. Standard drug tests do not differentiate opiates. You'll need to use an assay specific for oxycodone.
Read more here: https://www.cdc.gov/drugoverdose/pdf/prescribing/CDC-DUIP-UrineDrugTesting_FactSheet-508.pdf
More Test Strips
Other strips