Barbiturates Drug Test Strips
The Barbiturates drug test strips are a one-step rapid drug test that detects the presence of barbiturates in human urine.
They're 99% accurate, safe, and easy to use.
Get Barbiturate test strips to enable users to perform Barbiturate testing with complete ease and without seeking assistance.
The BAR urine drug test strips provide quick results within five minutes.
Our BAR urine test strips possess a cutoff level of 300 ng/ml.
This barbiturates drug test includes internal procedural controls.
Barbiturates are also Detected on many of 12 Panel Now's Multidrug Test Cups
If there's a sufficient amount of specimen and the procedure is followed properly, a gabapentin positive drug test result will show as a colored band in the control region.
However, there are no external controls in this kit. That's why we highly recommend further testing to verify positive results.
Forensic use only
What are Barbiturates?
Barbiturates belong to a class of drugs known as Central Nervous System Depressants. Doctors prescribe them for people suffering from insomnia, anxiety, and seizures.
Some of the known side effects include: Drowsiness, Headache, Low blood pressure (hypotension), Nausea, Sedation, and Skin rash
These drugs come in several forms and have different detection times.
Long-acting: up to 15 days
Intermediate-acting: 7 days
Short-acting: 3 days
How to Use a BAR Drug Test Strip?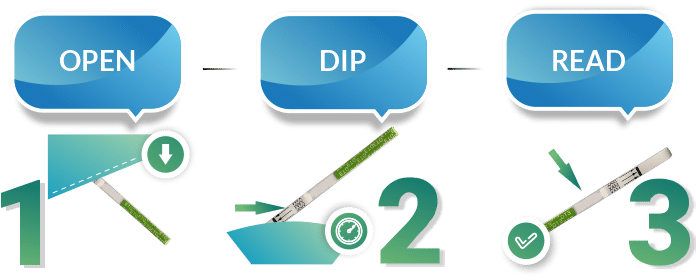 Remove the drug test from its sealed pouch and use it as soon as possible. For best results, perform the assay within an hour.

Next, hold the strip by the end, where you can see the product name. To avoid contamination, do not touch the strip membrane.

Then, holding the strip vertically, dip the test strip in the urine specimen for at least 10-15 seconds. Do not immerse above the maximum line (MAX) on the test strip. That's about 1/5th of the way up the strip.

After the drug test has finished, remove the strip from the specimen and place it on a non-absorbent flat surface. Start the timer and wait for the colored band(s) to appear. Read the result at 5 minutes. Do not interpret it after 10 minutes.
How to Read BAR Drug Test Strip?
Why Test for Barbiturates?
The Drug Enforcement Administration (DEA) classifies barbiturates as Schedule III Drugs. They are less addictive than drugs under Schedules I and II. However, they have current medical uses in the US.
Why Do Some People Abuse Barbiturates?
Barbiturates help people sleep and relax. As such, doctors prescribe them to people who need more sleep and relaxation.
Additionally, people who are using stimulant drugs like amphetamine need them to relax or sleep.
The problem is, some people become so dependent on barbiturates. As a consequence, they get hooked, and later on, develop resistance to the drug. When this happens, they need to take more drugs. This is when overdose most likely occurs.