Cocaine Drug Test Strips
Cocaine Drug Test Strips is a Simple, Fast, Reliable, and Accurate Test Which Detects for the Presence Cocaine (Crack) in Urine.
High Sensitivity Test – 100ng/Ml
Detectable Time It Remains in the Body after Use: 2 – 5 Days
High Level of Accuracy Level at 99%.
This Cocaine Urine Test Includes Internal Procedural Controls.
If There's a Sufficient Amount of Specimen and the Procedure Is Followed Properly, a Positive Result Will Show as a Colored Band in the Control Region.
However, There Are No External Controls in This Kit. That's Why We Highly Recommend Further Testing to Verify Positive Results.
Forensic Use Only
What is Cocaine?
Cocaine is an addictive stimulant drug made from the South American coca leaf extract.  There are 3 known forms of cocaine, Hydrochloride, Freebase, and Crack.  On the streets, the drug has been often mixed with the following: Cornstarch, Talcum powder, and Flour.
Cocaine has a long history of use in the United States and with it an even longer history of death and overdose.  According to History.com: "Crack usage began to surge in the 1980s. Between 1985 and 1989, the number of regular cocaine users jumped from 4.2 million to 5.8 million people."
As a Schedule II drug, cocaine has a high potential for abuse. Therefore, it can cause severe psychological or physical dependence.
How to Use a Cocaine Drug Test Strip?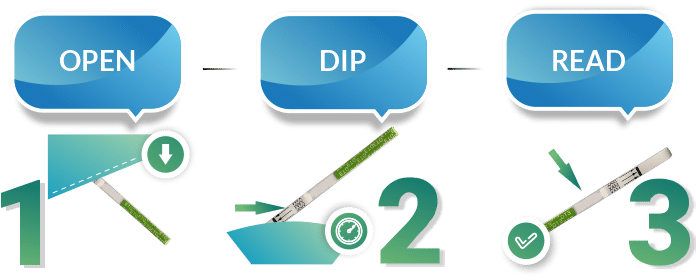 Remove the drug test from its sealed pouch and use it as soon as possible. For best results, perform the assay within an hour.

Next, hold the strip by the end, where you can see the product name. To avoid contamination, do not touch the strip membrane.

Then, holding the strip vertically, dip the test strip in the urine specimen for at least 10-15 seconds. Do not immerse above the maximum line (MAX) on the test strip. That's about 1/5th of the way up the strip.

After the drug test has finished, remove the strip from the specimen and place it on a non-absorbent flat surface. Start the timer and wait for the colored band(s) to appear. Read the result at 5 minutes. Do not interpret it after 10 minutes.
How to Read Cocaine Drug Test Strip:
Why Test for Cocaine?
Cocaine is one of the most physically addictive substances known today.  Its potency has been well documented, and those who are in recovery have commented as to its highly addictive properties.
In some circumstances, some who have only tried the drug once have become addicted.  Cocaine is very fast-acting, and depending on the method taken, the effects will take place even within a few seconds.  This is one of the main reasons why this substance is dangerous to all users.
Cocaine can stay in your system for quite some time.  It will remain in urine for a minimum of 2-4 days. Heavy users may have a longer detection window as cocaine will remain in their system longer than that.  It can appear in a chronic users' urine for up to two weeks or more.
For this reason, many who are responsible for administering drug screening procedures will include Cocaine as one of the drugs detected on the drug test.