Kratom Test
This test kit detects Kratom levels and its metabolites (mitragynine and 7-hydroxymitragynine) in the body.
Kratom Urine Dip Tests are convenient, safe, and easy to use with minimal assistance.
These Rapid Urine Drug Tests provide fast and accurate results. No time wasted on waiting for lab results.
12 Panel Now's dip tests are 99% accurate in detecting specific drugs according to the designated cut-off levels.
Quick results within five minutes.
For an alternative to Dip Tests, Kratom Cartridge Tests are available as well.
Forensic use only.
What Is Kratom?
Decades ago, the leaves from the plant Mitragyna speciosa has been used as a natural alternative to pain reliever in the Asian region.
However, due to its addictive qualities and adverse side effects, kratom is now considered an emerging drug of abuse by the Drug Enforcement Administration (DEA). It comes in the form of:
Fine powder
Capsule
Pill
Extract
Dried leaves for brewing
How to Use a Kratom Urine Test: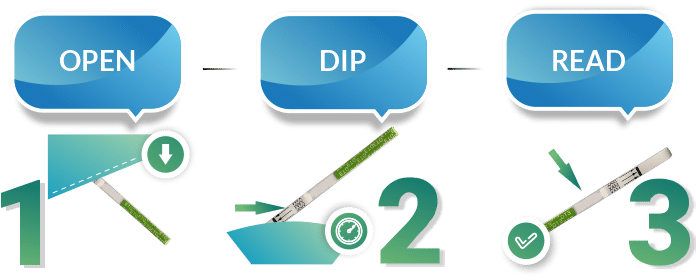 Remove the kratom test kit from its sealed pouch and use it as soon as possible. For best results, perform the assay within an hour.

Next, hold the test by the end, where you can see the product name. To avoid contamination, do not touch the test membrane.

Then, holding the test vertically, dip the test in the urine specimen for at least 10-15 seconds. Do not immerse above the maximum line (MAX) on the dip test. That's about 1/5th of the way up the test.

After the drug test has finished, remove the dipstick from the specimen and place it on a non-absorbent flat surface. Start the timer and wait for the colored band(s) to appear. Read the result at 5 minutes. Do not interpret it after 10 minutes.
How to Read This Drug Test Kit:
Why Test for Kratom?
Although it is not yet listed as a controlled substance, the US Drug Enforcement Administration considers it as an emerging drug of abuse. Recently, several states have put into motion regulations in order to ban it.
Some who have used the drug admitted to using it as a substitute for another drug.  Excessive use of this drug will give the user opioid-like side-effects. This is one of the many reasons why many have decided to incorporate kratom urine tests into their drug screening program.
Who Benefits from Kratom Tests?
The organizations listed below may benefit from the increasing reports of kratom abuse
employers
rehabs
clinics
hospitals
schools
probation centers
poison control centers
police stations
To learn more about this drug and its side effects visit our knowledge base.
An Eye-opening Study
Recently, a study in the United States reports a marked increase in calls to poison control centers due to kratom exposure. The study states:
Overall, nearly one third (32%) of the calls resulted in admission to a healthcare facility. On the other hand, 52% resulted in serious medical outcomes, especially among teenagers and adults.
Why People Use Kratom
Historically, kratom uses in Southeast Asia for hundreds of years as a pain-relieving alternative.  Today, it is accessible to the public – commonly advertised as an herbal supplement with no side effects. 
Unfortunately, the use of the drug has been known to deliver similar effects to that of opioid use.  Though many kratom users today have self-medicated using this drug on their own, more studies need to take place before medical applications are made.
Frequently Asked Questions
How do Kratom Urine Dip Test Work?
12 Panel Now's Kratom urine dip test use the lateral flow assay (LFA) technology.
This paper-based platform has the following qualities:
detects substances in complex mixtures like urine
made up of membranes infused with specific chemicals that help pinpoint the presence of specific drugs in urine
All you need to do is to dip the drug test into the urine, then wait for a few minutes. This gives the dipstick enough time to absorb the urine. Then, read the results.
Does Kratom Show up in a Urine Test?
Most standard drug tests from 12 Panel now will not normally detect kratom. However, a test that is designed to specifically detect kratom will.  For instance the kratom dip test and the 16 Panel Drug Test detect Kratom and its metabolites.
How Much Does a Kratom Drug Test Cost?
12 Panel Now provides Kratom urine tests for $1.19 per dip test when you buy 25 dip tests. However, that price can go down to $0.59 each (plus free shipping) when purchasing a two thousand dip tests.
Can You Fail a Drug Test for Kratom?
If submitting a urine drug screen that is designed to detect Mitragynine, it is possible that one may fail a drug screen – especially if the substance exceeds the cutoff level of 1 ng/ml LC-MS/MS.  Traces of kratom alkaloids can still be present in the body after 7 days.
Does Kratom Show up on a Probation Drug Test?
Most standard drug tests from 12 Panel Now do not detect the presence of Kratom.  However, due to the increased reports of the adverse side effects of kratom, some probation offices may decide to incorporate kratom-specific tests into their screening procedures.
Are There Drug Test for Kratom?
Due to the growing concern of the adverse side effects of Kratom abuse, many are considering incorporating special drug tests that detect kratom into their drug screening program.  12 Panel Now offers a few options of kratom drug tests.